Efficacy of a Selective Binder of αVβ3 Integrin Linked to the Tyrosine Kinase Inhibitor Sunitinib in Ovarian Carcinoma Preclinical Models
1
Food and Drug Department, University of Parma, Parco Area delle Scienze 27A, 43124 Parma, Italy
2
Molecular Pharmacology Unit, Fondazione IRCCS Istituto Nazionale dei Tumori, Via Amadeo 42, 20133 Milan, Italy
3
Department of Veterinary Medicine, University of Milan, Via Celoria 10, 20133 Milan, Italy
4
Mouse and Animal Pathology Lab, Fondazione Filarete, Viale Ortles 22/24, 20139 Milan, Italy
*
Author to whom correspondence should be addressed.
†
These authors share equal contribution.
‡
These authors share equal senior authorship.
Received: 28 March 2019 / Accepted: 11 April 2019 / Published: 13 April 2019
Abstract
Ovarian carcinoma, the most lethal gynecological cancer, is characterized by late diagnosis, with drug resistance limiting the efficacy of platinum-based therapy. Since some integrins are upregulated in cancer, including ovarian carcinoma, they represent a potential target for drug delivery. Receptor tyrosine kinases are also deregulated in cancer and their expression has been associated with drug resistance. Here, the antitumor effects of three conjugates possessing a selective binder of the extracellular portion of integrin α
V
β
3
covalently linked to the tyrosine kinase inhibitor sunitinib were investigated in cisplatin-sensitive and -resistant ovarian carcinoma cells expressing both tyrosine kinase VEGFR2 and α
V
β
3
at different levels. We found that one of the three compounds was active in inhibiting the growth of both drug-sensitive and -resistant cells in the micromolar range with a slightly increased potency in resistant cells as compared to sunitinib. The same compound markedly impaired cell migratory and invasive abilities and reduced paxillin phosphorylation. Antitumor activity studies in IGROV-1/Pt1 cells xenografted in nude mice revealed a striking activity of this conjugate versus sunitinib. Taken together, our results support the interest of integrin-targeted sunitinib conjugates for the treatment of drug-resistant tumors.
View Full-Text
►

▼

Figures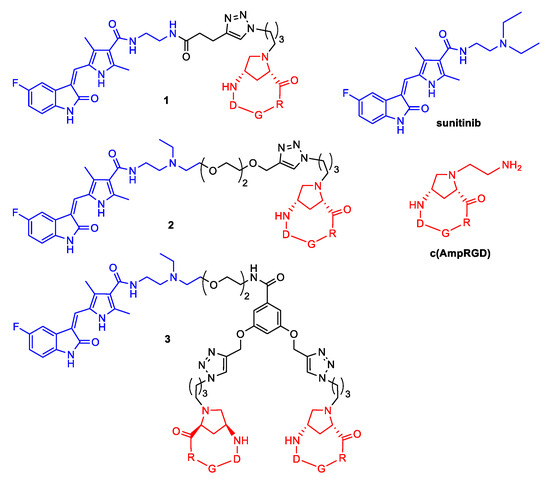 Figure 1
This is an open access article distributed under the
Creative Commons Attribution License
which permits unrestricted use, distribution, and reproduction in any medium, provided the original work is properly cited (CC BY 4.0).

Share & Cite This Article
MDPI and ACS Style
Sartori, A.; Corno, C.; De Cesare, M.; Scanziani, E.; Minoli, L.; Battistini, L.; Zanardi, F.; Perego, P. Efficacy of a Selective Binder of αVβ3 Integrin Linked to the Tyrosine Kinase Inhibitor Sunitinib in Ovarian Carcinoma Preclinical Models. Cancers 2019, 11, 531.
Note that from the first issue of 2016, MDPI journals use article numbers instead of page numbers. See further details here.
Related Articles
Comments
[Return to top]