CAFs and TGF-β Signaling Activation by Mast Cells Contribute to Resistance to Gemcitabine/Nabpaclitaxel in Pancreatic Cancer
1
Experimental Pharmacology Laboratory, IRCCS Istituto Tumori "Giovanni Paolo II", 70124 Bari, Italy
2
Department of Biomedical Sciences and Human Oncology, Section of Internal Medicine 'G. Baccelli', University of Bari Medical School Bari, 70124 Bari, Italy
3
Medical Oncology Unit, Ospedale Mons. R. Dimiccoli, 76121 Barletta (Bat), Italy
4
Radiology Unit, IRCCS Istituto Tumori "Giovanni Paolo II", 70124 Bari, Italy
5
Dipartimento di Farmacia-Scienze del Farmaco, University of Bari, 70125 Bari, Italy
6
Medical Oncology Unit and Scientific Direction, IRCCS Istituto Tumori "Giovanni Paolo II", 70124 Bari, Italy
*
Author to whom correspondence should be addressed.
†
These authors contributed equally to this work.
Received: 23 January 2019 / Revised: 1 March 2019 / Accepted: 1 March 2019 / Published: 7 March 2019
Abstract
Tumor–stroma interactions are of key importance for pancreatic ductal adenocarcinoma (PDAC) progression. Our aim was to investigate whether cancer associated fibroblasts (CAFs) and mast cells (MC) affected the sensitivity of PDAC cells to gemcitabine/nabpaclitaxel (GEM/NAB). For this purpose, the combination cytotoxicity and the effect on tumor invasion and angiogenesis were evaluated with or without a conditioned medium from the mast cell line HMC-1 (human mast cell line-1 cells) and CAFs. Beside the clinical outcome of a homogenous population of PDAC patients, receiving GEM/NAB, was correlated to the circulating levels of mast cell tryptase and to a panel of inflammatory and immunosuppressive cytokines. CAFs neither affected drugs' cytotoxicity nor the inhibition of angiogenesis, but promoted tumor cell invasion. The MC instead, caused resistance to drugs by reducing apoptosis, by activating the TGF-β signalling and by promoting tumor invasion. Indeed, the inhibition of TβRI serine/threonine kinase activity by galunisertib restored drugs cytotoxicity. Moreover, MC induced the release of TGF-β1, and increased expression of PAR-2, ERK1/2 and Akt activation. Accordingly, TGF-β1, tryptase and other pro-inflammatory and immunosuppressive cytokines increased in the unresponsive patients. In conclusion, MC play a pivotal role in the resistance to GEM/NAB. A correlation between high level of circulating pro-inflammatory/ immunosuppressive cytokines and unresponsiveness was found in PDAC patients.
View Full-Text
►

▼

Figures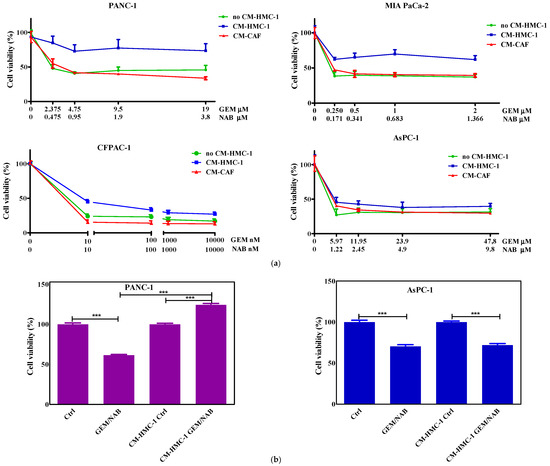 Figure 1
This is an open access article distributed under the
Creative Commons Attribution License
which permits unrestricted use, distribution, and reproduction in any medium, provided the original work is properly cited (CC BY 4.0).

Share & Cite This Article
MDPI and ACS Style
Porcelli, L.; Iacobazzi, R.M.; Di Fonte, R.; Serratì, S.; Intini, A.; Solimando, A.G.; Brunetti, O.; Calabrese, A.; Leonetti, F.; Azzariti, A.; Silvestris, N. CAFs and TGF-β Signaling Activation by Mast Cells Contribute to Resistance to Gemcitabine/Nabpaclitaxel in Pancreatic Cancer. Cancers 2019, 11, 330.
Note that from the first issue of 2016, MDPI journals use article numbers instead of page numbers. See further details here.
Related Articles
Comments
[Return to top]