The Novel Mnk1/2 Degrader and Apoptosis Inducer VNLG-152 Potently Inhibits TNBC Tumor Growth and Metastasis
1
Department of Pharmacology, University of Maryland School of Medicine, 685 West Baltimore Street, Baltimore, MD 21201, USA
2
Center for Biomolecular Therapeutics, University of Maryland School of Medicine, 685 West Baltimore Street, Baltimore, MD 21201, USA
3
Department of Pharmaceutical Sciences, University of Maryland School of Pharmacy, Baltimore, MD 21201-1559, USA
4
Marlene and Stewart Greenebaum Comprehensive Cancer Center, University of Maryland School of Medicine, 685 West Baltimore Street, Baltimore, MD 21201, USA
5
Division of Biostatistics and Bioinformatics, University of Maryland Marlene and Stewart Greenebaum Comprehensive Cancer Center, Baltimore, MD 21201-1559, USA
6
Department of Epidemiology and Public Health, University of Maryland School of Medicine, Baltimore, MD 21201, USA
7
Department of Pharmaceutical Sciences, School of Pharmacy and Health Professions, University of Maryland Eastern Shore, 207 Somerset Hall, Princess Anne, MD 21853, USA
*
Author to whom correspondence should be addressed.
†
Current address: Biopharmaceutical Development Macrogenics, 9704, Medical Center Drive, Rockville, MD 20850, USA.
‡
Current address: Division of Hematologic Malignancies, Cellular Therapy, Duke Cancer Institute DUMC 3961, 2400 Pratt St, Durham, NC 27710, USA.
Received: 30 January 2019 / Revised: 22 February 2019 / Accepted: 26 February 2019 / Published: 3 March 2019
Full-Text
|
PDF
[42139 KB, uploaded 6 March 2019]
|
|

Review Reports
Abstract
Currently, there are no effective therapies for patients with triple-negative breast cancer (TNBC), an aggressive and highly metastatic disease. Activation of eukaryotic initiation factor 4E (eIF4E) by mitogen-activated protein kinase (MAPK)-interacting kinases 1 and 2 (Mnk1/2) play a critical role in the development, progression and metastasis of TNBC. Herein, we undertook a comprehensive study to evaluate the activity of a first-in-class Mnk1/2 protein degraders, racemic VNLG-152R and its two enantiomers (VNLG-152E1 and VNLG-152E2) in in vitro and in vivo models of TNBC. These studies enabled us to identify racemic VNLG-152R as the most efficacious Mnk1/2 degrader, superior to its pure enantiomers. By targeting Mnk1/2 protein degradation (activity), VNLG-152R potently inhibited both Mnk-eIF4E and mTORC1 signaling pathways and strongly regulated downstream factors involved in cell cycle regulation, apoptosis, pro-inflammatory cytokines/chemokines secretion, epithelial-mesenchymal transition (EMT) and metastasis. Most importantly, orally bioavailable VNLG-152R exhibited remarkable antitumor (91 to 100% growth inhibition) and antimetastatic (~80% inhibition) activities against cell line and patient-derived TNBC xenograft models, with no apparent host toxicity. Collectively, these studies demonstrate that targeting Mnk-eIF4E/mTORC1 signaling with a potent Mnk1/2 degrader, VNLG-152R, is a novel therapeutic strategy that can be developed as monotherapy for the effective treatment of patients with primary/metastatic TNBC.
View Full-Text
►

▼

Figures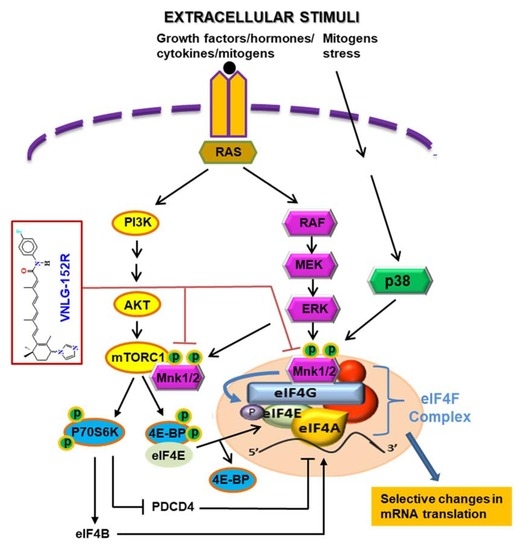 Graphical abstract
This is an open access article distributed under the
Creative Commons Attribution License
which permits unrestricted use, distribution, and reproduction in any medium, provided the original work is properly cited (CC BY 4.0).

Share & Cite This Article
MDPI and ACS Style
Ramalingam, S.; Ramamurthy, V.P.; Gediya, L.K.; Murigi, F.N.; Purushottamachar, P.; Huang, W.; Choi, E.Y.; Zhang, Y.; Vasaitis, T.S.; Kane, M.A.; Lapidus, R.G.; Njar, V.C.O. The Novel Mnk1/2 Degrader and Apoptosis Inducer VNLG-152 Potently Inhibits TNBC Tumor Growth and Metastasis. Cancers 2019, 11, 299.
Note that from the first issue of 2016, MDPI journals use article numbers instead of page numbers. See further details here.
Related Articles
Comments
[Return to top]