Electrotransfer of Different Control Plasmids Elicits Different Antitumor Effectiveness in B16.F10 Melanoma
1
Department of Experimental Oncology, Institute of Oncology Ljubljana, Zaloska 2, SI-1000 Ljubljana, Slovenia
2
Faculty of Health Sciences, University of Ljubljana, SI-1000 Ljubljana, Slovenia
3
Department of Cytopathology, Institute of Oncology Ljubljana, Zaloska 2, SI-1000 Ljubljana, Slovenia
4
Frank Reidy Research Center of Bioelectrics, Old Dominion University, 4211 Monarch Way, Norfolk, VA 23508, USA
5
School of Medical Diagnostic & Translational Sciences, College of Health Sciences, Old Dominion University, Norfolk, VA 23529 USA
6
Faculty of Health Sciences, University of Primorska, Polje 42, SI-6310 Izola, Slovenia
*
Authors to whom correspondence should be addressed.
†
These authors contributed equally to this work.
Received: 3 January 2018 / Revised: 23 January 2018 / Accepted: 25 January 2018 / Published: 29 January 2018
Abstract
Several studies have shown that different control plasmids may cause antitumor action in different murine tumor models after gene electrotransfer (GET). Due to the differences in GET protocols, plasmid vectors, and experimental models, the observed antitumor effects were incomparable. Therefore, the current study was conducted comparing antitumor effectiveness of three different control plasmids using the same GET parameters. We followed cytotoxicity in vitro and the antitumor effect in vivo after GET of control plasmids pControl, pENTR/U6 scr and pVAX1 in B16.F10 murine melanoma cells and tumors. Types of cell death and upregulation of selected cytosolic DNA sensors and cytokines were determined. GET of all three plasmids caused significant growth delay in melanoma tumors; nevertheless, the effect of pVAX1 was significantly greater than pControl. While DNA sensors in vivo were not upregulated significantly, cytokines IFN β and TNF α were upregulated after GET of pVAX1. In vitro, the mRNAs of some cytosolic DNA sensors were overexpressed after GET; however, with no significant difference among the three plasmids. In summary, although differences in antitumor effects were observed among control plasmids in vivo, no differences in cellular responses to plasmid GET were detected in tumor cells in vitro. Thus, the tumor microenvironment as well as some plasmid properties are most probably responsible for the antitumor effectiveness.
View Full-Text
►

▼

Figures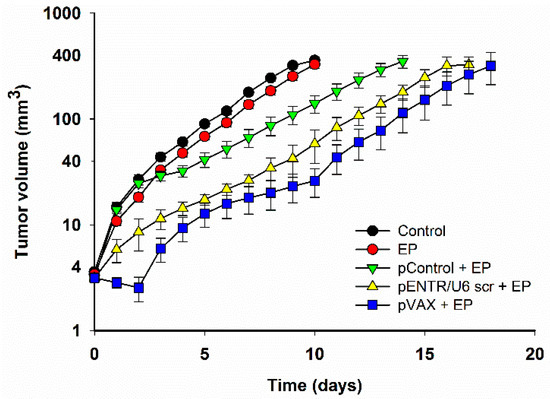 Figure 1
This is an open access article distributed under the
Creative Commons Attribution License
which permits unrestricted use, distribution, and reproduction in any medium, provided the original work is properly cited (CC BY 4.0).

Share & Cite This Article
MDPI and ACS Style
Bosnjak, M.; Jesenko, T.; Kamensek, U.; Sersa, G.; Lavrencak, J.; Heller, L.; Cemazar, M. Electrotransfer of Different Control Plasmids Elicits Different Antitumor Effectiveness in B16.F10 Melanoma. Cancers 2018, 10, 37.
Note that from the first issue of 2016, MDPI journals use article numbers instead of page numbers. See further details here.
Related Articles
Comments
[Return to top]