Body Position Modulates Gastric Emptying and Affects the Post-Prandial Rise in Plasma Amino Acid Concentrations Following Protein Ingestion in Humans
1
Department of Human Movement Sciences, NUTRIM School of Nutrition and Translational Research in Metabolism, Maastricht University Medical Centre+, P.O. Box 616, Maastricht 6200 MD, The Netherlands
2
Department of Surgery, NUTRIM School of Nutrition and Translational Research in Metabolism, Maastricht University Medical Centre+, P.O. Box 616, Maastricht 6200 MD, The Netherlands
3
Department of Clinical Genetics, Maastricht University Medical Centre+, P.O. Box 616, Maastricht 6200 MD, The Netherlands
*
Author to whom correspondence should be addressed.
Received: 14 March 2016 / Revised: 5 April 2016 / Accepted: 8 April 2016 / Published: 13 April 2016
Abstract
Dietary protein digestion and amino acid absorption kinetics determine the post-prandial muscle protein synthetic response. Body position may affect gastrointestinal function and modulate the post-prandial rise in plasma amino acid availability. We aimed to assess the impact of body position on gastric emptying rate and the post-prandial rise in plasma amino acid concentrations following ingestion of a single, meal-like amount of protein. In a randomized, cross-over design, eight healthy males (25 ± 2 years, 23.9 ± 0.8 kg·m
−2
) ingested 22 g protein and 1.5 g paracetamol (acetaminophen) in an upright seated position (control) and in a −20° head-down tilted position (inversion). Blood samples were collected during a 240-min post-prandial period and analyzed for paracetamol and plasma amino acid concentrations to assess gastric emptying rate and post-prandial amino acid availability, respectively. Peak plasma leucine concentrations were lower in the inversion compared with the control treatment (177 ± 15
vs
. 236 ± 15 mmol·L
−1
,
p
< 0.05), which was accompanied by a lower plasma essential amino acid (EAA) response over 240 min (31,956 ± 6441
vs
. 50,351 ± 4015 AU;
p
< 0.05). Peak plasma paracetamol concentrations were lower in the inversion
vs
. control treatment (5.8 ± 1.1
vs
. 10.0 ± 0.6 mg·L
−1
,
p
< 0.05). Gastric emptying rate and post-prandial plasma amino acid availability are significantly decreased after protein ingestion in a head-down tilted position. Therefore, upright body positioning should be considered when aiming to augment post-prandial muscle protein accretion in both health and disease.
View Full-Text
►

▼

Figures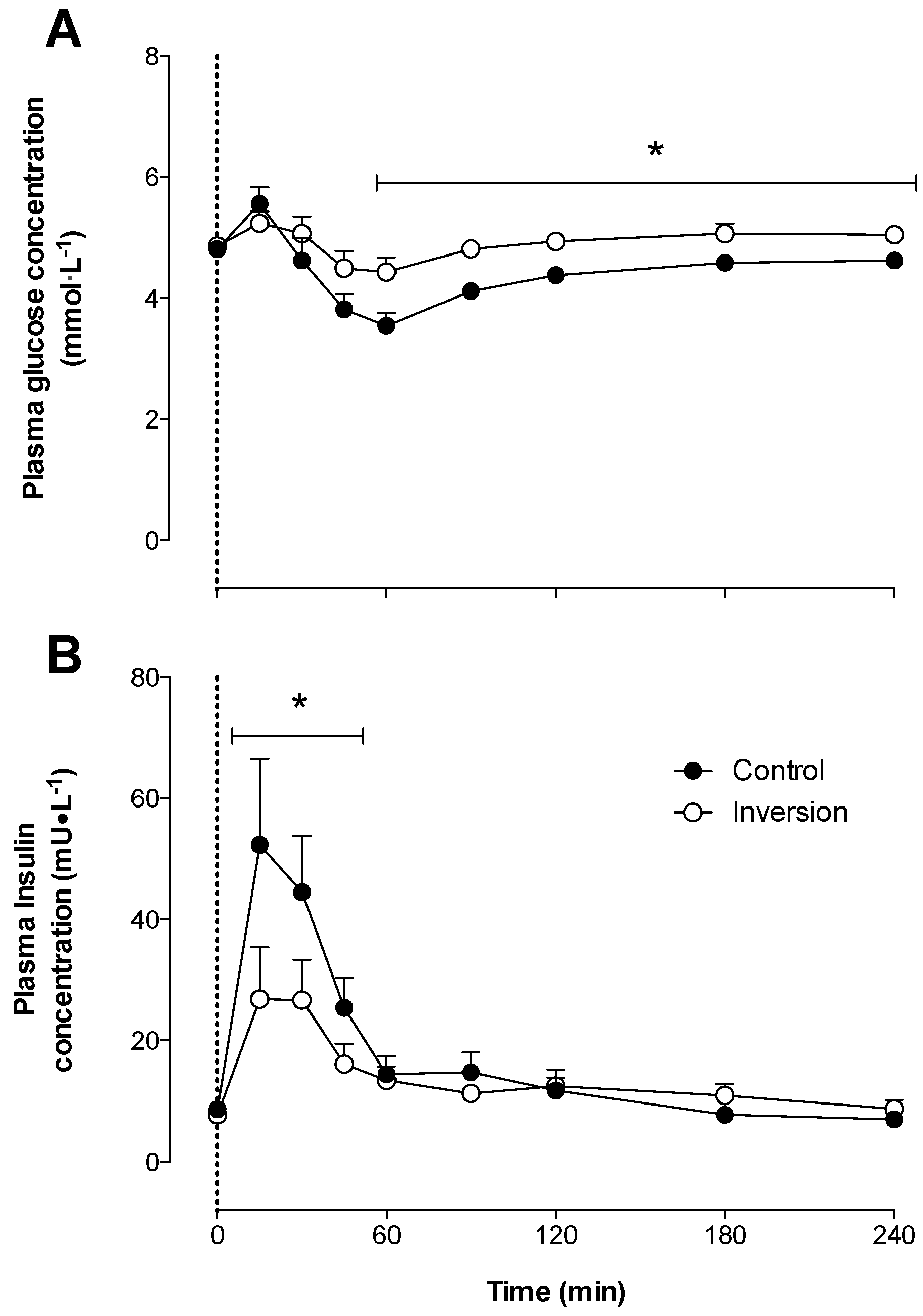 Figure 1
This is an open access article distributed under the
Creative Commons Attribution License
which permits unrestricted use, distribution, and reproduction in any medium, provided the original work is properly cited (CC BY 4.0).

Share & Cite This Article
MDPI and ACS Style
Holwerda, A.M.; Lenaerts, K.; Bierau, J.; Van Loon, L.J.C. Body Position Modulates Gastric Emptying and Affects the Post-Prandial Rise in Plasma Amino Acid Concentrations Following Protein Ingestion in Humans. Nutrients 2016, 8, 221.
Note that from the first issue of 2016, MDPI journals use article numbers instead of page numbers. See further details here.
Related Articles
Comments
[Return to top]