Applications of TRMM- and GPM-Era Multiple-Satellite Precipitation Products for Flood Simulations at Sub-Daily Scales in a Sparsely Gauged Watershed in Myanmar
1
State Key Laboratory of Hydrology-Water Resources and Hydraulic Engineering, College of Hydrology and Water Resources, Hohai University, 1 Xikang Road, Nanjing 210098, China
2
Department of Meteorology and Hydrology, Office No. 5, Ministry of Transport and Communications, Naypyitaw 15011, Myanmar
*
Author to whom correspondence should be addressed.
Received: 23 October 2018 / Revised: 7 January 2019 / Accepted: 9 January 2019 / Published: 12 January 2019
Abstract
Tropical Rainfall Measuring Mission (TRMM) and its successor, Global Precipitation Measurement (GPM), have provided hydrologists with important precipitation data sources for hydrological applications in sparsely gauged or ungauged basins. This study proposes a framework for statistical and hydrological assessment of the TRMM- and GPM-era satellite-based precipitation products (SPPs) in both near- and post-real-time versions at sub-daily temporal scales in a poorly gauged watershed in Myanmar. It evaluates six of the latest GPM-era SPPs: Integrated Multi-satellite Retrievals for GPM (IMERG) "Early", "Late", and "Final" run SPPs (IMERG-E, IMERG-L, and IMERG-F, respectively), and Global Satellite Mapping of Precipitation (GSMaP) near-real-time (GSMaP-NRT), standard version (GSMaP-MVK), and standard version with gauge-adjustment (GSMaP-GAUGE) SPPs, and two TRMM Multi-satellite Precipitation Analysis SPPs (3B42RT and 3B42V7). Statistical assessment at grid and basin scales shows that 3B42RT generally presents higher quality, followed by IMERG-F and 3B42V7. IMERG-E, IMERG-L, GSMaP-NRT, GSMaP-MVK, and GSMaP-GAUGE largely underestimate total precipitation, and the three GSMaP SPPs have the lowest accuracy. Given that 3B42RT demonstrates the best quality among the evaluated four near-real-time SPPs, 3B42RT obtains satisfactory hydrological performance in 3-hourly flood simulation, with a Nash–Sutcliffe model efficiency coefficient (NSE) of 0.868, and it is comparable with the rain-gauge-based precipitation data (NSE = 0.895). In terms of post-real-time SPPs, IMERG-F and 3B42V7 demonstrate acceptable hydrological utility, and IMERG-F (NSE = 0.840) slightly outperforms 3B42V7 (NSE = 0.828). This study found that IMERG-F demonstrates comparable or even slightly better accuracy in statistical and hydrological evaluations in comparison with its predecessor, 3B42V7, indicating that GPM-era IMERG-F is the reliable replacement for TRMM-era 3B42V7 in the study area. The GPM scientific community still needs to further refine precipitation retrieving algorithms and improve the accuracy of SPPs, particularly IMERG-E, IMERG-L, and GSMaP SPPs, because ungauged basins urgently require accurate and timely precipitation data for flood control and disaster mitigation.
View Full-Text
►

▼

Figures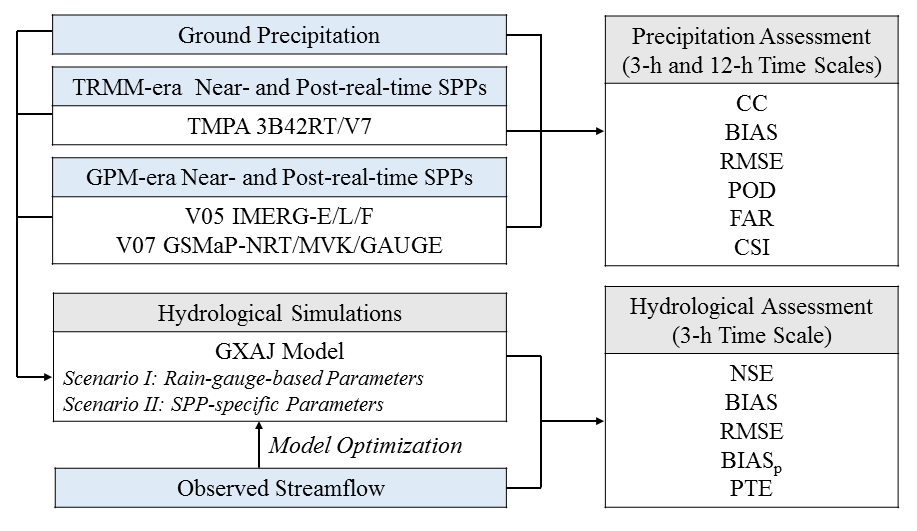 Graphical abstract
This is an open access article distributed under the
Creative Commons Attribution License
which permits unrestricted use, distribution, and reproduction in any medium, provided the original work is properly cited (CC BY 4.0).

Share & Cite This Article
MDPI and ACS Style
Yuan, F.; Zhang, L.; Soe, K.M.W.; Ren, L.; Zhao, C.; Zhu, Y.; Jiang, S.; Liu, Y. Applications of TRMM- and GPM-Era Multiple-Satellite Precipitation Products for Flood Simulations at Sub-Daily Scales in a Sparsely Gauged Watershed in Myanmar. Remote Sens. 2019, 11, 140.
Note that from the first issue of 2016, MDPI journals use article numbers instead of page numbers. See further details here.
Related Articles
Comments
[Return to top]