A Comparison of Crop Parameters Estimation Using Images from UAV-Mounted Snapshot Hyperspectral Sensor and High-Definition Digital Camera
1
Key Laboratory of Quantitative Remote Sensing in Agriculture of Ministry of Agriculture China, Beijing Research Center for Information Technology in Agriculture, Beijing 100097, China
2
International Institute for Earth System Science, Nanjing University, Nanjing 210023, China
3
Environnement Méditerranéen et Modélisation des Agro-Hydrosystèmes, l'Institut National de Recherche Agronomique, 84914 Avignon, France
4
Institute of Geographical Sciences and Natural Resources Research, Chinese Academy of Sciences, Beijing 100101, China
*
Author to whom correspondence should be addressed.
†
These authors contributed equally to this work.
Received: 30 May 2018 / Revised: 9 July 2018 / Accepted: 9 July 2018 / Published: 18 July 2018
Abstract
Timely and accurate estimates of crop parameters are crucial for agriculture management. Unmanned aerial vehicles (UAVs) carrying sophisticated cameras are very pertinent for this work because they can obtain remote-sensing images with higher temporal, spatial, and ground resolution than satellites. In this study, we evaluated (i) the performance of crop parameters estimates using a near-surface spectroscopy (350~2500 nm, 3 nm at 700 nm, 8.5 nm at 1400 nm, 6.5 nm at 2100 nm), a UAV-mounted snapshot hyperspectral sensor (450~950 nm, 8 nm at 532 nm) and a high-definition digital camera (Visible, R, G, B); (ii) the crop surface models (CSMs), RGB-based vegetation indices (VIs), hyperspectral-based VIs, and methods combined therefrom to make multi-temporal estimates of crop parameters and to map the parameters. The estimated leaf area index (LAI) and above-ground biomass (AGB) are obtained by using linear and exponential equations, random forest (RF) regression, and partial least squares regression (PLSR) to combine the UAV based spectral VIs and crop heights (from the CSMs). The results show that: (i) spectral VIs correlate strongly with LAI and AGB over single growing stages when crop height correlates positively with AGB over multiple growth stages; (ii) the correlation between the VIs multiplying crop height and AGB is greater than that between a single VI and crop height; (iii) the AGB estimate from the UAV-mounted snapshot hyperspectral sensor and high-definition digital camera is similar to the results from the ground spectrometer when using the combined methods (i.e., using VIs multiplying crop height, RF and PLSR to combine VIs and crop heights); and (iv) the spectral performance of the sensors is crucial in LAI estimates (the wheat LAI cannot be accurately estimated over multiple growing stages when using only crop height). The LAI estimates ranked from best to worst are ground spectrometer, UAV snapshot hyperspectral sensor, and UAV high-definition digital camera.
View Full-Text
►

▼

Figures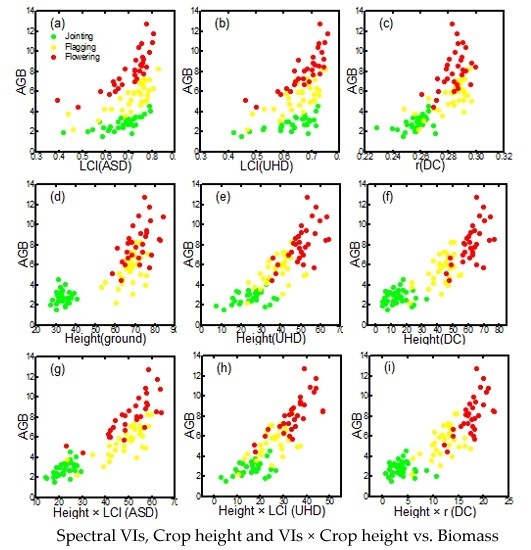 Graphical abstract
This is an open access article distributed under the
Creative Commons Attribution License
which permits unrestricted use, distribution, and reproduction in any medium, provided the original work is properly cited (CC BY 4.0).

Share & Cite This Article
MDPI and ACS Style
Yue, J.; Feng, H.; Jin, X.; Yuan, H.; Li, Z.; Zhou, C.; Yang, G.; Tian, Q. A Comparison of Crop Parameters Estimation Using Images from UAV-Mounted Snapshot Hyperspectral Sensor and High-Definition Digital Camera. Remote Sens. 2018, 10, 1138.
Note that from the first issue of 2016, MDPI journals use article numbers instead of page numbers. See further details here.
Related Articles
Comments
[Return to top]