Physicochemical, Pharmacokinetic, and Toxicity Evaluation of Methoxy Poly(ethylene glycol)-
b

-Poly(

d

,

l

-Lactide) Polymeric Micelles Encapsulating Alpinumisoflavone Extracted from Unripe

Cudrania tricuspidata

Fruit

1

College of Pharmacy, Chungbuk National University, Cheongju 28160, Korea

2

Drug Information Research Institute (DIRI), College of Pharmacy, Sookmyung Women's University, Seoul 04310, Korea

*

Authors to whom correspondence should be addressed.

Received: 29 June 2019 / Revised: 17 July 2019 / Accepted: 22 July 2019 / Published: 1 August 2019
Abstract
Alpinumisoflavone, a major compound in unripe
Cudrania tricuspidata
fruit is reported to exhibit numerous beneficial pharmacological activities, such as osteoprotective, antibacterial, estrogenic, anti-metastatic, atheroprotective, antioxidant, and anticancer effects. Despite its medicinal value, alpinumisoflavone is poorly soluble in water, which makes it difficult to formulate and administer intravenously (i.v.). To overcome these limitations, we used methoxy poly(ethylene glycol)-
b
-poly(
d
,
l
-lactide) (mPEG-
b
-PLA) polymeric micelles to solubilize alpinumisoflavone and increase its bioavailability, and evaluated their toxicity in vivo. Alpinumisoflavone-loaded polymeric micelles were prepared using thin-film hydration method, and their physicochemical properties were characterized for drug release, particle size, drug-loading (DL, %), and encapsulation efficiency (EE, %). The in vitro drug release profile was determined and the release rate of alpinumisoflavone from mPEG-
b
-PLA micelles was slower than that from drug solution, and sustained. Pharmacokinetic studies showed decreased total clearance and volume of distribution of alpinumisoflavone, whereas area under the curve (AUC) and bioavailability were significantly increased by incorporation in mPEG-
b
-PLA micelles. In vivo toxicity assay revealed that alpinumisoflavone-loaded mPEG-
b
-PLA micelles had no severe toxicity. In conclusion, we prepared an intravenous (i.v.) injectable alpinumisoflavone formulation, which was solubilized using mPEG-
b
-PLA micelles, and determined their physicochemical properties, pharmacokinetics, and toxicity profiles.
View Full-Text
►

▼

Figures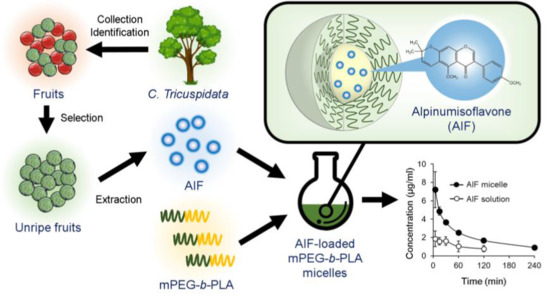 Graphical abstract
This is an open access article distributed under the
Creative Commons Attribution License
which permits unrestricted use, distribution, and reproduction in any medium, provided the original work is properly cited (CC BY 4.0).

Share & Cite This Article
MDPI and ACS Style
Jo, M.J.; Jo, Y.H.; Lee, Y.J.; Park, C.-W.; Kim, J.-S.; Hong, J.T.; Chung, Y.B.; Lee, M.K.; Shin, D.H. Physicochemical, Pharmacokinetic, and Toxicity Evaluation of Methoxy Poly(ethylene glycol)-b-Poly(d,l-Lactide) Polymeric Micelles Encapsulating Alpinumisoflavone Extracted from Unripe Cudrania tricuspidata Fruit. Pharmaceutics 2019, 11, 366.
Note that from the first issue of 2016, MDPI journals use article numbers instead of page numbers. See further details here.
Related Articles
Comments
[Return to top]