Pharmacokinetics of Intravitreal Anti-VEGF Drugs in Age-Related Macular Degeneration
1
Pharmacy Department, University Clinical Hospital of Santiago de Compostela (SERGAS), 15706 Santiago de Compostela, Spain
2
Pharmacology Group, Health Research Institute of Santiago de Compostela (FIDIS), 15706 Santiago de Compostela, Spain
3
Department of Pharmacology, Pharmacy and Pharmaceutical Technology, Faculty of Pharmacy, University of Santiago de Compostela (USC), 15782 Santiago de Compostela, Spain
4
Ophthalmology Department, University Clinical Hospital of Santiago de Compostela (SERGAS), 15706 Santiago de Compostela, Spain
5
Genomic Medicine Group, Galician Public Foundation of Genomic Medicine, Health Research Institute of Santiago de Compostela (FIDIS), 15706 Santiago de Compostela, Spain
6
Department of Pharmacy and Pharmaceutical Technology and Parasitology, University of Valencia, 46100 Valencia, Spain
7
Interuniversity Research Institute for Molecular Recognition and Technological Development, Polytechnic University of Valencia, 46100 Valencia, Spain
8
Nuclear Medicine Department, University Clinical Hospital of Santiago de Compostela (SERGAS), 15706 Santiago de Compostela, Spain
9
Molecular Imaging Group, Health Research Institute of Santiago de Compostela (FIDIS), 15706 Santiago de Compostela, Spain
*
Authors to whom correspondence should be addressed.
†
These authors contributed equally to this work.
Received: 30 June 2019 / Revised: 20 July 2019 / Accepted: 22 July 2019 / Published: 31 July 2019
Abstract
Intravitreal administration of anti-vascular endothelial growth factor (VEGF) antibodies has become the standard treatment for Age-Related Macular Degeneration; however, the knowledge of their pharmacokinetics is limited. A comprehensive review of the preclinical and clinical pharmacokinetic data that were obtained in different studies with intravitreal bevacizumab, ranibizumab, and aflibercept has been conducted. Moreover, the factors that can influence the vitreous pharmacokinetics of these drugs, as well as the methods that were used in the studies for analytical determination, have been exposed. These anti-VEGF drugs present different charge and molecular weights, which play an important role in vitreous distribution and elimination. The pharmacokinetic parameters that were collected differ depending on the species that were involved in the studies and on physiological and pathological conditions, such as vitrectomy and lensectomy. Knowledge of the intravitreal pharmacokinetics of the anti-VEGF drugs that were used in clinical practice is of vital importance.
View Full-Text
►

▼

Figures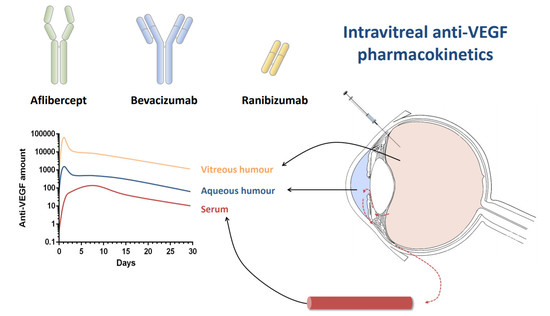 Graphical abstract
This is an open access article distributed under the
Creative Commons Attribution License
which permits unrestricted use, distribution, and reproduction in any medium, provided the original work is properly cited (CC BY 4.0).

Share & Cite This Article
MDPI and ACS Style
García-Quintanilla, L.; Luaces-Rodríguez, A.; Gil-Martínez, M.; Mondelo-García, C.; Maroñas, O.; Mangas-Sanjuan, V.; González-Barcia, M.; Zarra-Ferro, I.; Aguiar, P.; Otero-Espinar, F.J.; Fernández-Ferreiro, A. Pharmacokinetics of Intravitreal Anti-VEGF Drugs in Age-Related Macular Degeneration. Pharmaceutics 2019, 11, 365.
Note that from the first issue of 2016, MDPI journals use article numbers instead of page numbers. See further details here.
Related Articles
Comments
[Return to top]