Intracellular Signaling in Key Pathways Is Induced by Treatment with Ultrasound and Microbubbles in a Leukemia Cell Line, but Not in Healthy Peripheral Blood Mononuclear Cells
1
Department of Clinical Science, The University of Bergen, Jonas Lies vei 65, 5021 Bergen, Norway
2
Department of Quality and Development, Hospital Pharmacies Enterprise in Western Norway, Møllendalsbakken 9, 5021 Bergen, Norway
3
Centre for Cancer Biomarkers CCBIO, Department of Clinical Science, The University of Bergen, Jonas Lies vei 65, Bergen 5021, Norway
4
Department of Internal Medicine, Hematology Section, Haukeland University Hospital, Jonas Lies vei 65, 5021 Bergen, Norway
5
Phoenix Solutions AS, Ullernchausseen 64, 0379 Oslo, Norway
6
Department of Clinical Medicine, The University of Bergen, Jonas Lies vei 65, 5021 Bergen, Norway
7
National Centre for Ultrasound in Gastroenterology, Haukeland University Hospital, Jonas Lies vei 65, 5021 Bergen, Norway
*
Authors to whom correspondence should be addressed.
Received: 5 June 2019 / Revised: 3 July 2019 / Accepted: 4 July 2019 / Published: 6 July 2019
Abstract
Treatment with ultrasound and microbubbles (sonoporation) to enhance therapeutic efficacy in cancer therapy is rapidly expanding, but there is still very little consensus as to why it works. Despite the original assumption that pore formation in the cell membrane is responsible for increased uptake of drugs, the molecular mechanisms behind this phenomenon are largely unknown. We treated cancer cells (MOLM-13) and healthy peripheral blood mononuclear cells (PBMCs) with ultrasound at three acoustic intensities (74, 501, 2079 mW/cm
2
) ± microbubbles. We subsequently monitored the intracellular response of a number of key signaling pathways using flow cytometry or western blotting 5 min, 30 min and 2 h post-treatment. This was complemented by studies on uptake of a cell impermeable dye (calcein) and investigations of cell viability (cell count, Hoechst staining and colony forming assay). Ultrasound + microbubbles resulted in both early changes (p38 (Arcsinh ratio at high ultrasound + microbubbles: +0.5), ERK1/2 (+0.7), CREB (+1.3), STAT3 (+0.7) and AKT (+0.5)) and late changes (ribosomal protein S6 (Arcsinh ratio at low ultrasound: +0.6) and eIF2α in protein phosphorylation). Observed changes in protein phosphorylation corresponded to changes in sonoporation efficiency and in viability, predominantly in cancer cells. Sonoporation induced protein phosphorylation in healthy cells was pronounced (p38 (+0.03), ERK1/2 (−0.03), CREB (+0.0), STAT3 (−0.1) and AKT (+0.04) and S6 (+0.2)). This supports the hypothesis that sonoporation may enhance therapeutic efficacy of cancer treatment, without causing damage to healthy cells.
View Full-Text
►

▼

Figures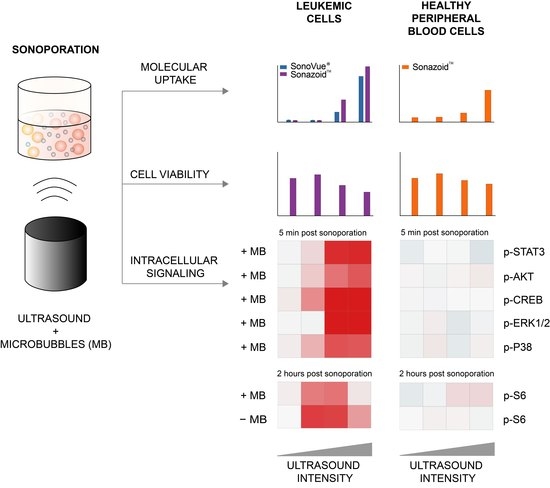 Graphical abstract
This is an open access article distributed under the
Creative Commons Attribution License
which permits unrestricted use, distribution, and reproduction in any medium, provided the original work is properly cited (CC BY 4.0).

Share & Cite This Article
MDPI and ACS Style
Haugse, R.; Langer, A.; Gullaksen, S.-E.; Sundøy, S.M.; Gjertsen, B.T.; Kotopoulis, S.; McCormack, E. Intracellular Signaling in Key Pathways Is Induced by Treatment with Ultrasound and Microbubbles in a Leukemia Cell Line, but Not in Healthy Peripheral Blood Mononuclear Cells. Pharmaceutics 2019, 11, 319.
Note that from the first issue of 2016, MDPI journals use article numbers instead of page numbers. See further details here.
Related Articles
Comments
[Return to top]