Development of Bioinspired Gelatin and Gelatin/Chitosan Bilayer Hydrofilms for Wound Healing
1
NanoBioCel Group, Laboratory of Pharmaceutics, School of Pharmacy, University of the Basque Country (UPV/EHU), Paseo de la Universidad 7, 01006 Vitoria-Gasteiz, Spain
2
Biomedical Research Networking Centre in Bioengineering, Biomaterials and Nanomedicine (CIBER-BBN), 01006 Vitoria-Gasteiz, Spain
3
BIOMAT Research Group, Chemical and Environmental Engineering Department, Engineering College of Gipuzkoa, University of the Basque Country (UPV/EHU), Plaza de Europa 1, 20018 Donostia-San Sebastián, Spain
4
Plastic & Reconstructive Surgery Research, Division of Musculoskeletal & Dermatological Sciences, School of Biological Sciences, University of Manchester, M13 9PL Manchester, UK
*
Authors to whom correspondence should be addressed.
†
These two authors contributed equally to this work.
‡
Rosa Maria Hernandez and Ardeshir Bayat equally share credit for senior authorship.
Received: 5 April 2019 / Revised: 17 June 2019 / Accepted: 1 July 2019 / Published: 4 July 2019
Abstract
In the current study, we developed a novel gelatin-based bilayer wound dressing. We used different crosslinking agents to confer unique properties to each layer, obtaining a bioinspired multifunctional hydrofilm suitable for wound healing. First, we produced a resistant and non-degradable upper layer by lactose-mediated crosslinking of gelatin, which provided mechanical support and protection to overall design. For the lower layer, we crosslinked gelatin with citric acid, resulting in a porous matrix with a great swelling ability. In addition, we incorporated chitosan into the lower layer to harness its wound healing ability. FTIR and SEM analyses showed that lactose addition changed the secondary structure of gelatin, leading to a more compact and smoother structure than that obtained with citric acid. The hydrofilm was able to swell 384.2 ± 57.2% of its dry weight while maintaining mechanical integrity. Besides, its water vapour transmission rate was in the range of commercial dressings (1381.5 ± 108.6 g/m
2
·day). In vitro, cytotoxicity assays revealed excellent biocompatibility. Finally, the hydrofilm was analysed through an ex vivo wound healing assay in human skin. It achieved similar results to the control in terms of biocompatibility and wound healing, showing suitable characteristics to be used as a wound dressing.
View Full-Text
►

▼

Figures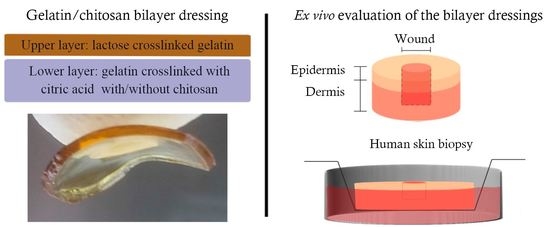 Graphical abstract
This is an open access article distributed under the
Creative Commons Attribution License
which permits unrestricted use, distribution, and reproduction in any medium, provided the original work is properly cited (CC BY 4.0).

Share & Cite This Article
MDPI and ACS Style
Garcia-Orue, I.; Santos-Vizcaino, E.; Etxabide, A.; Uranga, J.; Bayat, A.; Guerrero, P.; Igartua, M.; de la Caba, K.; Hernandez, R.M. Development of Bioinspired Gelatin and Gelatin/Chitosan Bilayer Hydrofilms for Wound Healing. Pharmaceutics 2019, 11, 314.
Note that from the first issue of 2016, MDPI journals use article numbers instead of page numbers. See further details here.
Related Articles
Comments
[Return to top]