Short and Long-Term Effects of the Exposure of Breast Cancer Cell Lines to Different Ratios of Free or Co-Encapsulated Liposomal Paclitaxel and Doxorubicin
Department of Pharmaceutical Products, Faculty of Pharmacy, Universidade Federal de Minas Gerais, Av. Antônio Carlos, 6627, Belo Horizonte 31270-901, MG, Brazil
*
Authors to whom correspondence should be addressed.
Received: 10 March 2019 / Revised: 29 March 2019 / Accepted: 31 March 2019 / Published: 11 April 2019
Abstract
Background: Associating paclitaxel (PTX) to doxorubicin (DXR) is one of the main chemotherapy strategies for breast cancer (BC) management. Protocols currently available consist in administering both drugs on their maximum tolerated dose, not taking into account the possible differences in efficacy due to their combination ratio. In the present study, the short and long-term cytotoxic effects as well as migratory effects of PTX, DXR, and its combinations at 10:1; 1:1 and 1:10 PTX:DXR molar ratios either free or co-encapsulated in liposomes were evaluated against three human BC cell lines (MDA-MB-231, MCF-7, and SKBR-3). Method: The MTT assay was used to screen for synergy or antagonism between PTX and DXR and the combination index value was calculated using the CalcuSyn software. Nuclear morphological alterations were evaluated by staining the cells with Hoescht 33342. The investigation of senescence and clonogenicity of BC cell lines exposed to different treatments was also studied. In addition, the ability of these cells to migrate was assessed. Results: Taken together, the results presented herein allow us to suggest that there is no benefit in enhancing the PTX concentration above that of DXR in the combination for any of the three cell lines tested. Conclusion: The developed liposomes co-encapsulating PTX and DXR in different molar ratios retained the biological properties of the mixture of free drugs and are valuable for planning new therapeutic strategies.
View Full-Text
►

▼

Figures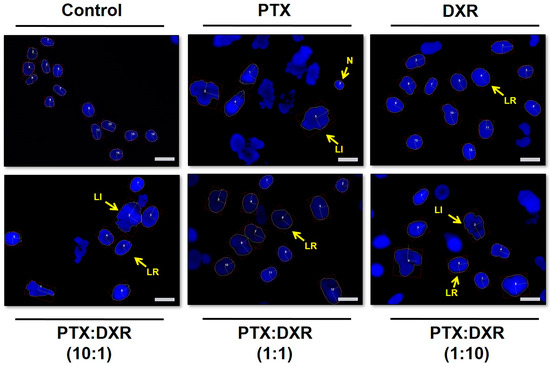 Figure 1
This is an open access article distributed under the
Creative Commons Attribution License
which permits unrestricted use, distribution, and reproduction in any medium, provided the original work is properly cited (CC BY 4.0).

Share & Cite This Article
MDPI and ACS Style
Franco, M.S.; Roque, M.C.; Oliveira, M.C. Short and Long-Term Effects of the Exposure of Breast Cancer Cell Lines to Different Ratios of Free or Co-Encapsulated Liposomal Paclitaxel and Doxorubicin. Pharmaceutics 2019, 11, 178.
Note that from the first issue of 2016, MDPI journals use article numbers instead of page numbers. See further details here.
Related Articles
Comments
[Return to top]