Cell Internalization in Fluidic Culture Conditions Is Improved When Microparticles Are Specifically Targeted to the Human Epidermal Growth Factor Receptor 2 (HER2)
1
Unitat de Biologia Cel·lular, Departament de Biologia Cel·lular, Fisiologia i Immunologia, Facultat de Biociències, Universitat Autònoma de Barcelona, Bellaterra, 08193 Barcelona, Spain
2
Biomedical Center, University of Iceland, 101 Reykjavík, Iceland
3
Department of Anatomy, Faculty of Medicine, and Department of Laboratory Hematology, University Hospital, 101 Reykjavik, Iceland
*
Author to whom correspondence should be addressed.
Received: 21 February 2019 / Revised: 8 April 2019 / Accepted: 8 April 2019 / Published: 11 April 2019
Abstract
Purpose: To determine if the specific targeting of microparticles improves their internalization by cells under fluidic conditions. Methods: Two isogenic breast epithelial cell lines, one overexpressing the Human Epidermal Growth Factor Receptor 2 (HER2) oncogene (D492HER2) and highly tumorigenic and the other expressing HER2 at much lower levels and non-tumorigenic (D492), were cultured in the presence of polystyrene microparticles of 1 µm in diameter, biofunctionalized with either a specific anti-HER2 antibody or a non-specific secondary antibody. Mono- and cocultures of both cell lines in static and fluidic conditions were performed, and the cells with internalized microparticles were scored. Results: Globally, the D492 cell line showed a higher endocytic capacity than the D492HER2 cell line. Microparticles that were functionalized with the anti-HER2 antibody were internalized by a higher percentage of cells than microparticles functionalized with the non-specific secondary antibody. Although internalization was reduced in fluidic culture conditions in comparison with static conditions, the increase in the internalization of microparticles biofunctionalized with the anti-HER2 antibody was higher for the cell line overexpressing HER2. Conclusion: The biofunctionalization of microparticles with a specific targeting molecule remarkably increases their internalization by cells in fluidic culture conditions (simulating the blood stream). This result emphasizes the importance of targeting for future in vivo delivery of drugs and bioactive molecules through microparticles.
View Full-Text
►

▼

Figures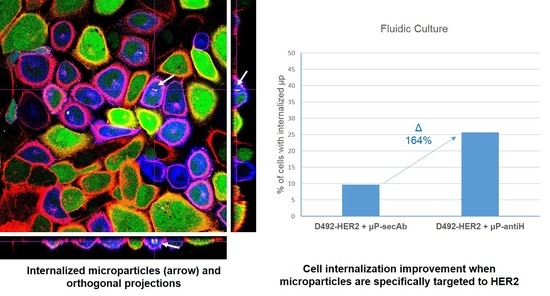 Graphical abstract
This is an open access article distributed under the
Creative Commons Attribution License
which permits unrestricted use, distribution, and reproduction in any medium, provided the original work is properly cited (CC BY 4.0).

Share & Cite This Article
MDPI and ACS Style
Mora-Espí, I.; Ibáñez, E.; Soriano, J.; Nogués, C.; Gudjonsson, T.; Barrios, L. Cell Internalization in Fluidic Culture Conditions Is Improved When Microparticles Are Specifically Targeted to the Human Epidermal Growth Factor Receptor 2 (HER2). Pharmaceutics 2019, 11, 177.
Note that from the first issue of 2016, MDPI journals use article numbers instead of page numbers. See further details here.
Related Articles
Comments
[Return to top]