Simultaneous Determination of Five Cytochrome P450 Probe Substrates and Their Metabolites and Organic Anion Transporting Polypeptide Probe Substrate in Human Plasma Using Liquid Chromatography-Tandem Mass Spectrometry
1
BK21 Plus KNU Multi-Omics based Creative Drug Research Team, College of Pharmacy, Kyungpook National University, Daegu 41566, Korea
2
College of Pharmacy and Research Institute of Pharmaceutical Sciences, Kyungpook National University, Daegu 41566, Korea
3
Clinical Trial Center, Kyungpook National University Hospital, Daegu 41566, Korea
4
Department of Biomedical Science, BK21 Plus KNU Bio-Medical Convergence Program for Creative Talent, College of Medicine, Kyungpook National University, Daegu 41944, Korea
*
Authors to whom correspondence should be addressed.
Received: 1 June 2018 / Revised: 22 June 2018 / Accepted: 30 June 2018 / Published: 2 July 2018
Abstract
A rapid and selective liquid chromatography-tandem mass spectrometry (LC-MS/MS) method for the simultaneous determination of organic anion transporting polypeptide 1B1 (OATP1B1) and cytochrome P450 (P450) probe substrates and their phase I metabolites in human plasma was developed. The OATP1B1 (pitavastatin) and five P450 probe substrates, caffeine (CYP1A2), losartan (CYP2C9), omeprazole (CYP2C19), dextromethorphan (CYP2D6), and midazolam (CYP3A) and their metabolites were extracted from human plasma (50 µL) using methanol. Analytes were separated on a C18 column followed by selected reaction monitoring detection using MS/MS. All analytes were separated simultaneously within a 9 min run time. The developed method was fully validated over the expected clinical concentration range for all analytes tested. The intra- and inter-day precisions for all analytes were lower than 11.3% and 8.82%, respectively, and accuracy was 88.5–117.3% and 96.1–109.2%, respectively. The lower limit of quantitation was 0.05 ng/mL for dextromethorphan, dextrorphan, midazolam, and 1′-hydroxymidazolam; 0.5 ng/mL for losartan, EXP-3174, omeprazole, 5′-hydroxyomeprazole, and pitavastatin; and 5 ng/mL for caffeine and paraxanthine. The method was successfully used in a pharmacokinetic study in healthy subjects after oral doses of five P450 and OATP1B1 probes. This analytical method provides a simple, sensitive, and accurate tool for the determination of OATP1B1 and five major P450 activities in vivo drug interaction studies.
View Full-Text
►

▼

Figures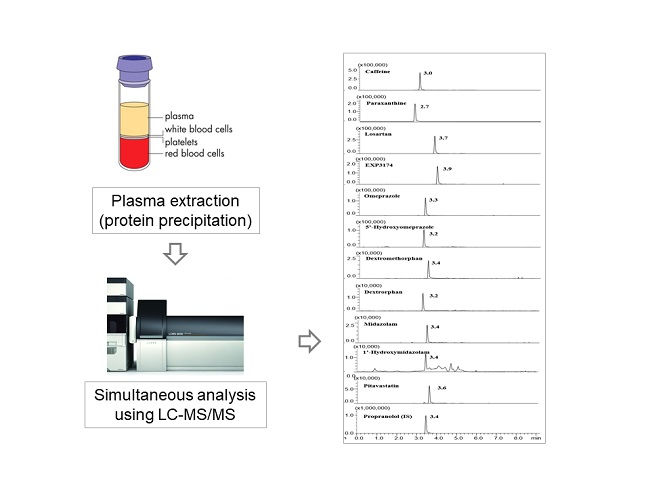 Graphical abstract
This is an open access article distributed under the
Creative Commons Attribution License
which permits unrestricted use, distribution, and reproduction in any medium, provided the original work is properly cited (CC BY 4.0).

Share & Cite This Article
MDPI and ACS Style
Heo, J.-K.; Kim, H.-J.; Lee, G.-H.; Ohk, B.; Lee, S.; Song, K.-S.; Song, I.S.; Liu, K.-H.; Yoon, Y.-R. Simultaneous Determination of Five Cytochrome P450 Probe Substrates and Their Metabolites and Organic Anion Transporting Polypeptide Probe Substrate in Human Plasma Using Liquid Chromatography-Tandem Mass Spectrometry. Pharmaceutics 2018, 10, 79.
Note that from the first issue of 2016, MDPI journals use article numbers instead of page numbers. See further details here.
Related Articles
Comments
[Return to top]