Heat Shock Enhances the Expression of the Human T Cell Leukemia Virus Type-I (HTLV-I) Trans-Activator (Tax) Antigen in Human HTLV-I Infected Primary and Cultured T Cells
1
Department of Immunology, Graduate School of Medicine, University of the Ryukyus, Okinawa, 903-0215, Japan
2
EM Research Organization Inc., Okinawa, 901-2311, Japan
3
Laboratory of Hematoimmunology, School of Health Sciences, Faculty of Medicine, University of the Ryukyus, Okinawa, 903-0215, Japan
4
Department of Pathology, Emory University School of Medicine, Atlanta, GA, 30322, USA
*
Author to whom correspondence should be addressed.
Academic Editor: Louis Mansky
Received: 21 April 2016 / Revised: 24 June 2016 / Accepted: 1 July 2016 / Published: 11 July 2016
Abstract
The environmental factors that lead to the reactivation of human T cell leukemia virus type-1 (HTLV-I) in latently infected T cells in vivo remain unknown. It has been previously shown that heat shock (HS) is a potent inducer of HTLV-I viral protein expression in long-term cultured cell lines. However, the precise HTLV-I protein(s) and mechanisms by which HS induces its effect remain ill-defined. We initiated these studies by first monitoring the levels of the trans-activator (Tax) protein induced by exposure of the HTLV-I infected cell line to HS. HS treatment at 43 °C for 30 min for 24 h led to marked increases in the level of Tax antigen expression in all HTLV-I-infected T cell lines tested including a number of HTLV-I-naturally infected T cell lines. HS also increased the expression of functional HTLV-I envelope gp46 antigen, as shown by increased syncytium formation activity. Interestingly, the enhancing effect of HS was partially inhibited by the addition of the heat shock protein 70 (HSP70)-inhibitor pifithlin-μ (PFT). In contrast, the HSP 70-inducer zerumbone (ZER) enhanced Tax expression in the absence of HS. These data suggest that HSP 70 is at least partially involved in HS-mediated stimulation of Tax expression. As expected, HS resulted in enhanced expression of the Tax-inducible host antigens, such as CD83 and OX40. Finally, we confirmed that HS enhanced the levels of Tax and gp46 antigen expression in primary human CD4
+
T cells isolated from HTLV-I-infected humanized NOD/SCID/γc null (NOG) mice and HTLV-I carriers. In summary, the data presented herein indicate that HS is one of the environmental factors involved in the reactivation of HTLV-I in vivo via enhanced Tax expression, which may favor HTLV-I expansion in vivo.
View Full-Text
►

▼

Figures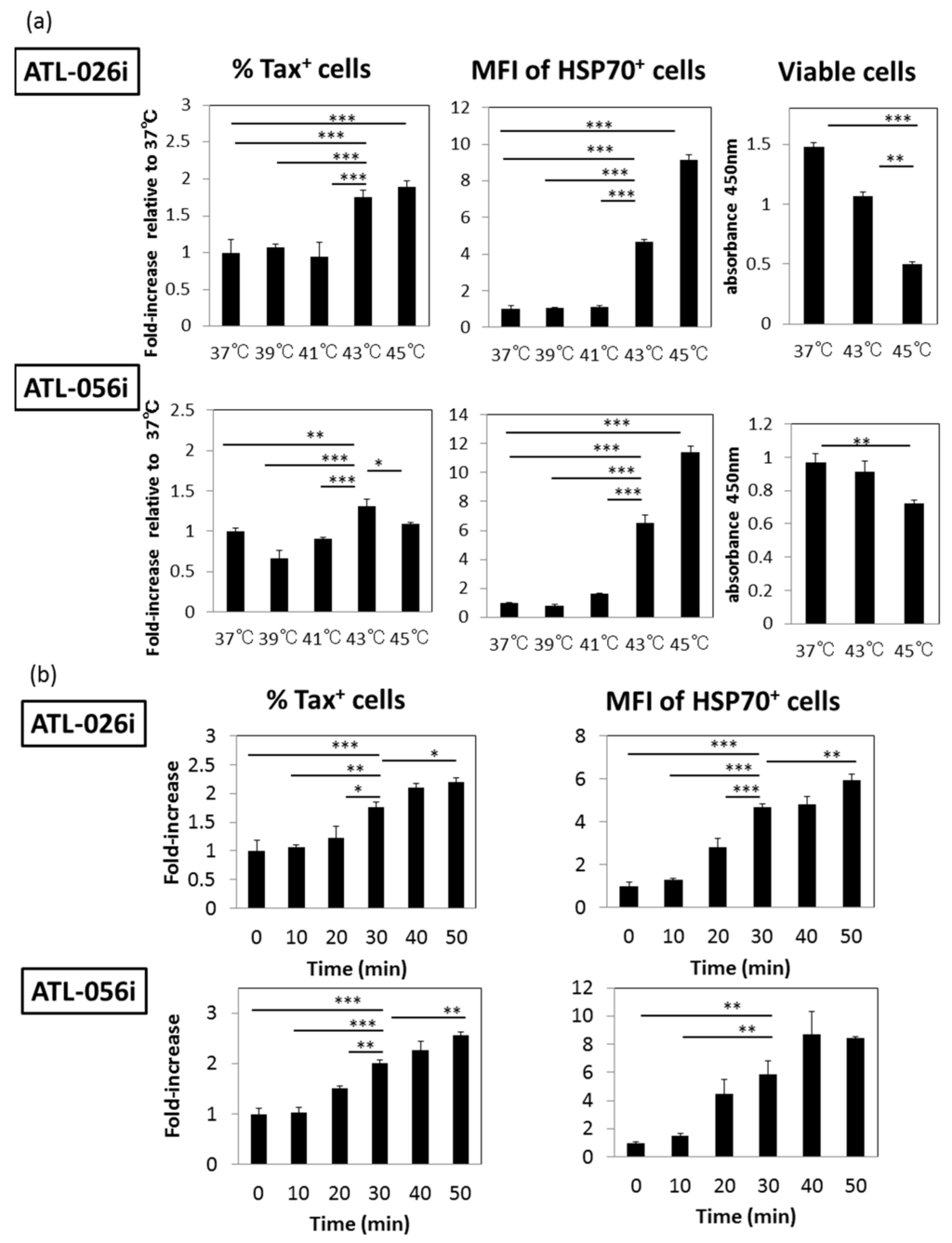 Figure 1
This is an open access article distributed under the
Creative Commons Attribution License
which permits unrestricted use, distribution, and reproduction in any medium, provided the original work is properly cited (CC BY 4.0).

Printed Edition Available!
A printed edition of this Special Issue is available
here
.
Share & Cite This Article
MDPI and ACS Style
Kunihiro, M.; Fujii, H.; Miyagi, T.; Takahashi, Y.; Tanaka, R.; Fukushima, T.; Ansari, A.A.; Tanaka, Y. Heat Shock Enhances the Expression of the Human T Cell Leukemia Virus Type-I (HTLV-I) Trans-Activator (Tax) Antigen in Human HTLV-I Infected Primary and Cultured T Cells. Viruses 2016, 8, 191.
Note that from the first issue of 2016, MDPI journals use article numbers instead of page numbers. See further details here.
Related Articles
Comments
[Return to top]