Molecular Characterization of a Trisegmented Mycovirus from the Plant Pathogenic Fungus
Colletotrichum gloeosporioides
1
Hunan Provincial Key Laboratory for Biology and Control of Plant Diseases and Insect Pests, Hunan Agricultural University, Nongda road 1, Furong district, Changsha 410128, China
2
Institute of Plant Protection, Chinese Academy of Agricultural Sciences, Beijing 100000, China
*
Authors to whom correspondence should be addressed.
Academic Editor: Thomas Hohn
Received: 21 August 2016 / Revised: 15 September 2016 / Accepted: 19 September 2016 / Published: 27 September 2016
Abstract
A novel double-stranded RNA (dsRNA) mycovirus, consisting of three dsRNA genome segments and possibly belonging to the family
Chrysoviridae
, was isolated from the filamentous phytopathogenic fungus
Colletotrichum gloeosporioides
and designated as Colletotrichum gloeosprioides chrysovirus 1 (CgCV1). The three dsRNAs of the CgCV1 genome with lengths of 3397, 2869, and 2630 bp (dsRNAs1–3) were found to contain a single open reading frame (ORF) putatively encoding the RNA-dependent RNA polymerase (RdRp), a capsid protein, and a protease, respectively, all of which exhibited some degree of sequence similarity to the comparable putative proteins encoded by the genus
Chrysovirus
. The 5′- and 3′-untranslated regions in each dsRNA segment contained similar sequences that were strictly conserved at the termini. Moreover, isometric virus-like particles (VLPs) with a diameter of approximately 40 nm were extracted from fungal mycelia. Phylogenetic analysis based on the conserved dsRNA1-encoded RdRp showed that CgCV1 is a new virus belonging to the
Chrysoviridae
family. BLAST analysis revealed the presence of CgCV1-like sequences in the chromosomes of
Medicago truncatula
and
Solanum tuberosum
. Moreover, some sequences in the transcriptome shotgun assembly (TSA) library and expressed sequence tag database (ESTdb) of other eudicot and monocot plants were also found to be related to CgCV1.
View Full-Text
►

▼

Figures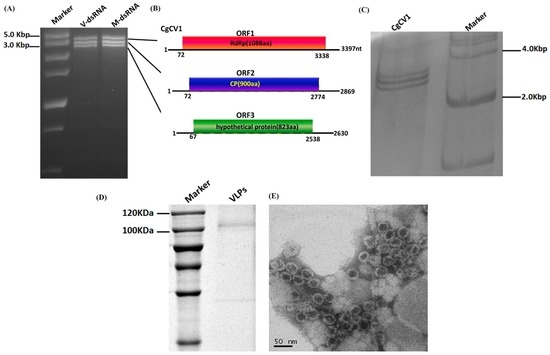 Figure 1
This is an open access article distributed under the
Creative Commons Attribution License
which permits unrestricted use, distribution, and reproduction in any medium, provided the original work is properly cited (CC BY 4.0).

Share & Cite This Article
MDPI and ACS Style
Zhong, J.; Pang, X.D.; Zhu, H.J.; Gao, B.D.; Huang, W.K.; Zhou, Q. Molecular Characterization of a Trisegmented Mycovirus from the Plant Pathogenic Fungus Colletotrichum gloeosporioides. Viruses 2016, 8, 268.
Note that from the first issue of 2016, MDPI journals use article numbers instead of page numbers. See further details here.
Related Articles
Comments
[Return to top]