Enhancement of Herpes Simplex Virus (HSV) Infection by Seminal Plasma and Semen Amyloids Implicates a New Target for the Prevention of HSV Infection
Department of Microbiology, College of Medicine, Howard University, Seeley Mudd Building, Room 315, 520 W Street, NW, Washington, DC 20059, USA
*
Author to whom correspondence should be addressed.
Academic Editor: Curt Hagedorn
Received: 20 February 2015 / Revised: 1 April 2015 / Accepted: 9 April 2015 / Published: 20 April 2015
Abstract
Human herpesviruses cause different infectious diseases, resulting in world-wide health problems. Sexual transmission is a major route for the spread of both herpes simplex virus-1 (HSV-1) and -2. Semen plays an important role in carrying the viral particle that invades the vaginal or rectal mucosa and, thereby, initiates viral replication. Previously, we demonstrated that the amyloid fibrils semenogelin (SEM) and semen-derived enhancer of viral infection (SEVI), and seminal plasma (SP) augment cytomegalovirus infection (Tang
et al.
, J. Virol 2013). Whether SEM or SEVI amyloids or SP could also enhance other herpesvirus infections has not been examined. In this study, we found that the two amyloids as well as SP strongly enhance both HSV-1 and -2 infections in cell culture. Along with SP, SEM and SEVI amyloids enhanced viral entry and increased infection rates by more than 10-fold, as assessed by flow cytometry assay and fluorescence microscopy. Viral replication was increased by about 50- to 100-fold. Moreover, viral growth curve assays showed that SEM and SEVI amyloids, as well as SP, sped up the kinetics of HSV replication such that the virus reached its replicative peak more quickly. The interactions of SEM, SEVI, and SP with HSVs are direct. Furthermore, we discovered that the enhancing effects of SP, SEM, and SEVI can be significantly reduced by heparin, a sulfated polysaccharide with an anionic charge. It is probable that heparin abrogates said enhancing effects by interfering with the interaction of the viral particle and the amyloids, which interaction results in the binding of the viral particles and both SEM and SEVI.
View Full-Text
►

▼

Figures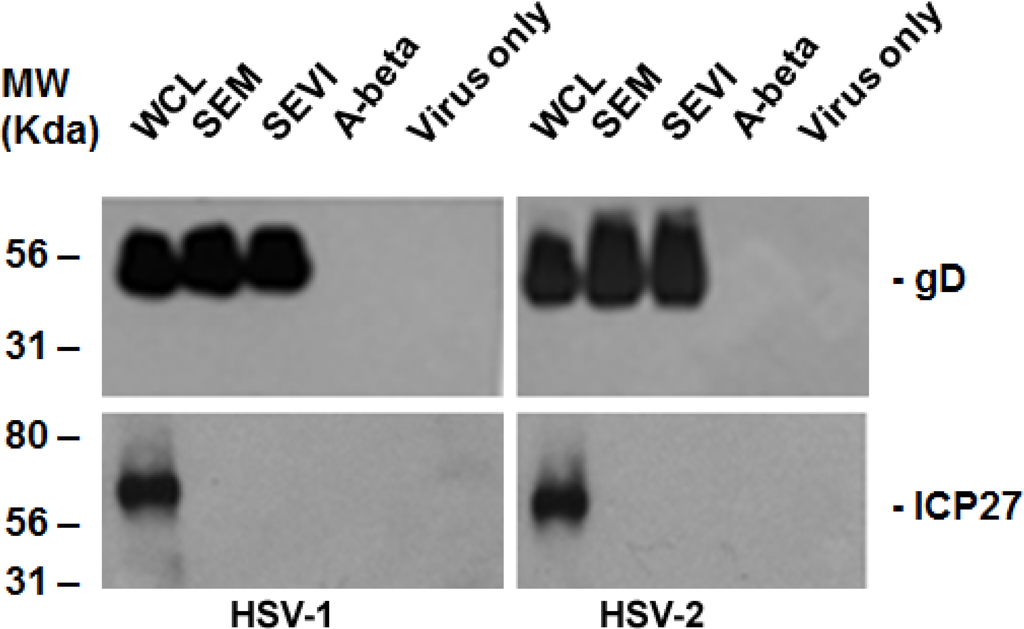 Figure 1
This is an open access article distributed under the
Creative Commons Attribution License
which permits unrestricted use, distribution, and reproduction in any medium, provided the original work is properly cited (CC BY 4.0).

Share & Cite This Article
MDPI and ACS Style
Torres, L.; Ortiz, T.; Tang, Q. Enhancement of Herpes Simplex Virus (HSV) Infection by Seminal Plasma and Semen Amyloids Implicates a New Target for the Prevention of HSV Infection. Viruses 2015, 7, 2057-2073.
Related Articles
Comments
[Return to top]