Platelet Count in Patients with Mild Disease at Admission is Associated with Progression to Severe Hantavirus Cardiopulmonary Syndrome
1
Departamento de Paciente Crítico, Clínica Alemana de Santiago, Santiago 7650567, Chile
2
Escuela de Medicina. Facultad de Medicina Clínica Alemana Universidad del Desarrollo, Santiago 7710162, Chile
3
Programa Hantavirus, Instituto de Ciencias e Innovación en Medicina (ICIM), Facultad de Medicina, Clínica Alemana Universidad del Desarrollo, Santiago 7590943, Chile
4
Instituto de Medicina, Universidad Austral de Chile, Valdivia 5110566, Chile
5
Departamento Enfermedades Infecciosas e Inmunología Pediátrica, Laboratorio Infectología y Virología Molecular, Facultad de Medicina, Pontificia Universidad Católica de Chile, Santiago 8331500, Chile
6
University of New Mexico Health Sciences Center, Albuquerque, NM 87131, USA
7
Departamento de Pediatría, Clínica Alemana de Santiago, Santiago 7650567, Chile
*
Author to whom correspondence should be addressed.
Received: 1 June 2019 / Revised: 18 July 2019 / Accepted: 19 July 2019 / Published: 30 July 2019
Abstract
Background: Hantavirus cardiopulmonary syndrome (HCPS) has a mortality up to 35–40% and its treatment is mainly supportive. A variable to predict progression from mild to severe disease is unavailable. This study was performed in patients with documented infection by Andes orthohantavirus, and the aim was to find a simple variable to predict progression to moderate/severe HCPS in patients with mild disease at admission. Methods: We performed a retrospective analysis of 175 patients between 2001 and 2018. Patients were categorized into mild, moderate, and severe disease according to organ failure and advanced support need at hospital admission (e.g., mechanical ventilation, vasopressors). Progression to moderate/severe disease was defined accordingly. Clinical and laboratory variables associated with progression were explored. Results: Forty patients with mild disease were identified; 14 of them progressed to moderate/severe disease. Only platelet count was different between those who progressed versus those that did not (37 (34–58) vs. 83 (64–177) K/mm
3
,
p
< 0.001). A ROC curve analysis showed an AUC = 0.889 (0.78–1.0)
p
< 0.001, with a platelet count greater than 115K /mm
3
ruling out progression to moderate/severe disease. Conclusions: In patients with mild disease at presentation, platelet count could help to define priority of evacuation to tertiary care centers.
View Full-Text
►

▼

Figures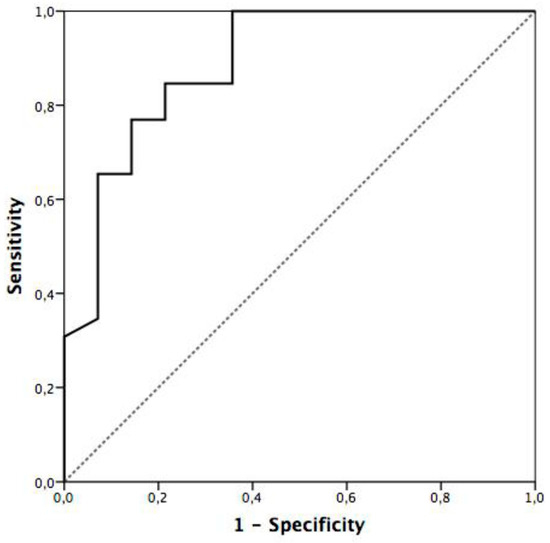 Figure 1
This is an open access article distributed under the
Creative Commons Attribution License
which permits unrestricted use, distribution, and reproduction in any medium, provided the original work is properly cited (CC BY 4.0).

Share & Cite This Article
MDPI and ACS Style
López, R.; Vial, C.; Graf, J.; Calvo, M.; Ferrés, M.; Mertz, G.; Cuiza, A.; Agüero, B.; Aguilera, D.; Araya, D.; Pailamilla, I.; Paratori, F.; Torres-Torres, V.; Vial, P.A.; Hantavirus Study Group in Chile. Platelet Count in Patients with Mild Disease at Admission is Associated with Progression to Severe Hantavirus Cardiopulmonary Syndrome. Viruses 2019, 11, 693.
Note that from the first issue of 2016, MDPI journals use article numbers instead of page numbers. See further details here.
Related Articles
Comments
[Return to top]