Bio-Insecticidal Potential of Nucleopolyhedrovirus and Granulovirus Mixtures to Control the Fall Armyworm
Spodoptera frugiperda

(J.E. Smith, 1797) (Lepidoptera: Noctuidae)

1

Corporación Colombiana de Investigación Agropecuaria-Agrosavia, Centro de Investigación Tibaitatá, kilómetro 14 vía Mosquera-Bogotá, 250047 Cundinamarca, Colombia

2

AgResearch, Forage Science, Lincoln Research Centre, Private Bag 4749, Christchurch 8140, New Zealand

*

Author to whom correspondence should be addressed.

Received: 28 May 2019 / Revised: 21 July 2019 / Accepted: 22 July 2019 / Published: 26 July 2019
Abstract
The ability of the isolate VG008 of S. frugiperda granulovirus (SpfrGV) to enhance the infectivity of the isolate SfCOL of S. frugiperda multiple nucleopolyhedrovirus (SpfrMNPV) was evaluated on
S. frugiperda
larvae. Bioassays were performed with mixtures by using different proportions 90%:10% (M1), 95%:5% (M2) and 97.5%:2.5% (M3) of SfCOL:VG008, respectively. All mixtures showed higher insecticidal activity that SfCOL. The mixture M3 showed the highest enhancement of SfCOL reducing 11.40 times the Mean Lethal Concentration and 96 h in the Mean Time to Death. The enhancer activity of proteins derived from VG008 (GVPs) were also evaluated in mixture with SfCOL. The GVPs increased 27% larval mortality caused by SfCOL and damaged the peritrophic membrane of
S. litura
larvae, suggesting that the key point in this enhancing activity is the initial step of the larva colonization, the midgut infection. M3 was formulated and evaluated under greenhouse conditions in maize plants using different doses. The highest efficacy was obtained with the highest dose of M3 (8 × 10
11
OBs/ha), which was similar to that found when formulated SfCOL was applied using an approximately twofold higher dose. The viral mixture M3 was selected as the active ingredient for developing a new biopesticide for a more efficient management of the pest in the field.
View Full-Text
►

▼

Figures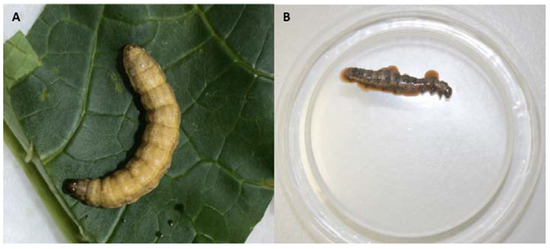 Figure 1
This is an open access article distributed under the
Creative Commons Attribution License
which permits unrestricted use, distribution, and reproduction in any medium, provided the original work is properly cited (CC BY 4.0).

Share & Cite This Article
MDPI and ACS Style
Cuartas-Otálora, P.E.; Gómez-Valderrama, J.A.; Ramos, A.E.; Barrera-Cubillos, G.P.; Villamizar-Rivero, L.F. Bio-Insecticidal Potential of Nucleopolyhedrovirus and Granulovirus Mixtures to Control the Fall Armyworm Spodoptera frugiperda (J.E. Smith, 1797) (Lepidoptera: Noctuidae). Viruses 2019, 11, 684.
Note that from the first issue of 2016, MDPI journals use article numbers instead of page numbers. See further details here.
Related Articles
Comments
[Return to top]