Two Novel Negative-Sense RNA Viruses Infecting Grapevine Are Members of a Newly Proposed Genus within the Family Phenuiviridae
1
Department of Plant Pathology, University of California-Davis, Davis, CA 95616, USA
2
Istituto per la Protezione Sostenibile delle Piante, Consiglio Nazionale delle Ricerche, 70126 Bari, Italy
3
Department of Evolution and Ecology, University of California-Davis, Davis, CA 95616, USA
4
Foundation Plant Services, University of California-Davis, Davis, CA 95616, USA
*
Author to whom correspondence should be addressed.
Received: 17 June 2019 / Revised: 23 July 2019 / Accepted: 24 July 2019 / Published: 26 July 2019
Abstract
Two novel negative-stranded (ns)RNA viruses were identified by high throughput sequencing in grapevine. The genomes of both viruses, named grapevine Muscat rose virus (GMRV) and grapevine Garan dmak virus (GGDV), comprise three segments with each containing a unique gene. Based on sequence identity and presence of typical domains/motifs, the proteins encoded by the two viruses were predicted to be: RNA-dependent RNA polymerase (RdRp), nucleocapsid protein (NP), and putative movement protein (MP). These proteins showed the highest identities with orthologs in the recently discovered apple rubbery wood viruses 1 and 2, members of a tentative genus (Rubodvirus) within the family
Phenuiviridae
. The three segments of GMRV and GGDV share almost identical sequences at their 5′ and 3′ termini, which are also complementary to each other and may form a panhandle structure. Phylogenetics based on RdRp, NP and MP placed GMRV and GGDV in the same cluster with rubodviruses. Grapevine collections were screened for the presence of both novel viruses via RT-PCR, identifying infected plants. GMRV and GGDV were successfully graft-transmitted, thus, they are the first nsRNA viruses identified and transmitted in grapevine. Lastly, different evolutionary scenarios of nsRNA viruses are discussed.
View Full-Text
►

▼

Figures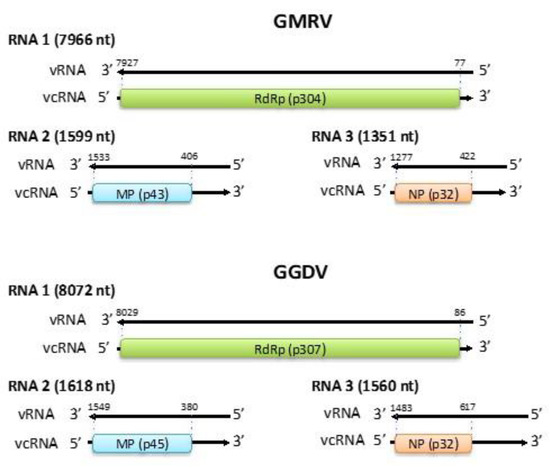 Figure 1
This is an open access article distributed under the
Creative Commons Attribution License
which permits unrestricted use, distribution, and reproduction in any medium, provided the original work is properly cited (CC BY 4.0).

Share & Cite This Article
MDPI and ACS Style
Diaz-Lara, A.; Navarro, B.; Di Serio, F.; Stevens, K.; Hwang, M.S.; Kohl, J.; Vu, S.T.; Falk, B.W.; Golino, D.; Al Rwahnih, M. Two Novel Negative-Sense RNA Viruses Infecting Grapevine Are Members of a Newly Proposed Genus within the Family Phenuiviridae. Viruses 2019, 11, 685.
Note that from the first issue of 2016, MDPI journals use article numbers instead of page numbers. See further details here.
Related Articles
Comments
[Return to top]