High-Throughput Sequencing Analysis of Small RNAs Derived from Coleus Blumei Viroids
1
Beijing Research Center for Agricultural Standards and Testing, Beijing Academy of Agriculture and Forestry Sciences, Beijing 100097, China
2
State Key Laboratory of Biology of Plant Diseases and Insect Pests, Institute of Plant Protection, Chinese Academy of Agricultural Sciences, Beijing 100097, China
*
Authors to whom correspondence should be addressed.
Received: 21 May 2019 / Revised: 24 June 2019 / Accepted: 2 July 2019 / Published: 5 July 2019
Abstract
Characterization of viroid-derived small RNAs (vd-sRNAs) is important to understand viroid–host interactions; however, vd-sRNAs belonging to the genus
Coleviroid
are yet to be identified and characterized. Herein, we used coleus plants singly infected with coleus blumei viroid (CbVd)-1, -5, or -6 and doubly infected with CbVd-1 and -5 to identify and analyze their vd-sRNAs. We found sense and antisense vd-sRNAs for CbVd-1, -5 and -6, and 22-nt vd-sRNAs were the most abundant; moreover, the 5′-terminal nucleotides (nts) of CbVd-1, -5, and -6 were biased toward U and C, and sRNAs derived from these three viroids were unevenly distributed along their genomes. We also noted that CbVd-5 and -6 share a fragment that forms the right half of the rod-like secondary structure of these viroids, which implied that they generated almost the same type of vd-sRNAs. This finding indicated that vd-sRNA biogenesis is mainly determined by the primary sequence of their substrates. More importantly, we found two complementary vd-sRNAs (22 nt) that were generated from the central conserved region (CCR) of these three viroids, suggesting an important role of CCR in vd-sRNA biogenesis. In conclusion, our results provide novel insight into the biogenesis of vd-sRNAs and the biological roles of CCR.
View Full-Text
►

▼

Figures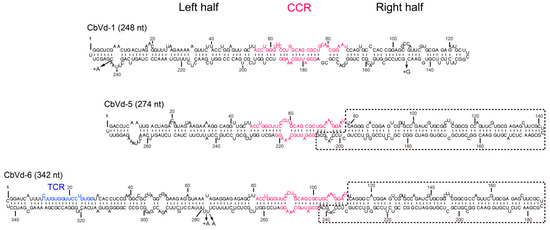 Figure 1
This is an open access article distributed under the
Creative Commons Attribution License
which permits unrestricted use, distribution, and reproduction in any medium, provided the original work is properly cited (CC BY 4.0).

Share & Cite This Article
MDPI and ACS Style
Jiang, D.-M.; Wang, M.; Li, S.-F.; Zhang, Z.-X. High-Throughput Sequencing Analysis of Small RNAs Derived from Coleus Blumei Viroids. Viruses 2019, 11, 619.
Note that from the first issue of 2016, MDPI journals use article numbers instead of page numbers. See further details here.
Related Articles
Comments
[Return to top]