Dendritic Cell Targeting of Bovine Viral Diarrhea Virus E2 Protein Expressed by
Lactobacillus casei

Effectively Induces Antigen-Specific Immune Responses via Oral Vaccination

1

Heilongjiang Key Laboratory for Animal Disease Control and Pharmaceutical Development, College of Veterinary Medicine, Northeast Agricultural University, Harbin 150030, China

2

Northeastern Science Inspection Station, China Ministry of Agriculture Key Laboratory of Animal Pathogen Biology, Harbin 150030, China

*

Authors to whom correspondence should be addressed.

Received: 9 April 2019 / Revised: 21 June 2019 / Accepted: 24 June 2019 / Published: 25 June 2019
Abstract
Bovine viral diarrhea caused by bovine viral diarrhea virus (BVDV) is an important disease in cattle, resulting in significant economic losses to the cattle industry worldwide. In order to develop an effective vaccine against BVDV infection, we constructed a dendritic cell (DC)-targeting oral probiotic vaccine (pPG-E2-DCpep/LC W56) using
Lactobacillus casei
as antigen delivery carrier to express BVDV glycoprotein E2 fused with DC-targeting peptide, and the immunogenicity of orally administered probiotic vaccine was evaluated in mice model. Our results showed that after immunization with the probiotic vaccine, significantly levels of antigen-specific sera IgG and mucosal sIgA antibodies (
p
< 0.05) with BVDV-neutralizing activity were induced in vivo. Challenge experiment showed that pPG-E2-DCpep/LC W56 can provide effective immune protection against BVDV, and BVDV could be effectively cleared from the intestine of immunized mice post-challenge. Moreover, the pPG-E2-DCpep/LC W56 could efficiently activate DCs in the intestinal Peyer's patches, and significantly levels of lymphoproliferative responses, Th1-associated IFN-γ, and Th2-associated IL-4 were observed in mice immunized with pPG-E2-DCpep/LC W56 (
p
< 0.01). Our results clearly demonstrate that the probiotic vaccine could efficiently induce anti-BVDV mucosal, humoral, and cellular immune responses via oral immunization, indicating a promising strategy for the development of oral vaccine against BVDV.
View Full-Text
►

▼

Figures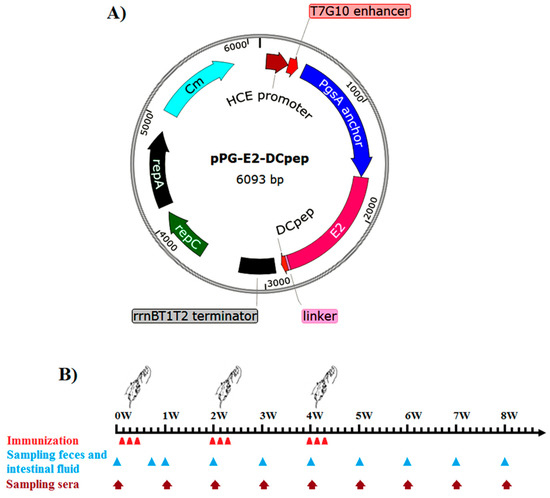 Figure 1
This is an open access article distributed under the
Creative Commons Attribution License
which permits unrestricted use, distribution, and reproduction in any medium, provided the original work is properly cited (CC BY 4.0).

Share & Cite This Article
MDPI and ACS Style
Wang, Y.; Feng, B.; Niu, C.; Jia, S.; Sun, C.; Wang, Z.; Jiang, Y.; Cui, W.; Wang, L.; Xu, Y. Dendritic Cell Targeting of Bovine Viral Diarrhea Virus E2 Protein Expressed by Lactobacillus casei Effectively Induces Antigen-Specific Immune Responses via Oral Vaccination. Viruses 2019, 11, 575.
Note that from the first issue of 2016, MDPI journals use article numbers instead of page numbers. See further details here.
Related Articles
Comments
[Return to top]