A DNA Prime Immuno-Potentiates a Modified Live Vaccine against the Porcine Reproductive and Respiratory Syndrome Virus but Does Not Improve Heterologous Protection
1
VIM, INRA, Université Paris-Saclay, Domaine de Vilvert, 78350 Jouy-en-Josas, France
2
VIM, EMERG'IN-Plateforme d'Infectiologie Expérimentale IERP, INRA, Domaine de Vilvert, 78352 Jouy-en-Josas, France
3
Laboratory of Virology, Faculty of Veterinary Medicine, Ghent University, Salisburylaan 133, B-9820 Merelbeke, Belgium
4
GABI, INRA-AgroParisTech, Université Paris-Saclay, Domaine de Vilvert, 78350 Jouy-en-Josas, France
5
Plate-Forme d'Infectiologie Expérimentale-PFIE-UE1277, Centre Val de Loire, INRA, 37380 Nouzilly, France
6
Pharmajet, 400 Corporate Circle Suite N, Golden, CO 80401, USA
7
Unité Virologie et Immunologie Porcines, Laboratoire de Ploufragan-Plouzané-Niort, Anses, BP 53, 22440 Ploufragan, France
8
Vaccibody AS, Gaustadalleen 21, 0349 Oslo, Norway
*
Author to whom correspondence should be addressed.
†
Current address: BIOEPAR, Oniris, INRA, 44307 Nantes, France.
Received: 20 May 2019 / Revised: 18 June 2019 / Accepted: 21 June 2019 / Published: 25 June 2019
Abstract
The porcine reproductive and respiratory syndrome virus (PRRSV), an RNA virus inducing abortion in sows and respiratory disease in young pigs, is a leading infectious cause of economic losses in the swine industry. Modified live vaccines (MLVs) help in controlling the disease, but their efficacy is often compromised by the high genetic diversity of circulating viruses, leading to vaccine escape variants in the field. In this study, we hypothesized that a DNA prime with naked plasmids encoding PRRSV antigens containing conserved T-cell epitopes may improve the protection of MLV against a heterologous challenge. Plasmids were delivered with surface electroporation or needle-free jet injection and European strain-derived PRRSV antigens were targeted or not to the dendritic cell receptor XCR1. Compared to MLV-alone, the DNA-MLV prime- boost regimen slightly improved the IFNγ T-cell response, and substantially increased the antibody response against envelope motives and the nucleoprotein N. The XCR1-targeting of N significantly improved the anti-N specific antibody response. Despite this immuno-potentiation, the DNA-MLV regimen did not further decrease the serum viral load or the nasal viral shedding of the challenge strain over MLV-alone. Finally, the heterologous protection, achieved in absence of detectable effective neutralizing antibodies, was not correlated to the measured antibody or to the IFNγ T-cell response. Therefore, immune correlates of protection remain to be identified and represent an important gap of knowledge in PRRSV vaccinology. This study importantly shows that a naked DNA prime immuno-potentiates an MLV, more on the B than on the IFNγ T-cell response side, and has to be further improved to reach cross-protection.
View Full-Text
►

▼

Figures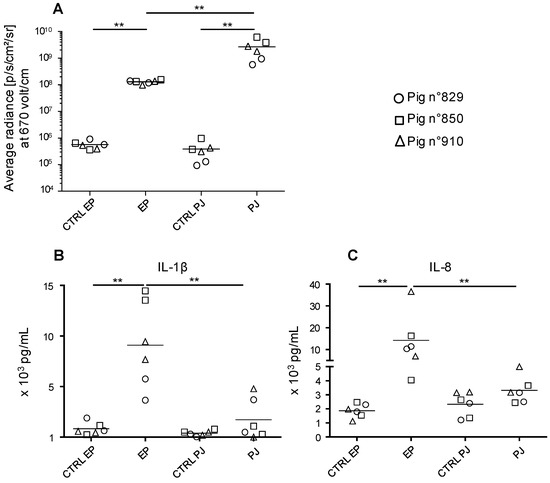 Figure 1
This is an open access article distributed under the
Creative Commons Attribution License
which permits unrestricted use, distribution, and reproduction in any medium, provided the original work is properly cited (CC BY 4.0).

Share & Cite This Article
MDPI and ACS Style
Bernelin-Cottet, C.; Urien, C.; Fretaud, M.; Langevin, C.; Trus, I.; Jouneau, L.; Blanc, F.; Leplat, J.-J.; Barc, C.; Boulesteix, O.; Riou, M.; Dysart, M.; Mahé, S.; Studsrub, E.; Nauwynck, H.; Bertho, N.; Bourry, O.; Schwartz-Cornil, I. A DNA Prime Immuno-Potentiates a Modified Live Vaccine against the Porcine Reproductive and Respiratory Syndrome Virus but Does Not Improve Heterologous Protection. Viruses 2019, 11, 576.
Note that from the first issue of 2016, MDPI journals use article numbers instead of page numbers. See further details here.
Related Articles
Comments
[Return to top]