Canine Respiratory Coronavirus, Bovine Coronavirus, and Human Coronavirus OC43: Receptors and Attachment Factors
1
Microbiology Department, Faculty of Biochemistry, Biophysics and Biotechnology, Jagiellonian University, Gronostajowa 7, 30-387 Krakow, Poland
2
Virogenetics Laboratory of Virology, Malopolska Centre of Biotechnology, Jagiellonian University, Gronostajowa 7a, 30-387 Krakow, Poland
3
Department of Cell Biochemistry, Faculty of Biochemistry, Biophysics and Biotechnology, Jagiellonian University, Gronostajowa 7, 30-387 Krakow, Poland
4
Department of Cardiac, Vascular and Endovascular Surgery and Transplantology, Medical University of Silesia in Katowice, Silesian Centre for Heart Diseases, Marii Curie Sklodowskiej 9, 41-800 Zabrze, Poland
5
Department of Pharmacology, School of Medicine with the Division of Dentistry in Zabrze, Medical University of Silesia in Katowice, ul. Jordana 19, 41-808 Zabrze, Poland
6
Institute of Physics, Faculty of Physics, Astronomy and Applied Computer Sciences, Jagiellonian University, Lojasiewicza 11, 30-348 Krakow, Poland
7
Department of Pathology and Pathogen Biology, The Royal Veterinary College, Hatfield, Hertfordshire AL9 7TA, UK
*
Author to whom correspondence should be addressed.
†
These authors contributed equally to this work.
Received: 29 December 2018 / Revised: 31 March 2019 / Accepted: 2 April 2019 / Published: 5 April 2019
Abstract
Despite high similarity of canine respiratory coronavirus (CRCoV), bovine coronavirus, (BCoV) and human coronavirus OC43 (HCoV-OC43), these viruses differ in species specificity. For years it was believed that they share receptor specificity, utilizing sialic acids for cell surface attachment, internalization, and entry. Interestingly, careful literature analysis shows that viruses indeed bind to the cell surface via sialic acids, but there is no solid data that these moieties mediate virus entry. In our study, using a number of techniques, we showed that all three viruses are indeed able to bind to sialic acids to a different extent, but these molecules render the cells permissive only for the clinical strain of HCoV-OC43, while for others they serve only as attachment receptors. CRCoV and BCoV appear to employ human leukocyte antigen class I (HLA-1) as the entry receptor. Furthermore, we identified heparan sulfate as an alternative attachment factor, but this may be related to the cell culture adaptation, as in ex vivo conditions, it does not seem to play a significant role. Summarizing, we delineated early events during CRCoV, BCoV, and HCoV-OC43 entry and systematically studied the attachment and entry receptor utilized by these viruses.
View Full-Text
►

▼

Figures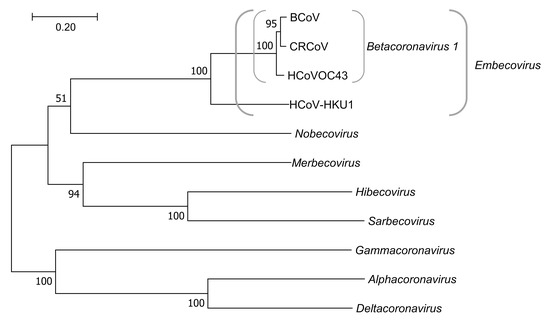 Figure 1
This is an open access article distributed under the
Creative Commons Attribution License
which permits unrestricted use, distribution, and reproduction in any medium, provided the original work is properly cited (CC BY 4.0).

Share & Cite This Article
MDPI and ACS Style
Szczepanski, A.; Owczarek, K.; Bzowska, M.; Gula, K.; Drebot, I.; Ochman, M.; Maksym, B.; Rajfur, Z.; Mitchell, J.A.; Pyrc, K. Canine Respiratory Coronavirus, Bovine Coronavirus, and Human Coronavirus OC43: Receptors and Attachment Factors. Viruses 2019, 11, 328.
Note that from the first issue of 2016, MDPI journals use article numbers instead of page numbers. See further details here.
Related Articles
Comments
[Return to top]