A Field Recombinant Strain Derived from Two Type 1 Porcine Reproductive and Respiratory Syndrome Virus (PRRSV-1) Modified Live Vaccines Shows Increased Viremia and Transmission in SPF Pigs
1
Agence Nationale de Sécurité Sanitaire de l'Alimentation, de l'Environnement et du Travail (Anses), Unité Virologie Immunologie Porcines, BP 53, 22440 Ploufragan, France
2
Université Bretagne Loire, Cité internationale, 1 place Paul Ricoeur, CS 54417, 35044 Rennes, France
3
Institut du Porc (IFIP), 5 Rue Lespagnol, 75020 Paris, France
4
Porc.Spective, Groupe vétérinaire Chêne Vert Conseil, ZA de Gohélève, 56920 Noyal-Pontivy, France
5
Anses, Unité Génétique Virale et Biosécurité, BP 53, 22440 Ploufragan, France
6
Anses, Unité Epidémiologie et Bien-être Porcins, BP 53, 22440 Ploufragan, France
7
Anses, Service de Production de Porcs Assainis et Expérimentation, BP 53, 22440 Ploufragan, France
*
Author to whom correspondence should be addressed.
Received: 28 January 2019 / Revised: 15 March 2019 / Accepted: 21 March 2019 / Published: 23 March 2019
Abstract
In Europe, modified live vaccines (MLV) are commonly used to control porcine reproductive and respiratory syndrome virus (PRRSV) infection. However, they have been associated with safety issues such as reversion to virulence induced by mutation and/or recombination. On a French pig farm, we identified a field recombinant strain derived from two PRRSV-1 MLV (MLV1). As a result, we aimed to evaluate its clinical, virological, and transmission parameters in comparison with both parental strains. Three groups with six pigs in each were inoculated with either one of the two MLV1s or with the recombinant strain; six contact pigs were then added into each inoculated group. The animals were monitored daily for 35 days post-inoculation (dpi) for clinical symptoms; blood samples and nasal swabs were collected twice a week. PRRS viral load in inoculated pigs of recombinant group was higher in serum, nasal swabs, and tonsils in comparison with both vaccine groups. The first viremic contact pig was detected as soon as 2 dpi in the recombinant group compared to 10 and 17 dpi for vaccine groups. Estimation of transmission parameters revealed fastest transmission and longest duration of infectiousness for recombinant group. Our in vivo study showed that the field recombinant strain derived from two MLV1s demonstrated high viremia, shedding and transmission capacities.
View Full-Text
►

▼

Figures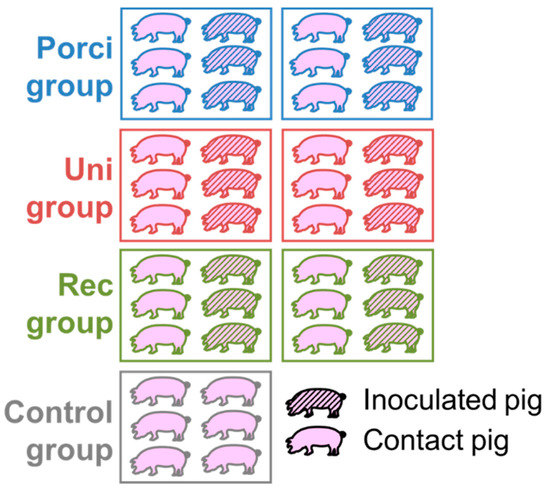 Figure 1
This is an open access article distributed under the
Creative Commons Attribution License
which permits unrestricted use, distribution, and reproduction in any medium, provided the original work is properly cited (CC BY 4.0).

Share & Cite This Article
MDPI and ACS Style
Eclercy, J.; Renson, P.; Lebret, A.; Hirchaud, E.; Normand, V.; Andraud, M.; Paboeuf, F.; Blanchard, Y.; Rose, N.; Bourry, O. A Field Recombinant Strain Derived from Two Type 1 Porcine Reproductive and Respiratory Syndrome Virus (PRRSV-1) Modified Live Vaccines Shows Increased Viremia and Transmission in SPF Pigs. Viruses 2019, 11, 296.
Note that from the first issue of 2016, MDPI journals use article numbers instead of page numbers. See further details here.
Related Articles
Comments
[Return to top]