Passion Fruit Chlorotic Mottle Virus: Molecular Characterization of a New Divergent Geminivirus in Brazil
1
Embrapa Recursos Genéticos e Biotecnologia, Brasília, DF 70770-017, Brazil
2
The Biodesign Center for Fundamental and Applied Microbiomics, Center for Evolution and Medicine, School of Life Sciences, Arizona State University, Tempe, AZ 85287, USA
3
Centro de Educação e Saúde, Universidade Federal de Campina Grande, Cuité, PB 58175-000, Brazil
4
Departmento de Biologia Celular, Campus Universitário Darcy Ribeiro, Universidade de Brasília, Brasília, DF 70910-900, Brazil
5
Computational Biology Group, Institute of Infectious Disease and Molecular Medicine, Faculty of Health Sciences, University of Cape Town, Observatory 7925, South Africa
6
Structural Biology Research Unit, Department of Integrative Biomedical Sciences, University of Cape Town, Observatory, Cape Town 7701, South Africa
*
Authors to whom correspondence should be addressed.
Received: 1 March 2018 / Revised: 27 March 2018 / Accepted: 30 March 2018 / Published: 2 April 2018
Abstract
Brazil is one of the major passion fruit producers worldwide. Viral diseases are among the most important constraints for passion fruit production. Here we identify and characterize a new passion fruit infecting-virus belonging to the family
Geminiviridae
: passion fruit chlorotic mottle virus (PCMoV). PCMoV is a divergent geminivirus unlike previously characterized passion fruit-infecting geminiviruses that belonged to the genus
Begomovirus
. Among the presently known geminiviruses, it is most closely related to, and shares ~62% genome-wide identity with citrus chlorotic dwarf associated virus (CCDaV) and camelia chlorotic dwarf associated virus (CaCDaV). The 3743 nt PCMoV genome encodes a capsid protein (CP) and replication-associated protein (Rep) that respectively share 56 and 60% amino acid identity with those encoded by CaCDaV. The CPs of PCMoV, CCDaV, and CaCDaV cluster with those of begomovirus whereas their Reps with those of becurtoviruses. Hence, these viruses likely represent a lineage of recombinant begomo-like and becurto-like ancestral viruses. Furthermore, PCMoV, CCDaV, and CaCDaV genomes are ~12–30% larger than monopartite geminiviruses and this is primarily due to the encoded movement protein (MP; 891–921 nt) and this MP is most closely related to that encoded by the DNA-B component of bipartite begomoviruses. Hence, PCMoV, CCDaV, and CaCDaV lineage of viruses may represent molecules in an intermediary step in the evolution of bipartite begomoviruses (~5.3 kb) from monopartite geminiviruses (~2.7–3 kb). An infectious clone of PCMoV systemically infected
Nicotiana benthamina
,
Arabidopsis thaliana
, and
Passiflora edulis
.
View Full-Text
►

▼

Figures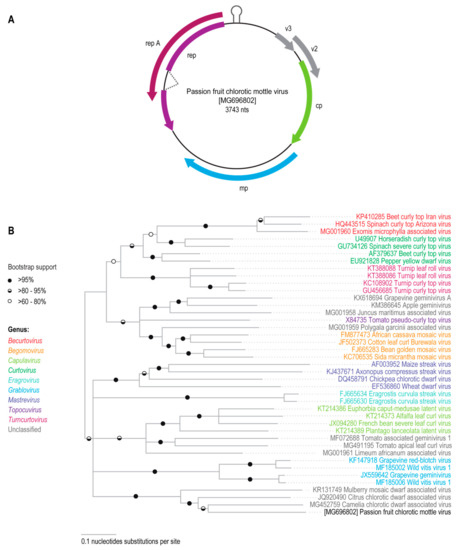 Figure 1
This is an open access article distributed under the
Creative Commons Attribution License
which permits unrestricted use, distribution, and reproduction in any medium, provided the original work is properly cited (CC BY 4.0).

Share & Cite This Article
MDPI and ACS Style
Fontenele, R.S.; Abreu, R.A.; Lamas, N.S.; Alves-Freitas, D.M.T.; Vidal, A.H.; Poppiel, R.R.; Melo, F.L.; Lacorte, C.; Martin, D.P.; Campos, M.A.; Varsani, A.; Ribeiro, S.G. Passion Fruit Chlorotic Mottle Virus: Molecular Characterization of a New Divergent Geminivirus in Brazil. Viruses 2018, 10, 169.
Note that from the first issue of 2016, MDPI journals use article numbers instead of page numbers. See further details here.
Related Articles
Comments
[Return to top]