Characterization of Two
AGL6

–Like Genes from a Chinese Endemic Woody Tree,

Manglietia patungensis

(Magnoliaceae) Provides Insight into Perianth Development and Evolution in Basal Angiosperms

1

College of Horticulture and Gardening, Yangtze University, Jingzhou 434025, China

2

Key Laboratory of Three Gorges Regional Plant Genetics & Germplasm Enhancement (CTGU), China Three Gorges University, Yichang 443002, China

*

Author to whom correspondence should be addressed.

Received: 23 May 2019 / Revised: 30 July 2019 / Accepted: 7 August 2019 / Published: 8 August 2019
Abstract
Manglietia patungensis
(Magnoliaceae) exhibits radially symmetric flowers with perianth consisting of three separate sepaloid tepals in whorl 1 and six petaloid tepals in the inner two whorls, which shows an obvious difference from flowers of most Magnoliaceae species that contain three uniform petaloid tepals whorls, and make it an excellent model for understanding perianth morphology differentiation during early flower evolution. Here, two
AGL6
orthologs,
MapaAGL6-1
and
MapaAGL6-2
, were isolated from
M. patungensis
. Sequence alignment and phylogenetic analyses grouped both genes into the
AGL6
lineage.
MapaAGL6-1
is expressed only in the perianth whorls, while
MapaAGL6-2
is strongly expressed in the perianth whorls but is lowly expressed in gynoecium. Furthermore, ectopic expression of
MapaAGL6-1
results in strong complementation phenotypes in the
Arabidopsis
ap1
-10 flower and production of normal floral organs in four floral whorls only with the petal number reduced in whorl 2, while ectopic expression of
MapaAGL6-2
only results in petals partly rescued but failing to terminate carpelloid development in
Arabidopsis
ap1
-10 mutant. In addition, the daughter lines generated from a cross between
35S
::
MapaAGL6-1
transgenic plants showing strong phenotypes and
35S
::
MapaAGL6-2
transgenic plants showing phenotypic changes produce normal flowers. Our results suggest that
MapaAGL6-1
is a reasonable A-function gene controlling perianth identity in Magnoliaceae, which infers from its expression region and complementation phenotypes in
Arabidopsis
ap1
mutant, while
MapaAGL6-2
is mainly involved in petaloid tepal development. Our data also provide a new clue to uncover the perianth development and early evolution in basal angiosperms.
View Full-Text
►

▼

Figures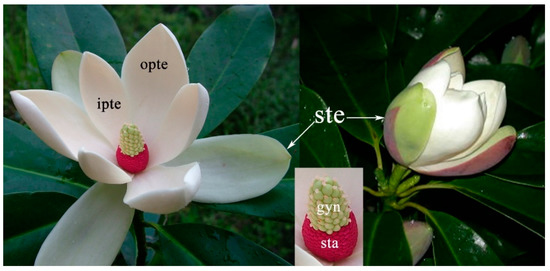 Figure 1
This is an open access article distributed under the
Creative Commons Attribution License
which permits unrestricted use, distribution, and reproduction in any medium, provided the original work is properly cited (CC BY 4.0).

Share & Cite This Article
MDPI and ACS Style
Liu, Z.; Zhang, K.; Li, L.; Fei, Y.; Chen, F. Characterization of Two AGL6–Like Genes from a Chinese Endemic Woody Tree, Manglietia patungensis (Magnoliaceae) Provides Insight into Perianth Development and Evolution in Basal Angiosperms. Forests 2019, 10, 669.
Note that from the first issue of 2016, MDPI journals use article numbers instead of page numbers. See further details here.
Related Articles
Comments
[Return to top]