Effects of Experimental Nitrogen Addition on Nutrients and Nonstructural Carbohydrates of Dominant Understory Plants in a Chinese Fir Plantation
1
Jiangxi Provincial Key Laboratory of Silviculture, Jiangxi Agricultural University, Nanchang 330045, China
2
Jiulianshan National Observation and Research Station of Chinese Forest Ecosystem, Key Laboratory of National Forestry and Grassland Administration on Forest Ecosystem Protection and Restoration of Poyang Lake Watershed, Jiangxi Agricultural University, Nanchang 330045, China
3
Department Forestry and Environmental Conservation, Clemson University, Clemson, SC 29634, USA
4
Qianyanzhou Ecological Station, Key Laboratory of Ecosystem Network Observation and Modeling, Institute of Geographic Sciences and Natural Resources Research, Chinese Academy of Sciences, Beijing 100101, China
*
Author to whom correspondence should be addressed.
Received: 14 January 2019 / Revised: 2 February 2019 / Accepted: 11 February 2019 / Published: 12 February 2019
Abstract
Research Highlights:
This study identifies the nitrogen (N) deposition effect on understory plants by altering directly soil nutrients or indirectly altering environmental factors in subtropical plantation.
Background and Objectives:
N deposition is a major environmental issue and has altered forest ecosystem components and their functions. The response of understory vegetation to N deposition is often neglected due to a small proportion of stand productivity. However, compared to overstory trees, understory species usually have a higher nutrient cycle rate and are more sensitive to environmental change, so should be of greater concern.
Materials and Methods:
The changes in plant biomass, N, phosphorus (P), and nonstructural carbohydrates (NSCs) of three dominant understory species, namely
Dicranopteris dichotoma
,
Lophatherum gracile
, and
Melastoma dodecandrum
, were determined following four years of experimental N addition (100 kg hm
−2
year
−1
of N) in a Chinese fir plantation.
Results:
N addition increased the tissue N concentrations of all the understory plants by increasing soil mineral N, while N addition decreased the aboveground biomass of
D. dichotoma
and
L. gracile
significantly—by 82.1% and 67.2%, respectively. The biomass of
M. dodecandrum
did not respond to N addition. In contrast, N addition significantly increased the average girth growth rates and litterfall productivity of overstory trees—by 18.28% and 36.71%, respectively. NSCs, especially soluble sugar, representing immediate products of photosynthesis and main energy sources for plant growth, decreased after N addition in two of the three species. The plant NSC/N and NSC/P ratios showed decreasing tendencies, but the N/P ratio in aboveground tissue did not change with N addition.
Conclusions:
N addition might inhibit the growth of understory plants by decreasing the nonstructural carbohydrates and light availability indirectly rather than by changing nutrients and N/P stoichiometry directly, although species-specific responses to N deposition occurred in the Chinese fir plantation.
View Full-Text
►

▼

Figures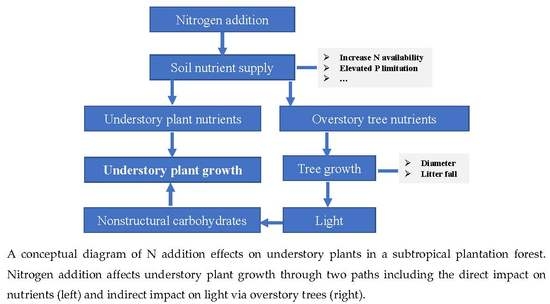 Graphical abstract
This is an open access article distributed under the
Creative Commons Attribution License
which permits unrestricted use, distribution, and reproduction in any medium, provided the original work is properly cited (CC BY 4.0).

Share & Cite This Article
MDPI and ACS Style
Wang, F.; Chen, F.; Wang, G.G.; Mao, R.; Fang, X.; Wang, H.; Bu, W. Effects of Experimental Nitrogen Addition on Nutrients and Nonstructural Carbohydrates of Dominant Understory Plants in a Chinese Fir Plantation. Forests 2019, 10, 155.
Note that from the first issue of 2016, MDPI journals use article numbers instead of page numbers. See further details here.
Related Articles
Comments
[Return to top]