Electrochemical Corrosion Behavior of Ni-Fe-Co-P Alloy Coating Containing Nano-CeO2 Particles in NaCl Solution
1
College of Engineering, Nanjing Agricultural University, Nanjing 210095, China
2
Key laboratory of Intelligence Agricultural Equipment of Jiangsu Province, Nanjing 210031, China
*
Author to whom correspondence should be addressed.
Materials 2019, 12(16), 2614; https://doi.org/10.3390/ma12162614 (registering DOI)
Received: 29 July 2019 / Revised: 12 August 2019 / Accepted: 14 August 2019 / Published: 16 August 2019
Abstract
In order to study the effect of nano-CeO
2
particles doping on the electrochemical corrosion behavior of pure Ni-Fe-Co-P alloy coating, Ni-Fe-Co-P-CeO
2
composite coating is prepared on the surface of 45 steel by scanning electrodeposition. The morphology, composition, and phase structure of the composite coating are analyzed by means of scanning electron microscope (SEM), energy dispersive spectroscopy (EDS), and X-ray diffraction (XRD). The corrosion behavior of the coatings with different concentrations of nano-CeO
2
particles in 50 g/L NaCl solution is studied by Tafel polarization curve and electrochemical impedance spectroscopy. The corrosion mechanism is discussed. The experimental results show that the obtained Ni-Fe-Co-P-CeO
2
composite coating is amorphous, and the addition of nano-CeO
2
particles increases the mass fraction of P. With the increase of the concentration of nano-CeO
2
particles in the plating solution, the surface flatness of the coating increases. The surface of Ni-Fe-Co-P-1 g/L CeO
2
composite coating is uniform and dense, and its self-corrosion potential is the most positive; the corrosion current and corrosion rate are the smallest, and the charge transfer resistance is the largest, showing the best corrosion resistance.
View Full-Text
►

▼

Figures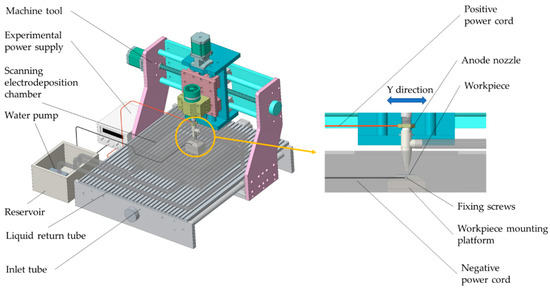 Figure 1
This is an open access article distributed under the
Creative Commons Attribution License
which permits unrestricted use, distribution, and reproduction in any medium, provided the original work is properly cited (CC BY 4.0).
Share & Cite This Article
MDPI and ACS Style
Fu, X.; Ma, W.; Duan, S.; Wang, Q.; Lin, J. Electrochemical Corrosion Behavior of Ni-Fe-Co-P Alloy Coating Containing Nano-CeO2 Particles in NaCl Solution. Materials 2019, 12, 2614.
Note that from the first issue of 2016, MDPI journals use article numbers instead of page numbers. See further details here.
Related Articles
Comments
[Return to top]