Indium Incorporation into InGaN Quantum Wells Grown on GaN Narrow Stripes
1
Institute of High Pressure Physics PAS, Sokołowska 29/37, 01-142 Warsaw, Poland
2
TopGaN Ltd., Sokołowska 29/37, 01-142 Warsaw, Poland
3
Institute of Physics PAS, Al. Lotnikow 32/46, 02-668 Warsaw, Poland
4
Faculty of Mathematics and Physics, Charles University, Ke Karlovu 5, 121 16 Praha 2, Czech Republic
5
Institute of Materials and Systems for Sustainability, Nagoya University, Furo-cho, Chikusa-ku, Nagoya 464-8603, Japan
6
Department of Electrical Engineering and Computer Science, Nagoya University, Furo-cho, Chikusa-ku, Nagoya 464-8603, Japan
7
Akasaki Research Center, Nagoya University, Furo-cho, Chikusa-ku, Nagoya 464-8603, Japan
8
Venture Business Laboratory, Nagoya University, Furo-cho, Chikusa-ku, Nagoya 464-8603, Japan
*
Author to whom correspondence should be addressed.
Received: 3 July 2019 / Revised: 2 August 2019 / Accepted: 6 August 2019 / Published: 14 August 2019
Abstract
InGaN quantum wells were grown using metalorganic chemical vapor phase epitaxy (vertical and horizontal types of reactors) on stripes made on GaN substrate. The stripe width was 5, 10, 20, 50, and 100 µm and their height was 4 and 1 µm. InGaN wells grown on stripes made in the direction perpendicular to the off-cut had a rough morphology and, therefore, this azimuth of stripes was not further explored. InGaN wells grown on the stripes made in the direction parallel to the GaN substrate off-cut had a step-flow-like morphology. For these samples (grown at low temperatures), we found out that the InGaN growth rate was higher for the narrower stripes. The higher growth rate induces a higher indium incorporation and a longer wavelength emission in photoluminescence measurements. This phenomenon is very clear for the 4 µm high stripes and less pronounced for the shallower 1 µm high stripes. The dependence of the emission wavelength on the stripe width paves a way to multicolor emitters.
View Full-Text
►

▼

Figures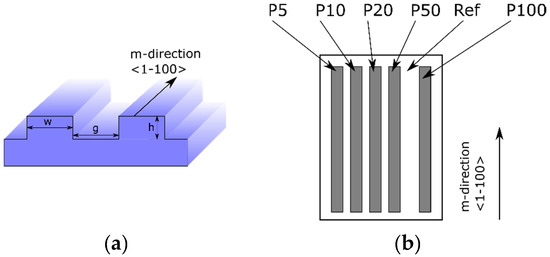 Figure 1
This is an open access article distributed under the
Creative Commons Attribution License
which permits unrestricted use, distribution, and reproduction in any medium, provided the original work is properly cited (CC BY 4.0).

Share & Cite This Article
MDPI and ACS Style
Sarzyński, M.; Grzanka, E.; Grzanka, S.; Targowski, G.; Czernecki, R.; Reszka, A.; Holy, V.; Nitta, S.; Liu, Z.; Amano, H.; Leszczyński, M. Indium Incorporation into InGaN Quantum Wells Grown on GaN Narrow Stripes. Materials 2019, 12, 2583.
Note that from the first issue of 2016, MDPI journals use article numbers instead of page numbers. See further details here.
Related Articles
Comments
[Return to top]