Polymer-Based Instructive Scaffolds for Endodontic Regeneration
1
French National Institute of Health and Medical Research (INSERM), Regenerative Nanomedicine, UMR 1260, FMTS, 67085 Strasbourg, France
2
Faculté de Médecine de Strasbourg, Strasbourg, Université de Strasbourg, 67000 Strasbourg, France
3
Pôle de Chirurgie Maxillo-Faciale et Stomatologie, Hôpitaux Universitaires de Strasbourg, 67000 Strasbourg, France
4
Faculté de Chirurgie Dentaire de Strasbourg, Université de Strasbourg, 67000 Strasbourg, France
5
Hôpitaux Universitaires de Strasbourg, Pôle de Médecine et Chirurgie Bucco-Dentaires, 67000 Strasbourg, France
*
Author to whom correspondence should be addressed.
Received: 9 July 2019 / Revised: 19 July 2019 / Accepted: 22 July 2019 / Published: 24 July 2019
Abstract
The challenge of endodontic regeneration is modulated by clinical conditions which determine five kinds of tissue requirements: pulp connective-tissue formation, dentin formation, revascularization, reinnervation and radicular edification. Polymer scaffolds constitute keystone of the different endodontic regenerative strategies. Indeed, scaffolds are crucial for carrying active molecules and competent cells which optimize the regeneration. Hydrogels are very beneficial for controlling viscosity and porosity of endodontic scaffolds. The nanofibrous and microporous scaffolds mimicking extracellular matrix are also of great interest for promoting dentin-pulp formation. Two main types of polymer scaffolds are highlighted: collagen and fibrin. Collagen scaffolds which are similar to native pulp tissue, are adequate for pulp connective tissue formation. Functionnalization by active biomolecules as BMP, SDF-1, G-CSF enhances their properties. Fibrin or PRF scaffolds present the advantage of promoting stem cell differentiation and concomitant revascularisation. The choice of the type of polymers (polypeptide, PCL, chitosan) can depend on its ability to deliver the active biomolecule or to build as suitable hydrogel as possible. Since 2010s, proposals to associate different types of polymers in a same scaffold have emerged for adding advantages or for offsetting a disadvantage of a polymer. Further works would study the synergetic effects of different innovative polymers composition.
View Full-Text
►

▼

Figures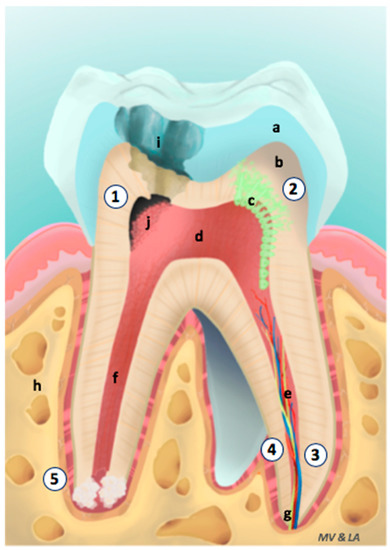 Figure 1
This is an open access article distributed under the
Creative Commons Attribution License
which permits unrestricted use, distribution, and reproduction in any medium, provided the original work is properly cited (CC BY 4.0).

Share & Cite This Article
MDPI and ACS Style
Zein, N.; Harmouch, E.; Lutz, J.-C.; Fernandez De Grado, G.; Kuchler-Bopp, S.; Clauss, F.; Offner, D.; Hua, G.; Benkirane-Jessel, N.; Fioretti, F. Polymer-Based Instructive Scaffolds for Endodontic Regeneration. Materials 2019, 12, 2347.
Note that from the first issue of 2016, MDPI journals use article numbers instead of page numbers. See further details here.
Related Articles
Comments
[Return to top]