Evaluation of the Bone Regeneration Effect of Recombinant Human Bone Morphogenic Protein-2 on Subperiosteal Bone Graft in the Rat Calvarial Model
1
Department of Orthodontics, College of Dentistry, Gangneung-Wonju National University, Gangneung 25457, Korea
2
Department of Prosthodontics, Chungbuk National University Hospital, Cheongju 28644, Korea
3
Department of Oral and Maxillofacial Surgery, Chungbuk National University College of Medicine, Cheongju 28644, Korea
4
Department of Oral and Maxillofacial Surgery, Chungbuk National University Hospital, Cheongju 28644, Korea
*
Author to whom correspondence should be addressed.
Received: 2 May 2019 / Revised: 10 May 2019 / Accepted: 13 May 2019 / Published: 16 May 2019
Abstract
The aim of this study was to evaluate the bone regeneration effect of recombinant human bone morphogenetic protein-2 (rhBMP-2) on a subperiosteal bone graft in a rat model. A subperiosteal space was made on the rat calvarium, and anorganic bovine bone (ABB), ABB/low bone morphogenetic protein (BMP) (5 µg), and ABB/high BMP (50 µg) were grafted as subperiosteal bone grafts. The new bone formation parameters of bone volume (BV), bone mineral density (BMD), trabecular thickness (TbTh), and trabecular spacing (TbSp) were evaluated by microcomputed tomography (µ-CT), and a histomorphometric analysis was performed to evaluate the new bone formation area. The expression of osteogenic markers, such as bone sialoprotein (BSP) and osteocalcin, were evaluated by immunohistochemistry (IHC). The ABB/high BMP group showed significantly higher BV than the ABB/low BMP (
p
= 0.004) and control groups (
p
= 0.000) and higher TbTh than the control group (
p
= 0.000). The ABB/low BMP group showed significantly higher BV, BMD, and TbTh than the control group (
p
= 0.002, 0.042, and 0.000, respectively). The histomorphometry showed significantly higher bone formation in the ABB/low and high BMP groups than in the control group (
p
= 0.000). IHC showed a high expression of BSP and osteocalcin in the ABB/low and high BMP groups. Subperiosteal bone grafts with ABB and rhBMP-2 have not been studied. In our study, we confirmed that rhBMP-2 contributes to new bone formation in a subperiosteal bone graft with ABB.
View Full-Text
►

▼

Figures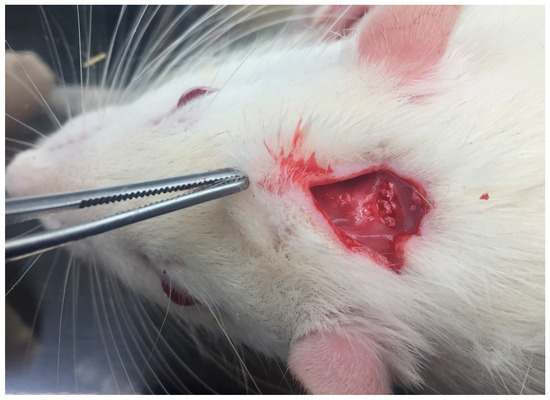 Figure 1
This is an open access article distributed under the
Creative Commons Attribution License
which permits unrestricted use, distribution, and reproduction in any medium, provided the original work is properly cited (CC BY 4.0).

Share & Cite This Article
MDPI and ACS Style
Jang, E.; Lee, J.-Y.; Lee, E.-Y.; Seok, H. Evaluation of the Bone Regeneration Effect of Recombinant Human Bone Morphogenic Protein-2 on Subperiosteal Bone Graft in the Rat Calvarial Model. Materials 2019, 12, 1613.
Note that from the first issue of 2016, MDPI journals use article numbers instead of page numbers. See further details here.
Related Articles
Comments
[Return to top]