Steering the Properties of MoOx Hole Transporting Layers in OPVs and OLEDs: Interface Morphology vs. Electronic Structure
1
Institute for Materials Research (IMO‐IMOMEC), Inorganic and Physical Chemistry, Hasselt University, Martelarenlaan 42, 3500 Hasselt, Belgium
2
IMEC vzw, division IMOMEC, Agoralaan Building D, 3590 Diepenbeek, Belgium
3
Institute for Materials Research (IMO‐IMOMEC), Engineering Materials and Applications, Hasselt University, Wetenschapspark 1, 3590 Diepenbeek, Belgium
4
Institute for Materials Research (IMO‐IMOMEC), Design and Synthesis of Organic Semiconductors, Hasselt University, Martelarenlaan 42, 3500 Hasselt, Belgium
5
Institute for Materials Research (IMO‐IMOMEC), Hasselt University, Wetenschapspark 1, 3590 Diepenbeek, Belgium
6
Flanders make vzw, Oude Diestersebaan 133, 3920 Lommel, Belgium
*
Author to whom correspondence should be addressed.
Received: 19 December 2016 / Accepted: 27 January 2017 / Published: 30 January 2017
Abstract
The identification, fine‐tuning, and process optimization of appropriate hole transporting layers (HTLs) for organic solar cells is indispensable for the production of efficient and sustainable functional devices. In this study, the optimization of a solution‐processed molybdenum oxide (MoOx) layer fabricated from a combustion precursor is carried out via the introduction of zirconium and tin additives. The evaluation of the output characteristics of both organic photovoltaic (OPV) and organic light emitting diode (OLED) devices demonstrates the beneficial influence upon the addition of the Zr and Sn ions compared to the generic MoOx precursor. A dopant effect in which the heteroatoms and the molybdenum oxide form a chemical identity with fundamentally different structural properties could not be observed, as the additives do not affect the molybdenum oxide composition or electronic band structure. An improved surface roughness due to a reduced crystallinity was found to be a key parameter leading to the superior performance of the devices employing modified HTLs.
View Full-Text
►

▼

Figures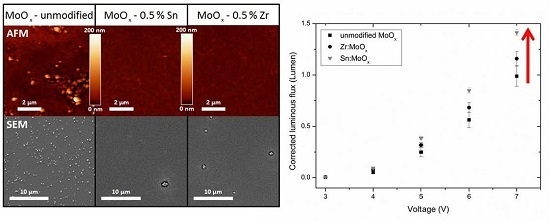 Graphical abstract
This is an open access article distributed under the
Creative Commons Attribution License
which permits unrestricted use, distribution, and reproduction in any medium, provided the original work is properly cited (CC BY 4.0).

Share & Cite This Article
MDPI and ACS Style
Marchal, W.; Verboven, I.; Kesters, J.; Moeremans, B.; De Dobbelaere, C.; Bonneux, G.; Elen, K.; Conings, B.; Maes, W.; Boyen, H.G.; Deferme, W.; Van Bael, M.; Hardy, A. Steering the Properties of MoOx Hole Transporting Layers in OPVs and OLEDs: Interface Morphology vs. Electronic Structure. Materials 2017, 10, 123.
Note that from the first issue of 2016, MDPI journals use article numbers instead of page numbers. See further details here.
Related Articles
Comments
[Return to top]