An Injectivity Evaluation Model of Polymer Flooding in Offshore Multilayer Reservoir
1
Research Institute of Petroleum Exploration & Development, PetroChina, Beijing 100083, China
2
Key Laboratory of Petroleum Engineering of the Ministry of Education, China University of Petroleum, Beijing 102249, China
*
Author to whom correspondence should be addressed.
Received: 9 March 2019 / Revised: 1 April 2019 / Accepted: 9 April 2019 / Published: 15 April 2019
Abstract
Good polymer flood performance evaluation requires an understanding of polymer injectivity. Offshore reservoirs are characterized by unfavorable water–oil mobility ratios, strong heterogeneity, and multilayer production, which collectively contribute to unique challenges. Accordingly, this article presents a semi-analytical model for the evaluation of commingled and zonal injectivity in the entire development phase, which consists of primary water flooding, secondary polymer flooding, and subsequent water flooding. First, we define four flow regions with unique saturation profiles in order to accurately describe the fluid dynamic characteristics between the injector and the producer. Second, the frontal advance equation of polymer flooding is built up based on the theory of polymer–oil fractional flow. The fluid saturation distribution and the injection–production pressure difference are determined with the method of equivalent seepage resistance. Then, the zonal flow rate is obtained by considering the interlayer heterogeneity, and the semi-analytical model for calculating polymer injectivity in a multilayer reservoir is established. The laboratory experiment data verify the reliability of the proposed model. The results indicate the following. (1) The commingled injectivity decreases significantly before polymer breakthrough and increases steadily after polymer breakthrough. The change law of zonal injectivity is consistent with that of commingled injectivity. Due to the influence of interlayer heterogeneity, the quantitative indexes of the zonal flow rate and injection performance are different. The injectivity of the high-permeability layer is better than that of the low-permeability layer. (2) The higher the injection rate and the lower the polymer concentration, the better the injectivity is before polymer breakthrough. An earlier injection time, lower injection rate, larger polymer injection volume, and lower polymer concentration will improve the injectivity after polymer breakthrough. The polymer breakthrough time is a significant indicator in polymer flooding optimization. This study has provided a quick and reasonable model of injectivity evaluation for offshore multilayer reservoirs.
View Full-Text
►

▼

Figures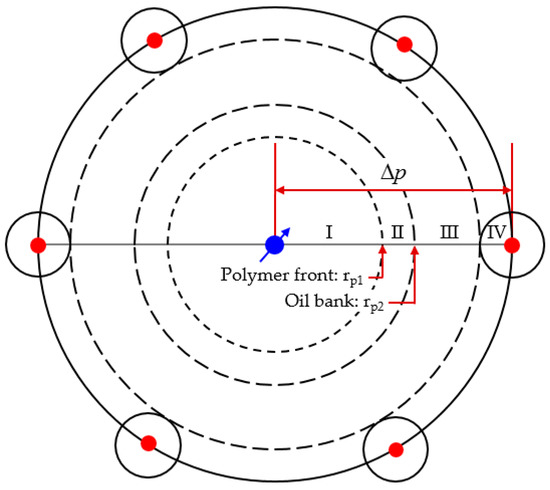 Figure 1
This is an open access article distributed under the
Creative Commons Attribution License
which permits unrestricted use, distribution, and reproduction in any medium, provided the original work is properly cited (CC BY 4.0).

Share & Cite This Article
MDPI and ACS Style
Sun, L.; Li, B.; Jiang, H.; Li, Y.; Jiao, Y. An Injectivity Evaluation Model of Polymer Flooding in Offshore Multilayer Reservoir. Energies 2019, 12, 1444.
Note that from the first issue of 2016, MDPI journals use article numbers instead of page numbers. See further details here.
Related Articles
Comments
[Return to top]