Multi-period Market Operation of Transmission-Distribution Systems Based on Heterogeneous Decomposition and Coordination
1
China Electric Power Research Institute, Beijing 100192, China
2
College of Electrical Engineering, Zhejiang University, Hangzhou 310027, China
3
School of Automation, Guangdong University of Technology, Guangzhou 510006, China
4
National Electric Power Dispatching and Control Center, Beijing 100031, China
5
Robert W. Galvin Center for Electricity Innovation at Illinois Institute of Technology, Chicago, IL 60616, USA
*
Author to whom correspondence should be addressed.
Received: 19 May 2019 / Revised: 2 August 2019 / Accepted: 5 August 2019 / Published: 14 August 2019
Abstract
The integration of shiftable/curtailment distribution generators (DGs) along with quick-response storage has not only increased the transaction's flexibility but also puzzled the bidding willingness of transmission-connected market players (TMPs). In this paper, the method of heterogeneous decomposition and coordination (HGDC) is applied to decompose the integrated transmission-distribution market framework into a bi-level problem with a transmission wholesale market master problem and several distribution retail market subproblems in a decentralized organization structure. The price-based bidding willingness of demand-side resources' (DSRs') aggregator is simulated considering the relation between distribution system operator's (DSO's) operation modes and its equivalent market transactive price. Besides the traditional mixed-integer linear programming (MILP) model, the active reconfiguration model of DSOs based on mixed-integer second-order conic programming (MI-SOCP) is proposed to rearrange its operation switch status and elaborate its operation cost according to the market transaction. Multi-period optimal operation modes could be obtained through an HGDC-based iteration process by coordinating the transmission system operator (TSO) with DSOs and considering the market energy equilibrium and reserve requirements for security considerations. Karush-Kuhn-Tucker (KKT) conditions are used to testify the optimality and convergence of the bi-level model in theory. The T5-3D33 case is employed to illustrate the efficiency of the proposed model and method.
View Full-Text
►

▼

Figures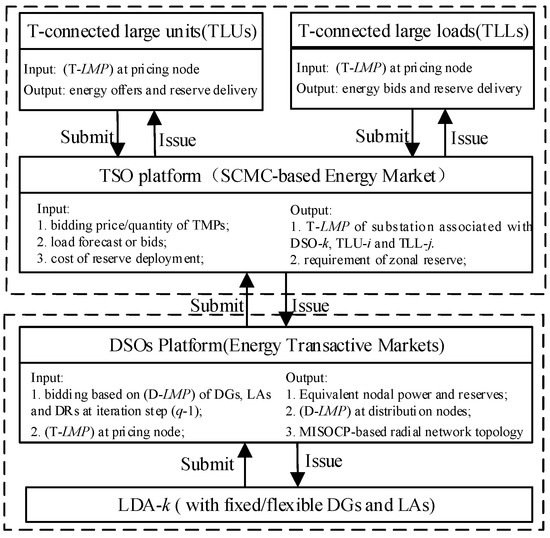 Figure 1
This is an open access article distributed under the
Creative Commons Attribution License
which permits unrestricted use, distribution, and reproduction in any medium, provided the original work is properly cited (CC BY 4.0).

Share & Cite This Article
MDPI and ACS Style
Liu, C.; Zhou, J.; Pan, Y.; Li, Z.; Wang, Y.; Xu, D.; Ding, Q.; Luo, Z.; Shahidehpour, M. Multi-period Market Operation of Transmission-Distribution Systems Based on Heterogeneous Decomposition and Coordination. Energies 2019, 12, 3126.
Note that from the first issue of 2016, MDPI journals use article numbers instead of page numbers. See further details here.
Related Articles
Comments
[Return to top]