In Situ Surface-Enhanced Raman Spectroscopy Study of the Electrocatalytic Effect of PtFe/C Nanocatalyst on Ethanol Electro-Oxidation in Alkaline Medium
1
Centro de Investigación y Desarrollo Tecnológico en Electroquímica, Unidad Tijuana, C.P. 22444 Tijuana, Baja California, Mexico
2
Tecnológico Nacional de México, Instituto Tecnológico de Tijuana, Apdo. Postal 1166 Tijuana, Baja California, Mexico
3
Centro de Investigación en Materiales Avanzados S.C., Complejo Industrial Chihuahua, C.P. 31136 Chihuahua, Chihuahua, Mexico
4
Facultad de Ingeniería, División de Investigación y Posgrado, Universidad Autónoma de Querétaro, C.P. 76010 Querétaro, Querétaro, Mexico
5
Centro de Investigación y Desarrollo Tecnológico en Electroquímica, C.P. 76703 Pedro Escobedo, Querétaro, Mexico
*
Authors to whom correspondence should be addressed.
Academic Editor: Francesco Lufrano
Received: 19 December 2016 / Revised: 20 February 2017 / Accepted: 21 February 2017 / Published: 1 March 2017
Abstract
Currently, the ethanol electro-oxidation reaction has attracted considerable attention in fuel cells because of new green ethanol synthetic methods based on biomass processes that have emerged. In this study, PtFe/C and Pt/C nanoparticles were synthesized by a chemical reduction method and tested in the ethanol electro-oxidation reaction. Furthermore, the electrocatalytic effect of the PtFe bimetallic catalyst was analyzed by in situ surface-enhanced Raman spectroscopy (SERS) coupled to an electrochemical cell. X-ray diffractograms showed typical face-centered cubic structures with crystallite sizes of 3.31 and 3.94 for Pt/C and PtFe/C, respectively. TEM micrographs revealed nanoparticle sizes of 2 ± 0.4 nm and 3 ± 0.6 nm for Pt/C and PtFe/C respectively. PtFe/C exhibited a Pt
90
Fe
10
composition by both X-ray fluorescence and energy-dispersive X-ray spectroscopy. A better electrocatalytic activity as function of concentration was obtained through the incorporation of a small amount of Fe into the Pt lattice and the presence of Fe
2+
/Fe
3+
(observed by X-ray photoelectron spectroscopy). According to SERS experiments, the presence of these iron species promotes the chemisorption of ethanol, the formation of formic acid as main product and renewal of the catalytic sites, resulting in current densities that were at least three fold higher than the values obtained for the Pt/C nanocatalyst.
View Full-Text
►

▼

Figures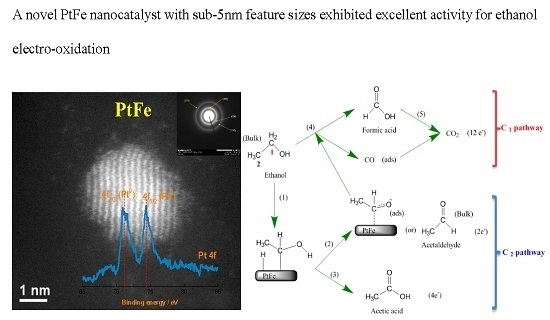 Graphical abstract
This is an open access article distributed under the
Creative Commons Attribution License
which permits unrestricted use, distribution, and reproduction in any medium, provided the original work is properly cited (CC BY 4.0).

Share & Cite This Article
MDPI and ACS Style
Gómez-Monsiváis, A.C.; Velázquez-Hernández, I.; Álvarez-Contreras, L.; Guerra-Balcázar, M.; Arriaga, L.G.; Arjona, N.; Ledesma-García, J. In Situ Surface-Enhanced Raman Spectroscopy Study of the Electrocatalytic Effect of PtFe/C Nanocatalyst on Ethanol Electro-Oxidation in Alkaline Medium. Energies 2017, 10, 290.
Note that from the first issue of 2016, MDPI journals use article numbers instead of page numbers. See further details here.
Related Articles
Comments
[Return to top]