Hair Toxic Metal Concentrations and Autism Spectrum Disorder Severity in Young Children
1
Institute of Chronic Illnesses, 14 Redgate Ct, Silver Spring, MD 20905, USA
2
University of Texas Southwestern Medical Center at Dallas, 5353 Harry Hine Blvd, Dallas, TX 75390, USA
3
CoMeD, Inc., 14 Redgate Ct, Silver Spring, MD 20905, USA
*
Author to whom correspondence should be addressed.
Received: 26 October 2012 / Revised: 7 November 2012 / Accepted: 27 November 2012 / Published: 6 December 2012
Abstract
Previous studies have found a higher body-burden of toxic metals, particularly mercury (Hg), among subjects diagnosed with an autism spectrum disorder (ASD) in comparison to neurotypical controls. Moreover, Hg body-burden was associated with ASD severity. This cross-sectional study examined the potential correlation between hair toxic metal concentrations and ASD severity in a prospective cohort of participants diagnosed with moderate to severe ASD. The Institutional Review Board at the University of Texas Southwestern Medical Center at Dallas (Dallas, TX) approved the present study. Qualifying study participants (n = 18) were evaluated for ASD severity using the Childhood Autism Rating Scale (CARS) and quantitatively for arsenic, Hg, cadmium, lead, chromium, cobalt, nickel, aluminum, tin, uranium, and manganese using hair toxic element testing by Doctor's Data (a CLIA-approved laboratory). CARS scoring and hair toxic element testing were blinded to one another. Increasing hair Hg concentrations significantly correlated with increased ASD severity. In contrast, no significant correlations were observed between any other of the hair toxic metals examined and ASD severity. This study helps to provide additional mechanistic support for Hg in the etiology of ASD severity, and is supported by an increasing number of recent critical reviews that provide biological plausibility for the role of Hg exposure in the pathogenesis of ASDs.
View Full-Text
►

▼

Figures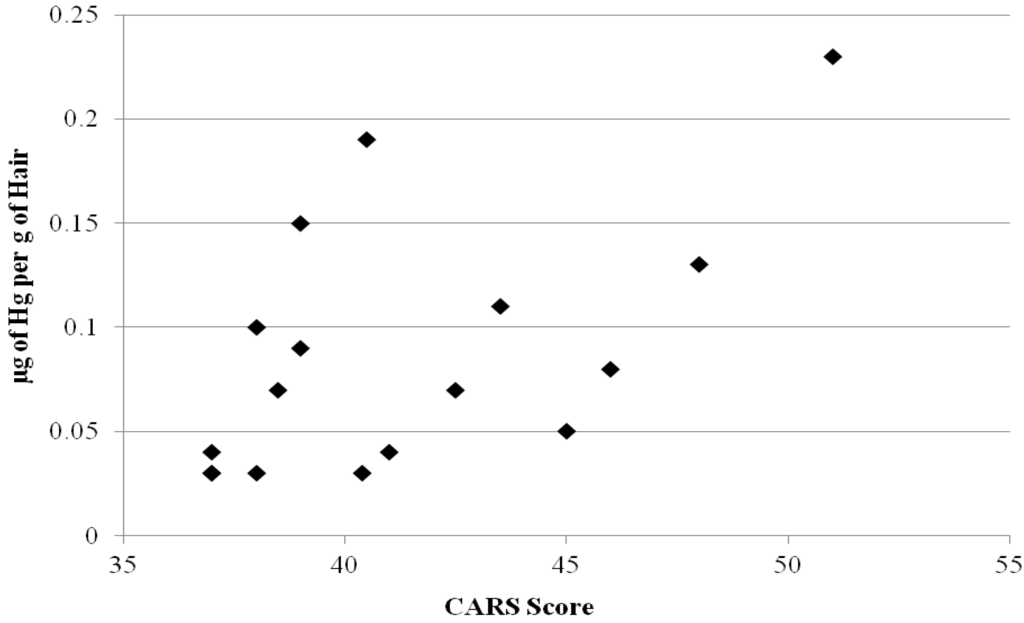 Figure 1

Share & Cite This Article
MDPI and ACS Style
Geier, D.A.; Kern, J.K.; King, P.G.; Sykes, L.K.; Geier, M.R. Hair Toxic Metal Concentrations and Autism Spectrum Disorder Severity in Young Children. Int. J. Environ. Res. Public Health 2012, 9, 4486-4497.
Related Articles
Comments
[Return to top]