Domain-Specific Self-Reported and Objectively Measured Physical Activity in Children
1
Department of Epidemiological Methods and Etiologic Research, Leibniz Institute for Prevention Research and Epidemiology—BIPS, Achterstraße 30, 28359 Bremen, Germany
2
Department of Biometry and Data Management, Leibniz Institute for Prevention Research and Epidemiology—BIPS, Achterstraße 30, 28359 Bremen, Germany
3
Institute of Statistics, Faculty of Mathematics and Computer Science, University Bremen, 28359 Bremen, Germany
*
Author to whom correspondence should be addressed.
Academic Editor: Li Ming Wen
Received: 2 January 2017 / Revised: 15 February 2017 / Accepted: 24 February 2017 / Published: 1 March 2017
Abstract
Little is known about the extent that different domains contribute to total sedentary (SED), light (LPA) and moderate-to-vigorous physical activity (MVPA). We aimed to identify domain-specific physical activity (PA) patterns in school-aged children who were assessed by questionnaire and accelerometry. For the study, 298 German school children and adolescents aged 6–17 years wore an accelerometer for one week and completed a PA recall-questionnaire for the same period. Spearman coefficients (r) were used to evaluate the agreement between self-reported and objectively measured PA in five domains (transport, school hours, physical education, leisure-time, organized sports activities). School hours mainly contributed to the total objectively measured SED, LPA and MVPA (55%, 53% and 46%, respectively), whilst sports activities contributed only 24% to total MVPA. Compared to accelerometry, the proportion of self-reported LPA and MVPA during school hours was substantially underestimated but overestimated during leisure-time. The agreement of self-reported and objectively measured PA was low for total LPA (r = 0.09, 95% CI (confidence interval): −0.03–0.20) and total MVPA (r = 0.21, 95% CI: 0.10–0.32), while moderate agreement was only found for total SED (r = 0.44, 95% CI: 0.34–0.53), LPA during transport (r = 0.59; 95% CI: 0.49–0.67) and MVPA during organized sports activities (r = 0.54; 95% CI: 0.38–0.67). Since school hours mainly contribute to total SED, LPA and MVPA and self-reported LPA and MVPA during school were importantly underestimated compared to objectively measured LPA and MVPA, the application of objective measurements is compulsory to characterize the entire activity pattern of school-aged children.
View Full-Text
►

▼

Figures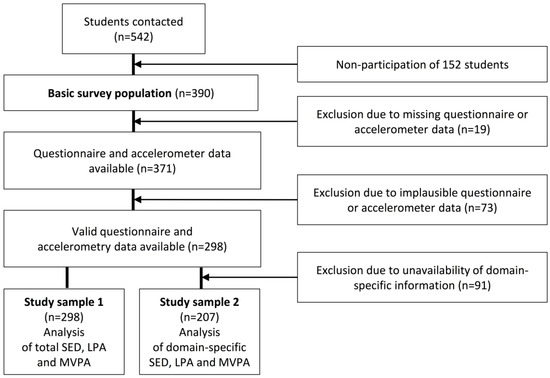 Figure 1
This is an open access article distributed under the
Creative Commons Attribution License
which permits unrestricted use, distribution, and reproduction in any medium, provided the original work is properly cited (CC BY 4.0).

Share & Cite This Article
MDPI and ACS Style
Sprengeler, O.; Wirsik, N.; Hebestreit, A.; Herrmann, D.; Ahrens, W. Domain-Specific Self-Reported and Objectively Measured Physical Activity in Children. Int. J. Environ. Res. Public Health 2017, 14, 242.
Note that from the first issue of 2016, MDPI journals use article numbers instead of page numbers. See further details here.
Related Articles
Comments
[Return to top]