Cytotoxic Furanoditerpenes from the Sponge
Spongia tubulifera

Collected in the Mexican Caribbean

1

Centro de Investigacións Científicas Avanzadas (CICA) e Departamento de Química, Facultade de Ciencias, Universidade da Coruña, 15071 A Coruña, Spain

2

Fundación MEDINA, Centro de Excelencia en Investigación de Medicamentos Innovadores en Andalucía, Avda. del Conocimiento 34, 18016 Granada, Spain

3

Universidad Autónoma de Yucatán, Campus de Ciencias Biológicas y Agropecuarias, Facultad de Medicina Veterinaria y Zootecnia, Km. 15.5 Carretera Mérida-Xmatkuil, Apdo. Postal 4-116, Itzimná Mérida, Yucatán, Mexico

*

Authors to whom correspondence should be addressed.

Received: 4 July 2019 / Revised: 10 July 2019 / Accepted: 12 July 2019 / Published: 16 July 2019
Abstract
Two new spongian furanoditerpenes, 3β-hydroxyspongia-13(16),14-dien-2-one (
1
) and 19-dehydroxy-spongian diterpene 17 (
2
), along with five known terpenes, the spongian furanoditerpenes 9-nor-3-hydroxyspongia-3,13(16),14-trien-2-one (
3
), 3β,19 dihydroxyspongia-13(16),14-dien-2-one (epispongiadiol) (
4
) and spongian diterpene 17 (
5
), the furanoditerpene ambliol C (
6
), and the sesterterpene scalarin (
7
), were isolated from the methanolic extract of the sponge
Spongia tubulifera
, collected in the Mexican Caribbean. The planar structures of the new compounds were elucidated by 1D/2D NMR and IR spectroscopic analysis, high resolution electrospray mass spectrometry (HRESIMS), and comparison of their spectral data with those reported in the literature. Absolute configurations were determined by comparison of the experimental electronic circular dichroism (ECD) spectrum with those calculated by time-dependent density functional theory (TDDFT). Compounds
1
,
4
, and
6
displayed weak cytotoxic activity against different human tumour cell lines.
View Full-Text
►

▼

Figures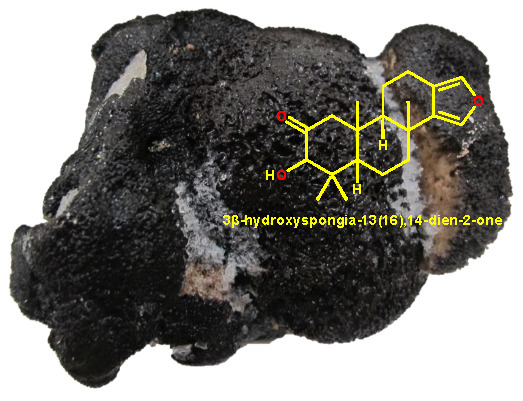 Graphical abstract
This is an open access article distributed under the
Creative Commons Attribution License
which permits unrestricted use, distribution, and reproduction in any medium, provided the original work is properly cited (CC BY 4.0).

Share & Cite This Article
MDPI and ACS Style
Pech-Puch, D.; Rodríguez, J.; Cautain, B.; Sandoval-Castro, C.A.; Jiménez, C. Cytotoxic Furanoditerpenes from the Sponge Spongia tubulifera Collected in the Mexican Caribbean. Mar. Drugs 2019, 17, 416.
Note that from the first issue of 2016, MDPI journals use article numbers instead of page numbers. See further details here.
Related Articles
Comments
[Return to top]