Chondroitin Sulfate-Rich Extract of Skate Cartilage Attenuates Lipopolysaccharide-Induced Liver Damage in Mice
1
Department of Food Science and Nutrition and Kimchi Research Institute, Pusan National University, Busan 46241, Korea
2
Yeongsan Skate Co. Ltd., Busan 48531, Korea
3
College of Korean Medicine, Daegu Haany University, Daegu 42158, Korea
4
Department of Medicinal Crop Research, National Institute of Horticultural and Herbal Science, Rural Development Administration, Eumseong 55365, Korea
5
Department of Food Science & Nutrition, Tongmyong University, Busan 48520, Korea
*
Author to whom correspondence should be addressed.
†
These authors contributed equally to this work.
Received: 11 May 2017 / Revised: 6 June 2017 / Accepted: 13 June 2017 / Published: 15 June 2017
Abstract
The protective effects of a chondroitin sulfate-rich extract (CSE) from skate cartilage against lipopolysaccharide (LPS)-induced hepatic damage were investigated, and its mechanism of action was compared with that of chondroitin sulfate (CS) from shark cartilage. ICR mice were orally administrated 200 mg/kg body weight (BW) of CS or 400 mg/kg BW of CSE for 3 consecutive days, followed by a one-time intraperitoneal injection of LPS (20 mg/kg BW). The experimental groups were vehicle treatment without LPS injection (NC group), vehicle treatment with LPS injection (LPS group), CS pretreatment with LPS injection (CS group), and CSE pretreatment with LPS injection (CSE group). Hepatic antioxidant enzyme expression levels in the CS and CSE groups were increased relative to those in the LPS group. In LPS-insulted hepatic tissue, inflammatory factors were augmented relative to those in the NC group, but were significantly suppressed by pretreatment with CS or CSE. Moreover, CS and CSE alleviated the LPS-induced apoptotic factors and mitogen-activated protein kinase (MAPK). In addition, CS and CSE effectively decreased the serum lipid concentrations and downregulated hepatic sterol regulatory element-binding proteins expression. In conclusion, the skate CSE could protect against LPS-induced hepatic dyslipidemia, oxidative stress, inflammation, and apoptosis, probably through the regulation of MAPK signaling.
View Full-Text
►

▼

Figures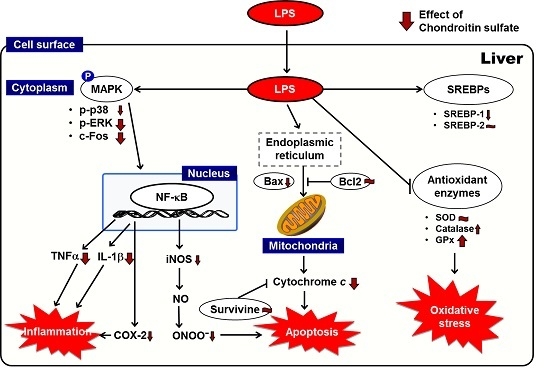 Graphical abstract
This is an open access article distributed under the
Creative Commons Attribution License
which permits unrestricted use, distribution, and reproduction in any medium, provided the original work is properly cited (CC BY 4.0).

Share & Cite This Article
MDPI and ACS Style
Song, Y.O.; Kim, M.; Woo, M.; Baek, J.-M.; Kang, K.-H.; Kim, S.-H.; Roh, S.-S.; Park, C.H.; Jeong, K.-S.; Noh, J.-S. Chondroitin Sulfate-Rich Extract of Skate Cartilage Attenuates Lipopolysaccharide-Induced Liver Damage in Mice. Mar. Drugs 2017, 15, 178.
Note that from the first issue of 2016, MDPI journals use article numbers instead of page numbers. See further details here.
Related Articles
Comments
[Return to top]