Production of Fish Protein Hydrolysates from
Scyliorhinus canicula

Discards with Antihypertensive and Antioxidant Activities by Enzymatic Hydrolysis and Mathematical Optimization Using Response Surface Methodology

1

Grupo de Reciclado y Valorización de Materiales Residuales (REVAL), Instituto de Investigacións Mariñas (IIM-CSIC), r/Eduardo Cabello, 6, Vigo-36208 Galicia, Spain

2

Grupo de Bioquímica de Alimentos, Instituto de Investigacións Mariñas (IIM-CSIC), r/Eduardo Cabello, 6, Vigo-36208 Galicia, Spain

3

Instituto Nacional de Investigación y Desarrollo Pesquero (INIDEP), Paseo Victoria Ocampo N°1 Escollera Norte, C.C.175 - 7600 Mar del Plata, Argentina

4

Consejo Nacional de Investigaciones Científicas y Técnicas (CONICET), Rivadavia 1917, 1033 Buenos Aires, Argentina

5

Departamento de Química Analítica y Alimentaria, Facultade de Ciencias de Ourense, Universidade de Vigo, Campus As Lagoas s/n, 32004 Ourense, Spain

*

Author to whom correspondence should be addressed.

Received: 25 August 2017 / Revised: 19 September 2017 / Accepted: 4 October 2017 / Published: 10 October 2017
Abstract
Fish discards are of major concern in new EU policies. Alternatives for the management of the new biomass that has to be landed is compulsory. The production of bioactive compounds from fish protein hydrolysates (FPH) has been explored in recent years. However, the viability of
Scyliorhinus canicula
discards, which might account for up to 90–100% of captures in mixed trawler, gillnet, and longline industrial fisheries, to produce FPH from the muscle with bioactivities has still not been studied in terms of the optimization of the experimental conditions to enhance its production. The effect of
pH
and temperature on the hydrolysis of the
S.
canicula
muscle was mediated by three commercial proteases using response surface methodology. Temperatures of 64.6 °C and 60.8 °C and pHs of 9.40 and 8.90 were established as the best hydrolysis conditions for Alcalase and Esperase, respectively. Optimization of the best conditions for the maximization of antihypertensive and antioxidant activities was performed. Higher Angiotensin-converting enzyme (ACE) activity was found with Esperase. The
pH
optimum and temperature optimum for antioxidants were 55 °C/pH8.0 for ABTS/DPPH-Esperase, 63.1 °C/pH9.0 for DPPH-Alcalase, and 55 °C/pH9.0 for ABTS-Alcalase. No hydrolysis was detected when using Protamex.
View Full-Text
►

▼

Figures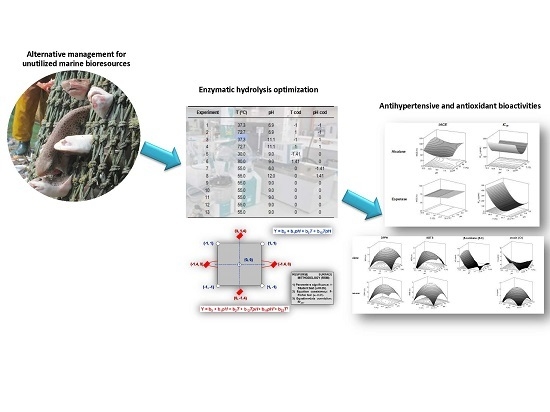 Graphical abstract
This is an open access article distributed under the
Creative Commons Attribution License
which permits unrestricted use, distribution, and reproduction in any medium, provided the original work is properly cited (CC BY 4.0).

Share & Cite This Article
MDPI and ACS Style
Vázquez, J.A.; Blanco, M.; Massa, A.E.; Amado, I.R.; Pérez-Martín, R.I. Production of Fish Protein Hydrolysates from Scyliorhinus canicula Discards with Antihypertensive and Antioxidant Activities by Enzymatic Hydrolysis and Mathematical Optimization Using Response Surface Methodology. Mar. Drugs 2017, 15, 306.
Note that from the first issue of 2016, MDPI journals use article numbers instead of page numbers. See further details here.
Related Articles
Comments
[Return to top]