Marine Extremophiles: A Source of Hydrolases for Biotechnological Applications
1
BIOINOVAR—Biotechnology laboratories: Biocatalysis, Bioproducts and Bioenergy, Institute of Microbiology Paulo de Góes, Federal University of Rio de Janeiro, Av. Carlos Chagas Filho, 373, 21941-902 Rio de Janeiro, Brazil
2
Graduate Program in Plant Biotechnology, Health and Science Centre, Federal University of Rio de Janeiro, Av. Carlos Chagas Filho, 373, 21941-902 Rio de Janeiro, Brazil
3
BIOINOVAR—Biotechnology Laboratories: Virus-Cell Interaction, Institute of Microbiology Paulo de Góes, Federal University of Rio de Janeiro, Av. Carlos Chagas Filho, 373, 21941-902 Rio de Janeiro, Brazil
*
Author to whom correspondence should be addressed.
Academic Editor: Kirk Gustafson
Received: 1 December 2014 / Revised: 22 March 2015 / Accepted: 25 March 2015 / Published: 3 April 2015
Abstract
The marine environment covers almost three quarters of the planet and is where evolution took its first steps. Extremophile microorganisms are found in several extreme marine environments, such as hydrothermal vents, hot springs, salty lakes and deep-sea floors. The ability of these microorganisms to support extremes of temperature, salinity and pressure demonstrates their great potential for biotechnological processes. Hydrolases including amylases, cellulases, peptidases and lipases from hyperthermophiles, psychrophiles, halophiles and piezophiles have been investigated for these reasons. Extremozymes are adapted to work in harsh physical-chemical conditions and their use in various industrial applications such as the biofuel, pharmaceutical, fine chemicals and food industries has increased. The understanding of the specific factors that confer the ability to withstand extreme habitats on such enzymes has become a priority for their biotechnological use. The most studied marine extremophiles are prokaryotes and in this review, we present the most studied archaea and bacteria extremophiles and their hydrolases, and discuss their use for industrial applications.
View Full-Text
►

▼

Figures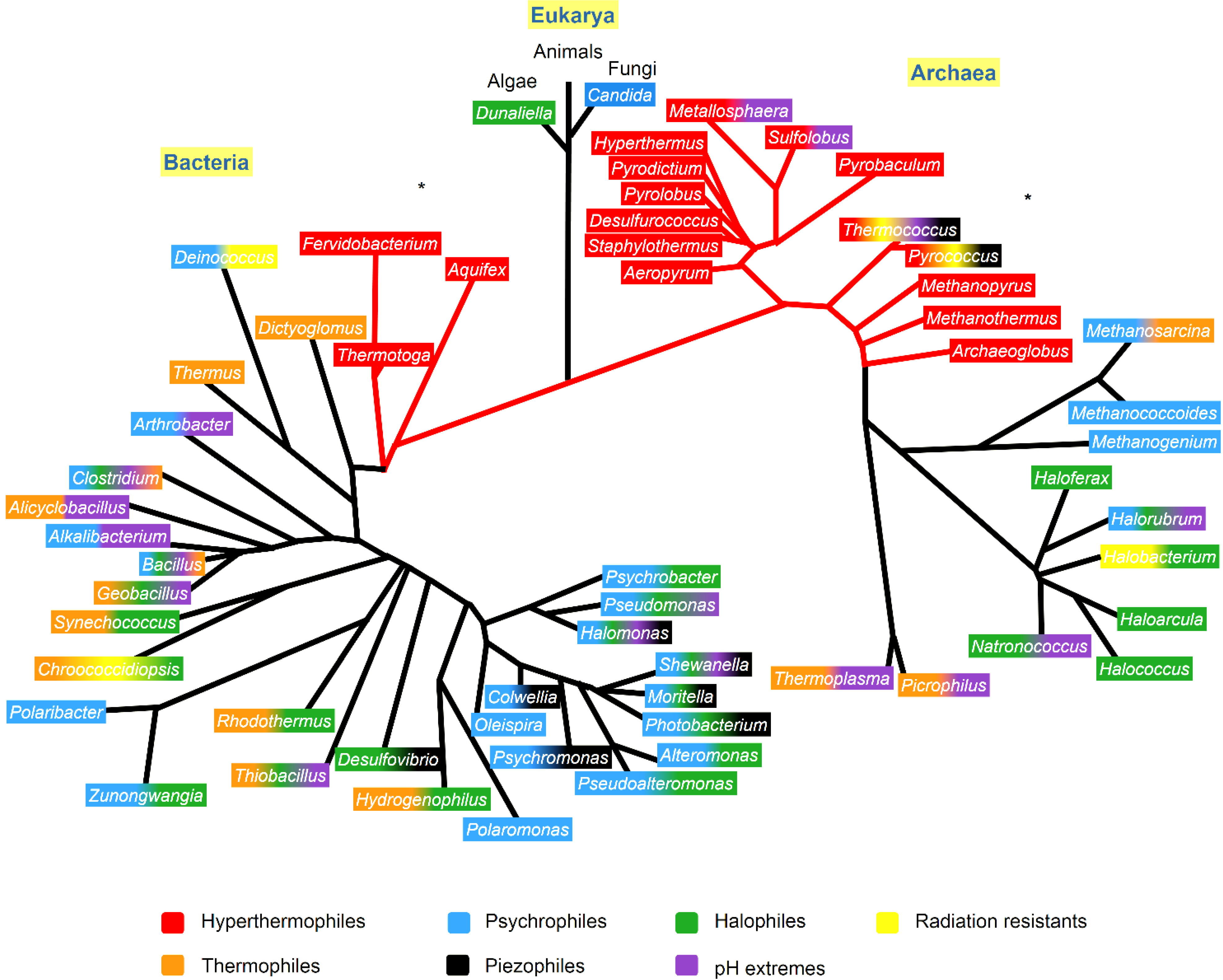 Figure 1
This is an open access article distributed under the
Creative Commons Attribution License
which permits unrestricted use, distribution, and reproduction in any medium, provided the original work is properly cited (CC BY 4.0).

Share & Cite This Article
MDPI and ACS Style
Dalmaso, G.Z.L.; Ferreira, D.; Vermelho, A.B. Marine Extremophiles: A Source of Hydrolases for Biotechnological Applications. Mar. Drugs 2015, 13, 1925-1965.
Related Articles
Comments
[Return to top]