Global and Phylogenetic Distribution of Quorum Sensing Signals, Acyl Homoserine Lactones, in the Family of Vibrionaceae
1
Department of Systems Biology, Technical University of Denmark, Matematiktorvet bldg 301, DK-2800 Kgs, Lyngby, Denmark
2
Department of Systems Biology, Technical University of Denmark, Søltofts Plads bldg 221, DK-2800 Kgs, Lyngby, Denmark
3
Novo Nordisk Foundation Center for Biosustainability, Technical University of Denmark, Kogle Allè 6, DK-2970 Hørsholm, Denmark
*
Author to whom correspondence should be addressed.
Received: 1 September 2014 / Revised: 5 November 2014 / Accepted: 6 November 2014 / Published: 20 November 2014
Abstract
Bacterial quorum sensing (QS) and the corresponding signals, acyl homoserine lactones (AHLs), were first described for a luminescent
Vibrio
species. Since then, detailed knowledge has been gained on the functional level of QS; however, the abundance of AHLs in the family of Vibrionaceae in the environment has remained unclear. Three hundred and one Vibrionaceae strains were collected on a global research cruise and the prevalence and profile of AHL signals in this global collection were determined. AHLs were detected in 32 of the 301 strains using
Agrobacterium tumefaciens
and
Chromobacterium violaceum
reporter strains. Ethyl acetate extracts of the cultures were analysed by ultra-high performance liquid chromatography-high resolution mass spectrometry (MS) with automated tandem MS confirmation for AHLs.
N
-(3-hydroxy-hexanoyl) (OH-C6) and
N
-(3-hydroxy-decanoyl) (OH-C10) homoserine lactones were the most common AHLs found in 17 and 12 strains, respectively. Several strains produced a diversity of different AHLs, including
N
-heptanoyl (C7) HL. AHL-producing Vibrionaceae were found in polar, temperate and tropical waters. The AHL profiles correlated with strain phylogeny based on gene sequence homology, however not with geographical location. In conclusion, a wide range of AHL signals are produced by a number of clades in the Vibrionaceae family and these results will allow future investigations of inter- and intra-species interactions within this cosmopolitan family of marine bacteria.
View Full-Text
►

▼

Figures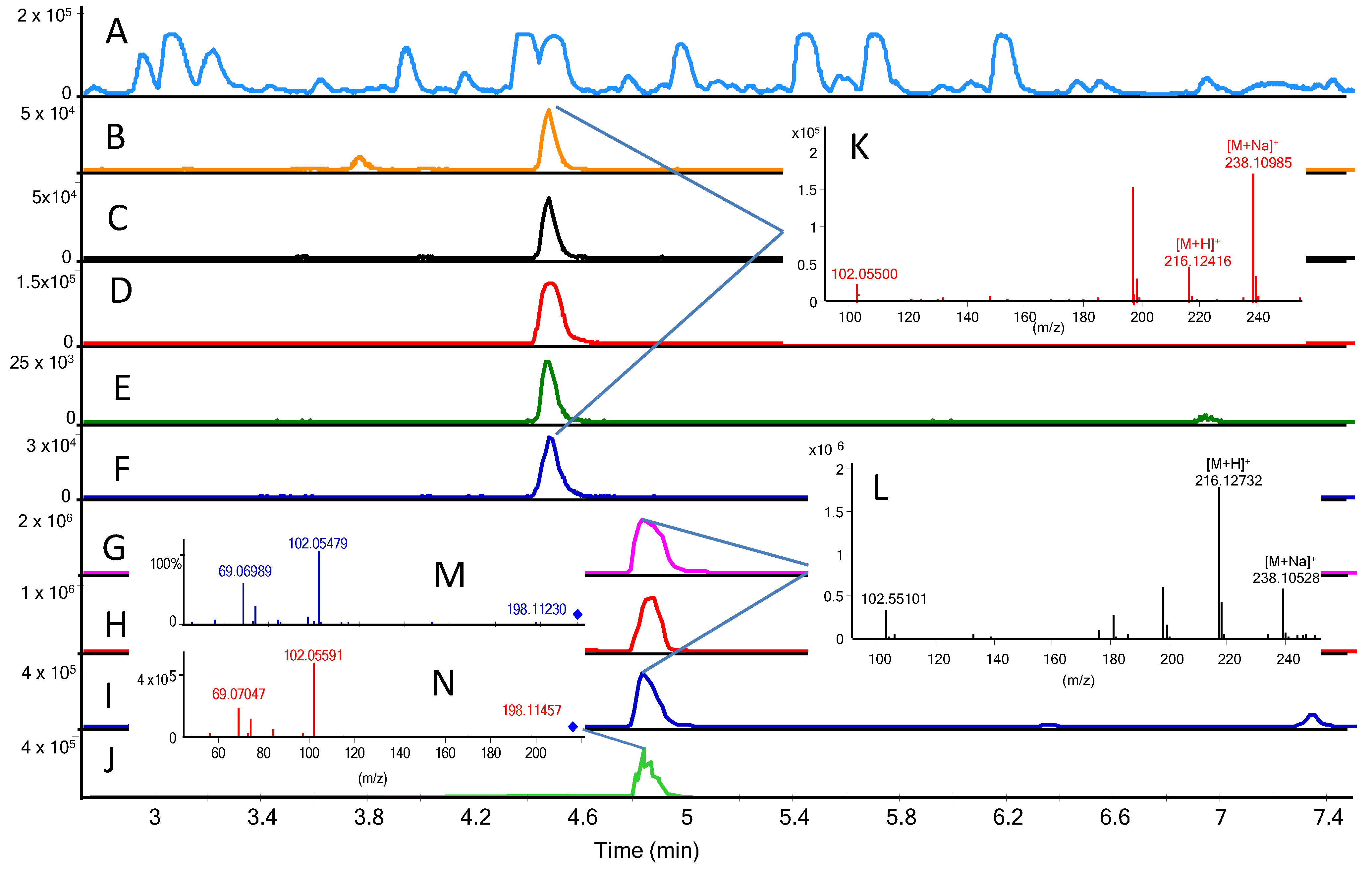 Figure 1
This is an open access article distributed under the
Creative Commons Attribution License
which permits unrestricted use, distribution, and reproduction in any medium, provided the original work is properly cited (CC BY 4.0).

Share & Cite This Article
MDPI and ACS Style
Rasmussen, B.B.; Nielsen, K.F.; Machado, H.; Melchiorsen, J.; Gram, L.; Sonnenschein, E.C. Global and Phylogenetic Distribution of Quorum Sensing Signals, Acyl Homoserine Lactones, in the Family of Vibrionaceae. Mar. Drugs 2014, 12, 5527-5546.
Related Articles
Comments
[Return to top]