Inhibition of Bacterial Quorum Sensing by Extracts from Aquatic Fungi: First Report from Marine Endophytes
1
Institute for Bioorganic Chemistry "Antonio González", Center for Biomedical Research of the Canary Islands (CIBICAN), University of La Laguna, Av. Astrofísico Francisco Sánchez 2, 38206 La Laguna, Tenerife, Spain
2
Oceanic Platform of the Canary Islands (PLOCAN), Carretera de Taliarte s/n, 35214 Telde, Gran Canaria, Spain
3
Fundación MEDINA, Parque Tecnológico de Ciencias de la Salud, Av. del Conocimiento 34, 18016 Armilla, Granada, Spain
4
Department of Microbiology, Biochemistry, Cellular Biology and Genetics, Faculty of Health Science, University of La Laguna, Av. Astrofísico Francisco Sánchez s/n, 38071 La Laguna, Tenerife, Spain
5
Ph.D. Program in Biomedical Sciences, Veracruzana University, Luis Castelazo Ayala s/n, Colonia Industrial Ánimas, 91190 Xalapa, Veracruz, Mexico
6
Xalapa High Technology Laboratory (LATEX), Veracruzana University, Médicos 5, Unidad del Bosque, 91010 Xalapa, Veracruz, Mexico
*
Authors to whom correspondence should be addressed.
Received: 19 September 2014 / Revised: 7 November 2014 / Accepted: 7 November 2014 / Published: 19 November 2014
Abstract
In our search for quorum-sensing (QS) disrupting molecules, 75 fungal isolates were recovered from reef organisms (endophytes), saline lakes and mangrove rhizosphere. Their QS inhibitory activity was evaluated in
Chromobacterium violaceum
CVO26. Four strains of endophytic fungi stood out for their potent activity at concentrations from 500 to 50 μg mL
−1
. The molecular characterization, based on the internal transcribed spacer (ITS) region sequences (ITS1, 5.8S and ITS2) between the rRNA of 18S and 28S, identified these strains as belonging to four genera:
Sarocladium
(LAEE06),
Fusarium
(LAEE13),
Epicoccum
(LAEE14), and
Khuskia
(LAEE21). Interestingly, three came from coral species and two of them came from the same organism, the coral
Diploria strigosa
. Metabolic profiles obtained by Liquid Chromatography-High Resolution Mass Spectrometry (LC-HRMS) suggest that a combination of fungal secondary metabolites and fatty acids could be the responsible for the observed activities. The LC-HRMS analysis also revealed the presence of potentially new secondary metabolites. This is, to the best of our knowledge, the first report of QS inhibition by marine endophytic fungi.
View Full-Text
►

▼

Figures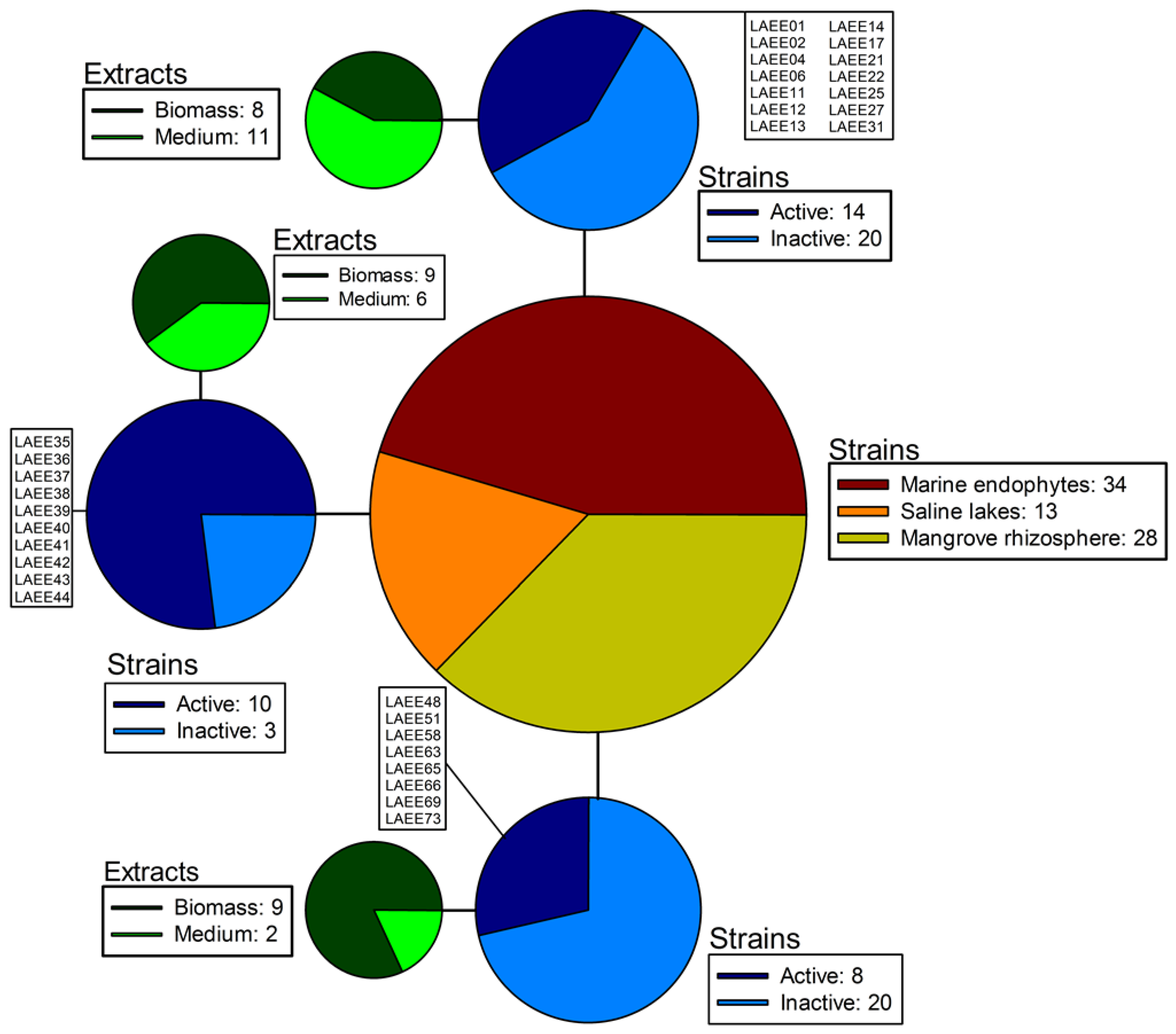 Figure 1
This is an open access article distributed under the
Creative Commons Attribution License
which permits unrestricted use, distribution, and reproduction in any medium, provided the original work is properly cited (CC BY 4.0).

Share & Cite This Article
MDPI and ACS Style
Martín-Rodríguez, A.J.; Reyes, F.; Martín, J.; Pérez-Yépez, J.; León-Barrios, M.; Couttolenc, A.; Espinoza, C.; Trigos, Á.; Martín, V.S.; Norte, M.; Fernández, J.J. Inhibition of Bacterial Quorum Sensing by Extracts from Aquatic Fungi: First Report from Marine Endophytes. Mar. Drugs 2014, 12, 5503-5526.
Related Articles
Comments
[Return to top]