Identification of Potential Inhibitors from Pyriproxyfen with Insecticidal Activity by Virtual Screening
1
Postgraduate Program in Biotechnology and Biodiversity-Network BIONORTE, Federal University of Amapá, Macapá, Amapá 68903-419, Brazil
2
Laboratory of Modeling and Computational Chemistry, Department of Biological and Health Sciences, Federal University of Amapá, Macapá 68902-280, AP, Brazil
3
Laboratory of Molecular Modeling and Simulation System, Federal Rural University of Amazônia, Capanema, Pará 68700-030, Brazil
4
Computational Laboratory of Pharmaceutical Chemistry, Faculty of Pharmaceutical Sciences of Ribeirão Preto, São Paulo 14040-903, Brazil;
5
Laboratory of Arthropoda, Federal University of Amapá, Macapá 68902-280, AP, Brazil
6
Brazilian Center for Physical Research, Urca, Rio de Janeiro 22290-180, Brazil
7
Department of Pharmaceutical Organic Chemistry, University of Granada, 18071 Granada, Spain
*
Author to whom correspondence should be addressed.
Received: 30 December 2018 / Revised: 17 January 2019 / Accepted: 19 January 2019 / Published: 25 January 2019
Abstract
Aedes aegypti
is the main vector of dengue fever transmission, yellow fever, Zika, and chikungunya in tropical and subtropical regions and it is considered to cause health risks to millions of people in the world. In this study, we search to obtain new molecules with insecticidal potential against
Ae. aegypti
via virtual screening. Pyriproxyfen was chosen as a template compound to search molecules in the database Zinc_Natural_Stock (ZNSt) with structural similarity using ROCS (rapid overlay of chemical structures) and EON (electrostatic similarity) software, and in the final search, the top 100 were selected. Subsequently, in silico pharmacokinetic and toxicological properties were determined resulting in a total of 14 molecules, and these were submitted to the PASS online server for the prediction of biological insecticide and acetylcholinesterase activities, and only two selected molecules followed for the molecular docking study to evaluate the binding free energy and interaction mode. After these procedures were performed, toxicity risk assessment such as LD
50
values in mg/kg and toxicity class using the PROTOX online server, were undertaken. Molecule ZINC00001624 presented potential for inhibition for the acetylcholinesterase enzyme (insect and human) with a binding affinity value of −10.5 and −10.3 kcal/mol, respectively. The interaction with the juvenile hormone was −11.4 kcal/mol for the molecule ZINC00001021. Molecules ZINC00001021 and ZINC00001624 had excellent predictions in all the steps of the study and may be indicated as the most promising molecules resulting from the virtual screening of new insecticidal agents.
View Full-Text
►

▼

Figures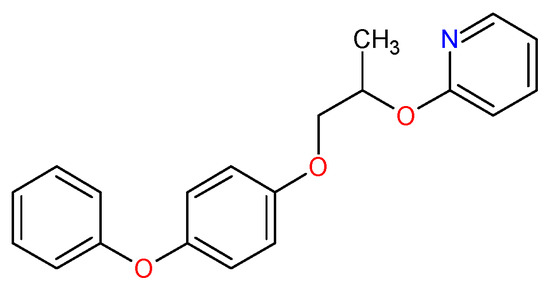 Figure 1
This is an open access article distributed under the
Creative Commons Attribution License
which permits unrestricted use, distribution, and reproduction in any medium, provided the original work is properly cited (CC BY 4.0).

Share & Cite This Article
MDPI and ACS Style
Ramos, R.S.; Costa, J.S.; Silva, R.C.; da Costa, G.V.; Rodrigues, A.B.L.; Rabelo, É.M.; Souto, R.N.P.; Taft, C.A.; Silva, C.H.T.P.; Rosa, J.M.C.; Santos, C.B.R.; Macêdo, W.J.C. Identification of Potential Inhibitors from Pyriproxyfen with Insecticidal Activity by Virtual Screening. Pharmaceuticals 2019, 12, 20.
Note that from the first issue of 2016, MDPI journals use article numbers instead of page numbers. See further details here.
Related Articles
Comments
[Return to top]