Design, Synthesis, Experimental and Theoretical Characterization of a New Multitarget 2-Thienyl-
N

-Acylhydrazone Derivative

1

LabFisMed, State University of Rio de Janeiro, Physics Institute, Rio de Janeiro 20550-900, RJ, Brazil

2

Laboratório de Avaliação e Síntese de Substâncias Bioativas (LASSBio), Instituto de Ciências Biomédicas, Universidade Federal do Rio de Janeiro, P.O. Box 68023, Rio de Janeiro 21941-902, RJ, Brazil

3

Programa de Pós-Graduação em Farmacologia e Química Medicinal, Instituto de Ciências Biomédicas, Universidade Federal do Rio de Janeiro, Rio de Janeiro 21941-902, RJ, Brazil

4

Center for Natural and Human Sciences, Federal University of ABC, Santo André 09210-580, SP, Brazil

5

Departamento de Química Fundamental, Instituto de Química, Universidade Federal Rural do Rio de Janeiro, Seropédica 23970-000, RJ, Brazil

6

Laboratory of Nuclear Instrumentation/COPPE, Federal University of Rio de Janeiro, Rio de Janeiro 21949-900, RJ, Brazil

7

Laboratório de Inflamação Instituto Oswaldo Cruz, Fundação Oswaldo Cruz, Rio de Janeiro 21045-900, RJ, Brazil

*

Authors to whom correspondence should be addressed.

Received: 11 October 2018 / Revised: 29 October 2018 / Accepted: 30 October 2018 / Published: 1 November 2018
Abstract
Pulmonary arterial hypertension (PAH) is a chronic cardiovascular disease that displays inflammatory components, which contributes to the difficulty of adequate treatment with the available therapeutic arsenal. In this context, the
N
-acylhydrazone derivative LASSBio-1359 was previously described as a multitarget drug candidate able to revert the events associated with the progression of PAH in animal models. However, in spite of having a dual profile as PDE4 inhibitor and adenosine A
2A
receptor agonist, LASSBio-1359 does not present balanced potencies in the modulation of these two targets, which difficult its therapeutic use. In this paper, we describe the design concept of LASSBio-1835, a novel structural analogue of LASSBio-1359, planned by exploiting ring bioisosterism. Using X-ray powder diffraction, calorimetric techniques, and molecular modeling, we clearly indicate the presence of a preferred synperiplanar conformation at the amide function, which is fixed by an intramolecular 1,5-N∙∙∙S σ-hole intramolecular interaction. Moreover, the evaluation of LASSBio-1835 (
4
) as a PDE4 inhibitor and as an A
2A
agonist confirms it presents a more balanced dual profile, being considered a promising prototype for the treatment of PAH.
View Full-Text
►

▼

Figures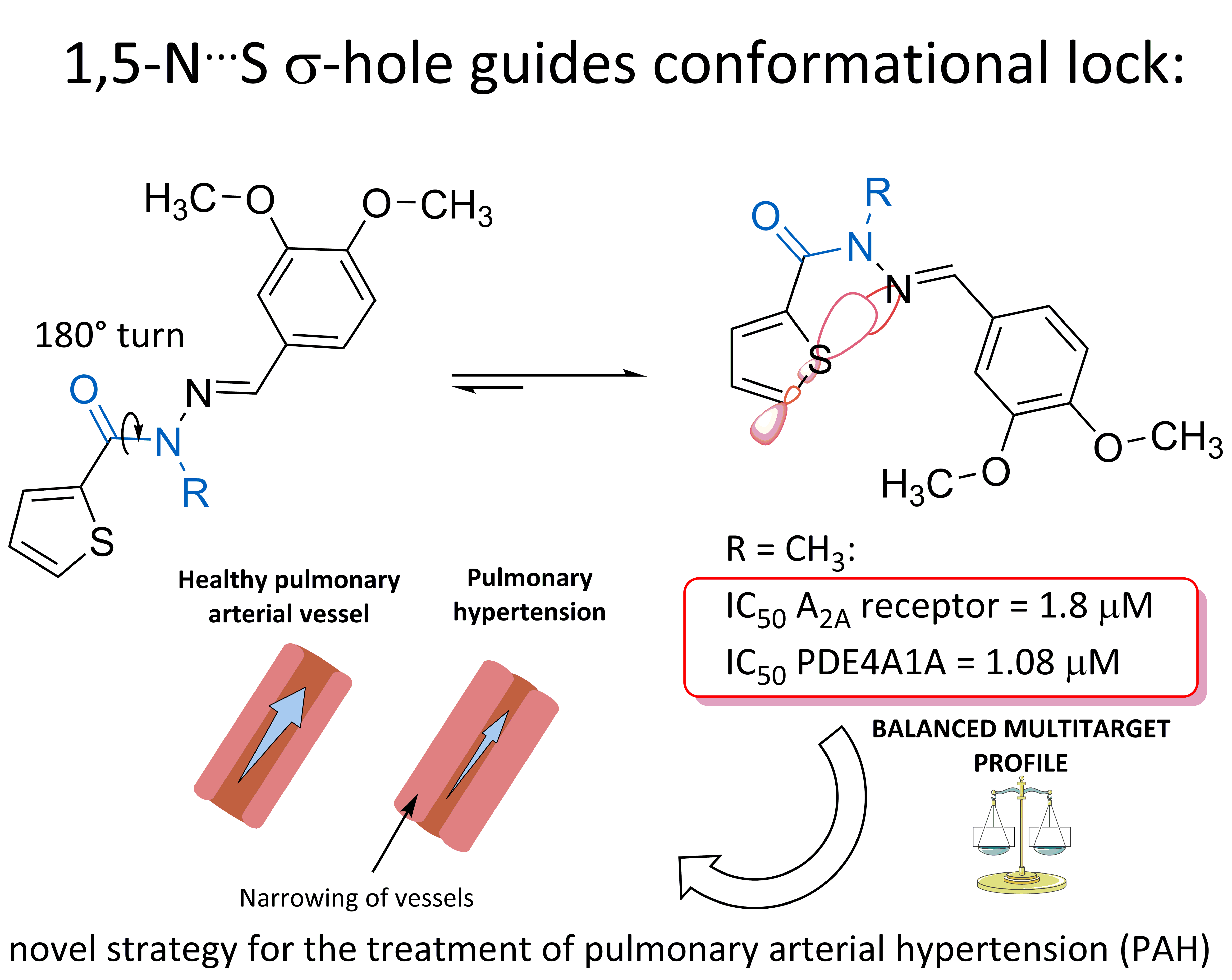 Graphical abstract
This is an open access article distributed under the
Creative Commons Attribution License
which permits unrestricted use, distribution, and reproduction in any medium, provided the original work is properly cited (CC BY 4.0).

Share & Cite This Article
MDPI and ACS Style
Bastos, I.T.S.; Pinheiro, P.S.M.; Costa, F.N.; Rocha, M.D.; Sant'Anna, C.M.R.; Braz, D.; Souza, E.T.; Martins, M.A.; Barreiro, E.J.; Ferreira, F.F.; Barroso, R.C.; Fraga, C.A.M. Design, Synthesis, Experimental and Theoretical Characterization of a New Multitarget 2-Thienyl-N-Acylhydrazone Derivative. Pharmaceuticals 2018, 11, 119.
Note that from the first issue of 2016, MDPI journals use article numbers instead of page numbers. See further details here.
Related Articles
Comments
[Return to top]