Exercise Alleviates Osteoporosis in Rats with Mild Chronic Kidney Disease by Decreasing Sclerostin Production
1
Chinru Clinic, Taipei 116, Taiwan
2
Institute of Physical Education, Health and Leisure Studies, National Cheng Kung University, Tainan 704, Taiwan
3
Institute of Clinical Medicine, College of Medicine, National Cheng Kung University, Tainan 704, Taiwan
4
Division of Nephrology, Department of Medicine, Hsin-Jen Hospital, New Taipei City 242, Taiwan
5
Division of Nephrology, Department of Internal Medicine, School of Medicine, College of Medicine and Wan Fang Hospital, Taipei Medical University, Taipei 116, Taiwan
6
Department of Internal Medicine, Ditmanson Medical Foundation Chia-yi Christian Hospital, Chia-yi City 600; Taiwan
7
Division of Applied Life Science and Health, Chia-Nan University of Pharmacy and Science, Tainan 717, Taiwan
8
Department of Internal Medicine, College of Medicine, National Cheng Kung University, Tainan 704, Taiwan
9
Research center of Clinical Medicine, National Cheng Kung University Hospital, College of Medicine, National Cheng Kung University, Tainan 704, Taiwan
*
Author to whom correspondence should be addressed.
†
These authors contributed equally to this work.
Received: 31 March 2019 / Revised: 19 April 2019 / Accepted: 23 April 2019 / Published: 25 April 2019
Abstract
Chronic kidney disease–mineral bone disorder (CKD–MBD), comprising mineral, hormonal, and bone metabolic imbalance, is a major CKD-related issue; it causes osteoporosis prevalence in CKD patients. Osteocyte-derived sclerostin inhibits the osteogenic Wnt/β-catenin signaling pathway; its levels rise when kidney function declines. Exercise modulates the physiological functions of osteocytes, potentially altering sclerostin production. It may aid bone and mineral electrolyte homeostasis in CKD. Mild CKD was induced in rats by partial nephrectomy. They were divided into: sham (no CKD), CKD, and CKD + exercise (8 weeks of treadmill running) groups. Micro-CT scanning demonstrated that the CKD + exercise-group rats had a higher bone mineral density (BMD) of the spine and femoral metaphysis and higher femoral trabecular bone volume than the CKD-group rats. Bone formation rates were not significantly different. The CKD + exercise-group rats had lower serum sclerostin (157.1 ± 21.1 vs 309 ± 38.1 pg/mL,
p
< 0.05) and CTX-1 (bone resorption marker) levels. Immunohistochemistry revealed higher tibial β-catenin concentrations in the CKD + exercise-group rats. Serum FGF-23, intact parathyroid hormone (iPTH), alkaline phosphatase (ALP), calcium, and phosphate levels showed no significant differences between these groups. Thus, exercise improves BMD and bone microstructure in mild CKD by inhibiting sclerostin production, but does not alter serum minerals.
View Full-Text
►

▼

Figures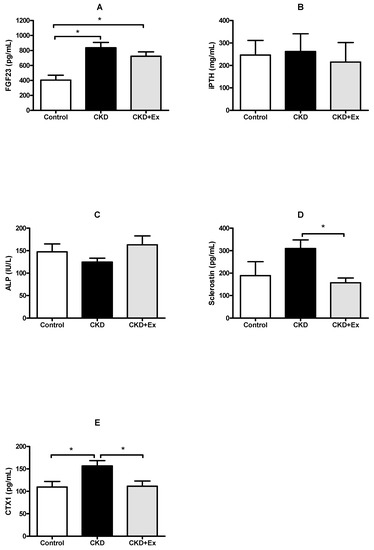 Figure 1
This is an open access article distributed under the
Creative Commons Attribution License
which permits unrestricted use, distribution, and reproduction in any medium, provided the original work is properly cited (CC BY 4.0).

Share & Cite This Article
MDPI and ACS Style
Liao, H.-W.; Huang, T.-H.; Chang, Y.-H.; Liou, H.-H.; Chou, Y.-H.; Sue, Y.-M.; Hung, P.-H.; Chang, Y.-T.; Ho, P.-C.; Tsai, K.-J. Exercise Alleviates Osteoporosis in Rats with Mild Chronic Kidney Disease by Decreasing Sclerostin Production. Int. J. Mol. Sci. 2019, 20, 2044.
Note that from the first issue of 2016, MDPI journals use article numbers instead of page numbers. See further details here.
Related Articles
Comments
[Return to top]