The Polyphenol-Rich Extract from
Psiloxylon mauritianum,

an Endemic Medicinal Plant from Reunion Island, Inhibits the Early Stages of Dengue and Zika Virus Infection

1

Université de la Réunion, INSERM U1187, CNRS UMR 9192, IRD UMR 249, Unité Mixte Processus Infectieux en Milieu Insulaire Tropical, Plateforme Technologique CYROI, Sainte Clotilde, 97490 La Réunion, France

2

Laboratorio de Virologia Molecular, Instituto Carlos Chagas, ICC/FIOCRUZ/PR, Curitiba, Parana 81350-010, Brazil

3

Viral Genomics and Vaccination Unit, UMR CNRS 3569, Institut Pasteur, 75724 Paris, France

4

Université Paris Diderot, Sorbonne Paris Cité, 75013 Paris, France

5

Université Grenoble Alpes, SYMMES/CIBEST UMR 5819 UGA-CNRS-CEA, INAC/CEA, 38000 Grenoble, France

*

Author to whom correspondence should be addressed.

Received: 12 March 2019 / Revised: 10 April 2019 / Accepted: 12 April 2019 / Published: 15 April 2019
Abstract
The recent emergence and re-emergence of viral infections transmitted by vectors, such as the Zika virus (ZIKV) and Dengue virus (DENV), is a cause for international concern. These highly pathogenic arboviruses represent a serious health burden in tropical and subtropical areas of the world. Despite the high morbidity and mortality associated with these viral infections, antiviral therapies are missing. Medicinal plants have been widely used to treat various infectious diseases since millenaries. Several compounds extracted from plants exhibit potent effects against viruses in vitro, calling for further investigations regarding their efficacy as antiviral drugs. Here, we demonstrate that an extract from
Psiloxylon mauritianum
, an endemic medicinal plant from Reunion Island, inhibits the infection of ZIKV in vitro without exhibiting cytotoxic effects. The extract was active against different ZIKV African and Asian strains, including an epidemic one. Time-of-drug-addition assays revealed that the
P. mauritianum
extract interfered with the attachment of the viral particles to the host cells. Importantly, the
P. mauritianum
extract was also able to prevent the infection of human cells by four dengue virus serotypes. Due to its potency and ability to target ZIKV and DENV particles,
P. mauritianum
may be of value for identifying and characterizing antiviral compounds to fight medically-important flaviviruses.
View Full-Text
►

▼

Figures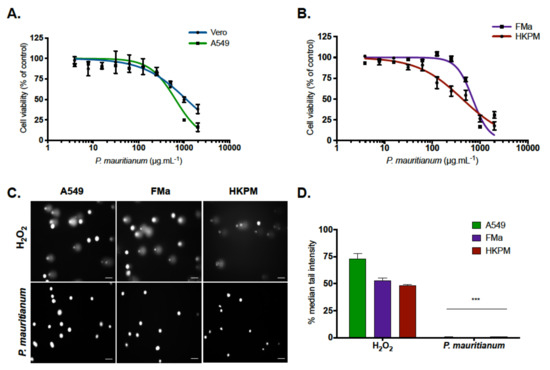 Figure 1
This is an open access article distributed under the
Creative Commons Attribution License
which permits unrestricted use, distribution, and reproduction in any medium, provided the original work is properly cited (CC BY 4.0).

Share & Cite This Article
MDPI and ACS Style
Clain, E.; Haddad, J.G.; Koishi, A.C.; Sinigaglia, L.; Rachidi, W.; Desprès, P.; N. Duarte dos Santos, C.; Guiraud, P.; Jouvenet, N.; El Kalamouni, C. The Polyphenol-Rich Extract from Psiloxylon mauritianum, an Endemic Medicinal Plant from Reunion Island, Inhibits the Early Stages of Dengue and Zika Virus Infection. Int. J. Mol. Sci. 2019, 20, 1860.
Note that from the first issue of 2016, MDPI journals use article numbers instead of page numbers. See further details here.
Related Articles
Comments
[Return to top]