Plasma Dimethylarginine Levels and Carotid Intima–Media Thickness are related to Atrial Fibrillation in Patients with Embolic Stroke
1
Department of Neurology, Hannover Medical School, 30625 Hannover, Germany
2
Department of Cardiology, Hannover Medical School, 30625 Hannover, Germany
3
Institute of Clinical Pharmacology, Otto-von-Guericke University Magdeburg, 39120 Magdeburg, Germany
4
Institute of Clinical Chemistry, Hannover Medical School, 30625 Hannover, Germany
*
Author to whom correspondence should be addressed.
Received: 19 December 2018 / Revised: 4 February 2019 / Accepted: 7 February 2019 / Published: 9 February 2019
Abstract
A relevant part of embolic strokes of undetermined source (ESUS) is assumed to be due to non-detected atrial fibrillation (AF). In this study, we aimed to investigate if markers of endothelial dysfunction and damage may indicate AF risk in embolic stroke. Eighty-eight patients with ischemic stroke confirmed by imaging were assigned to one of three groups: ESUS, AF, or micro-/macroangiopathy. ESUS patients underwent prolonged Holter electrocardiography scheduled for three days. The National Institutes of Health Stroke Scale (NIHSS), the CHA
2
DS
2
VASC score, and the carotid intima–media thickness (CIMT) were obtained. Markers of endothelial (dys)function (L-arginine, asymmetric dimethylarginine (ADMA), symmetric dimethylarginine (SDMA)) were measured at day seven after stroke. ESUS patients were younger and had fewer cardiovascular risk factors than patients with determined stroke etiology. Compared with AF patients, ESUS patients showed significantly lower values of SDMA (
p
= 0.004) and higher values of L-arginine (
p
= 0.031), L-arginine/ADMA ratio (
p
= 0.006), L-arginine/SDMA ratio (
p
= 0.002), and ADMA/SDMA ratio (
p
= 0.013). Concordant differences could be observed comparing ESUS patients with those with newly diagnosed AF (
p
= 0.026;
p
= 0.03;
p
= 0.009;
p
= 0.004; and
p
= 0.046, respectively). CIMT was significantly larger in AF than in ESUS patients (
p
< 0.001), and was identified as an AF risk factor independent from CHA
2
DS
2
VASC in the regression analysis (
p
= 0.014). These findings may support future stratification for AF risk in patients who have suffered embolic stroke.
View Full-Text
►

▼

Figures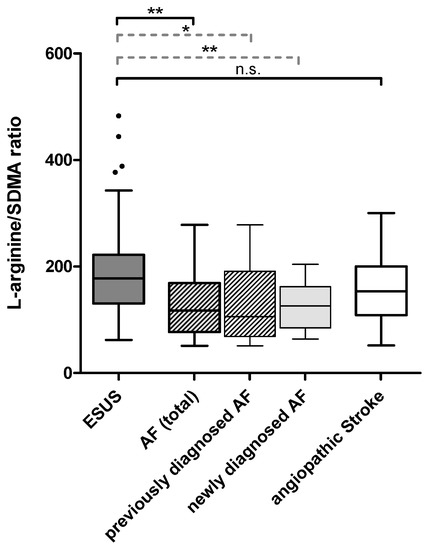 Figure 1
This is an open access article distributed under the
Creative Commons Attribution License
which permits unrestricted use, distribution, and reproduction in any medium, provided the original work is properly cited (CC BY 4.0).

Share & Cite This Article
MDPI and ACS Style
Grosse, G.M.; Biber, S.; Sieweke, J.-T.; Martens-Lobenhoffer, J.; Gabriel, M.M.; Putzer, A.-S.; Hasse, I.; van Gemmeren, T.; Schuppner, R.; Worthmann, H.; Lichtinghagen, R.; Bode-Böger, S.M.; Bavendiek, U.; Weissenborn, K. Plasma Dimethylarginine Levels and Carotid Intima–Media Thickness are related to Atrial Fibrillation in Patients with Embolic Stroke. Int. J. Mol. Sci. 2019, 20, 730.
Note that from the first issue of 2016, MDPI journals use article numbers instead of page numbers. See further details here.
Related Articles
Comments
[Return to top]