New Oxidovanadium(IV) Coordination Complex Containing 2-Methylnitrilotriacetate Ligands Induces Cell Cycle Arrest and Autophagy in Human Pancreatic Ductal Adenocarcinoma Cell Lines
1
Department of Medical Chemistry, Medical University of Gdansk, 80-210 Gdansk, Poland
2
Faculty of Chemistry, University of Gdansk, 80-309 Gdansk, Poland
3
Department of General, Endocrine and Transplantation Surgery, Medical University of Gdansk, 80-210 Gdansk, Poland
4
Laboratory of Virus Molecular Biology, Intercollegiate Faculty of Biotechnology, University of Gdansk-Medical University of Gdansk, 80-307 Gdansk, Poland
5
Department of Anatomy, Physiology and Pharmacology, University of Saskatchewan, Saskatoon, SK S7N 5E5, Canada
*
Author to whom correspondence should be addressed.
Received: 7 December 2018 / Revised: 1 January 2019 / Accepted: 4 January 2019 / Published: 10 January 2019
Abstract
Pancreatic cancer is characterized by one of the lowest five-year survival rates. In search for new treatments, some studies explored several metal complexes as potential anticancer drugs. Therefore, we investigated three newly synthesized oxidovanadium(IV) complexes with 2-methylnitrilotriacetate (bcma
3−
),
N
-(2-carbamoylethyl)iminodiacetate (ceida
3−
) and
N
-(phosphonomethyl)-iminodiacetate (pmida
4−
) ligands as potential anticancer compounds using pancreatic cancer cell lines. We measured: Cytotoxicity using 3-(4,5-dimethylthiazol-2-yl)-2,5-diphenyltetrazolium bromide (MTT), neutral red (NR) and lactate dehydrogenase (LDH) assay; antiproliferative activity by bromodeoxyuridine BrdU assay; reactive oxygen species (ROS) generation and cell cycle analysis by flow cytometry; protein level by Western blot and cellular morphology by confocal laser scanning microscopy. The results showed that these oxidovanadium(IV) complexes were cytotoxic on pancreatic cancer cells (PANC-1 and MIA PaCa2), but not on non-tumor human immortalized pancreas duct epithelial cells (hTERT-HPNE) over the concentration range of 10–25 μM, following 48 h incubation. Furthermore, molecular mechanisms of cytotoxicity of [4-NH
2
-2-Me(Q)H][VO(bcma)(H
2
O)]2H
2
O (T1) were dependent on antiproliterative activity, increased ROS generation, cell cycle arrest in G2/M phase with simultaneous triggering of the p53/p21 pathway, binucleation, and induction of autophagy. Our study indicates that oxidovanadium(IV) coordination complexes containing 2-methylnitrilotriacetate ligand are good candidates for preclinical development of novel anticancer drugs targeting pancreatic cancer.
View Full-Text
►

▼

Figures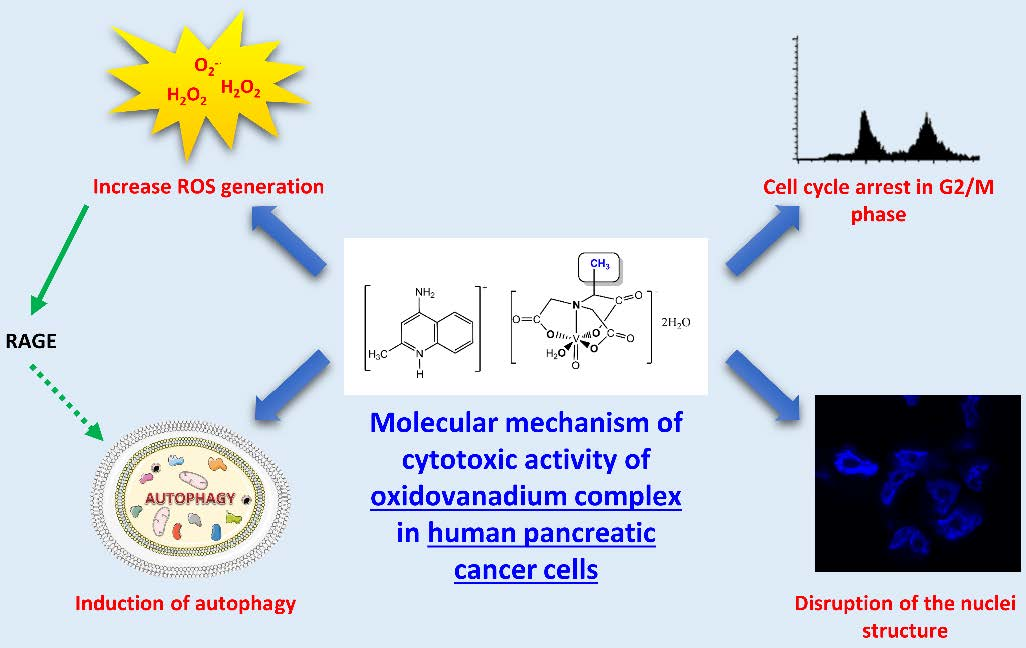 Graphical abstract
This is an open access article distributed under the
Creative Commons Attribution License
which permits unrestricted use, distribution, and reproduction in any medium, provided the original work is properly cited (CC BY 4.0).

Share & Cite This Article
MDPI and ACS Style
Kowalski, S.; Wyrzykowski, D.; Hac, S.; Rychlowski, M.; Radomski, M.W.; Inkielewicz-Stepniak, I. New Oxidovanadium(IV) Coordination Complex Containing 2-Methylnitrilotriacetate Ligands Induces Cell Cycle Arrest and Autophagy in Human Pancreatic Ductal Adenocarcinoma Cell Lines. Int. J. Mol. Sci. 2019, 20, 261.
Note that from the first issue of 2016, MDPI journals use article numbers instead of page numbers. See further details here.
Related Articles
Comments
[Return to top]